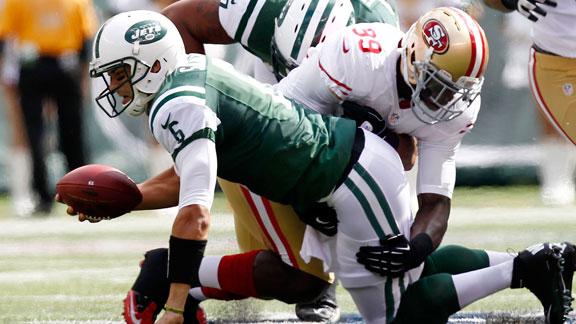 ESPN.com
Updated Oct 2, 2012
One of the worst defensive performances in Rex Ryan's coaching career turned even worse Tuesday night, when San Francisco 49ers cornerback Carlos Rogers accused the New York Jets of quitting late in Sunday's 34-0 blowout.
Share
Tweet
Running With Purpose

CNNSI.com

Oct 2, 2012

Will the Patriots rush their way to the playoffs? Chris Burke delivers his Second Read observations from Week 4, including J'Marcus Webb's turnaround, the 49ers' dominance and more.

Share Tweet

In 2012, Kaepernick is the real Wildcat quarterback

With all the talk (and, to date, that's what it's primarily been) about the Jets using the Wildcat formation, the 49ers quietly have outdone the Jets. There was nothing quiet about the Niners' use of Colin Kaepernick on Sunday, who rushed for 50 yar

Share Tweet

Rams announce that Thursday night's game will be televised locally

The Rams typically don't talk much about their success, or lack thereof, when it comes to selling tickets.  Before the season, the Rams declined to specify whether or to what extent they took advantage of the rule that allows teams to sell as few as 85

Share Tweet

101ESPN St. Louis audio: Miklasz Show

Bernie Miklasz and I discussed third-down passing during our weekly conversation on 101ESPN St. Louis. Arizona's Kevin Kolb ranks second in NFL passer rating on third down this season. St. Louis' Sam Bradford ranks seventh. Both have completed about two…

Share Tweet

Bold statements from the first quarter of the 2012 NFL season

yahoo.com

Oct 2, 2012

Four weeks is a pretty small sample size in an NFL campaign, but here are a few things that have either become obvious to us, or could happen through the final 13 weeks of the 2012 NFL regular season. The Arizona Cardinals are the best team in the NFL W…

Share Tweet

"TEWBOW AT QB," And More Fan Suggestions To Improve The Jets

deadspin.com

Oct 2, 2012

The Jets are in trouble. Their last game against the 49ers was an embarrassing 34-0 rout. Mark Sanchez passed for 103 yards. The Jets' next game is Monday night against the Texans, and the team has to improve. So someone on the Jets' Facebook page came …

Share Tweet

The 49ers haven't seen any return on their investment in running back Brandon Jacobs through the first four weeks of the regular season, but the voluble former Giant says that is about to end. Jacobs, who has been battling a knee injury since preseason,

Share Tweet

Dolphins receiver Legedu Naanee had a costly fumble in Sunday's loss to the Cardinals, and it may have contributed to costing Naanee his job. The Dolphins have released Naanee today and signed veteran receiver Jabar Gaffney to replace him. Naanee has no

Share Tweet

Last Friday, Cardinals coach Ken Whisenhunt offered candid insight during an interview on Pro Football Talk regarding the status of quarterback John Skelton and the looming question of whether Skelton or Kevin Kolb will play when Skelton fully recovers …

Share Tweet

CNNSI.com

Oct 2, 2012

Despite Seattle's offensive struggles in its first four games, the Seahawks are sticking with rookie Russell Wilson as their starting quarterback.

Share Tweet

Special mention for an overlooked weapon

The Arizona Cardinals' overtime victory against Miami in Week 4 was remarkable on several fronts. We discussed many of them after the game. Two special-teams aspects went relatively unexplored. One, field goal kicking has improved to the point that Jay …

Share Tweet

Sam Bradford faced a third-and-10 situation late in the first half Sunday. The St. Louis Rams quarterback dropped back to pass and had ample time. The Seattle Seahawks rushed only three defenders, dropping eight into coverage. Seattle Pass 'D' Inside Ya…

Share Tweet

The Detroit Lions have limped into their bye week with a 1-3 record.  But for a clock-operator error in Week One against the Rams, the Lions could be 0-4. Either way, it's a steep decline from last year, and it has the Lions doing some soul-searching.

Share Tweet

You've heard the chatter by the sports pundits and on the talk shows. Heck, you may have even heard it here. So are the knee-jerk reactions about your team based in reality? Our NFL bloggers weigh in.

Share Tweet

FALLING 1. Pete Carroll, Seahawks coach. Carroll has gone winless in his last four games against NFC West opponents. He is 1-6 in his last seven games against current NFC West head coaches. The St. Louis Rams had the coaching edge during a 19-13 victory…

Share Tweet

Around the NFC West: Rams' new moxie

The St. Louis Rams won a game Sunday despite allowing 179 yards rushing and failing to score a touchdown on offense. Their 19-13 victory over Seattle made them 1-0 in NFC West games under Jeff Fisher after the team went 4-26 against the division over th…

Share Tweet

Roberts and Cardinals believe

Oct 2

Arizona Cardinals WR Andre Roberts joins Fran Charles on "Around the League" to discuss the progress of QB Kevin Kolb as well as the team's determination to play at an elite level.

Fitzgerald breast cancer awareness

Oct 2

Take a glimpse into the emotional story of Arizona Cardinals WR Larry Fitzgerald and his amazing contribution with breast cancer awareness.

Drive of the Week: Cardinals stay undefeated

Oct 2

Brian Baldinger breaks down the Cardinals' last-minute drive and the big defense play that helped Arizona force overtime vs. the Dolphins.