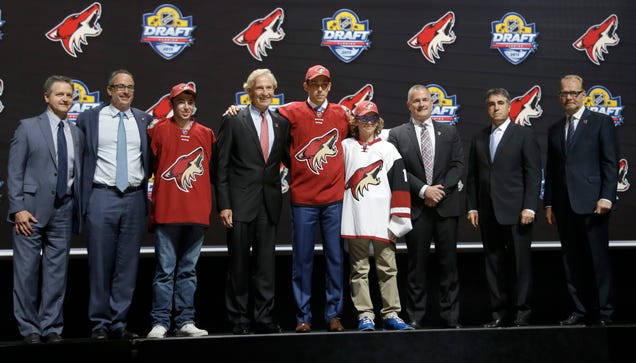 deadspin.com
yahoo.com
Updated 7 hours ago
Here's a fun one. According to the New York Post—not necessarily the first place you look to for important breaking hockey news—the Arizona Coyotes are getting a new owner and will move to Las Vegas before the 2016-17 season:Read more...
Share
Tweet
Blues forward Tarasenko will become RFA: report

NHL.com

9 hours ago

Forward Vladimir Tarasenko likely will not re-sign with the St. Louis Blues before he becomes a restricted free agent Wednesday, general manager Doug Armstrong told the St. Louis Post-Dispatch on Tuesday. "We're having conversations, but I thin...

Share Tweet

yahoo.com

9 hours ago

Hours after the San Jose Sharks acquired Martin Jones, they locked him up with a three-year, $9 million deal, avoiding any threat of an offer sheet for the netminder who was set to become a restricted free agent on Wednesday. On Tuesday afternoon, the S…

Share Tweet

yahoo.com

10 hours ago

The Stephen Weiss era in Detroit never really got underway after the forward signed a five-year, $24.9 million deal with the Red Wings in 2013. In two seasons, the former Florida Panthers captain missed 86 games as nagging injuries prevented him from be…

Share Tweet

Wisniewski has something to prove with Hurricanes

NHL.com

10 hours ago

Carolina Hurricanes defenseman James Wisniewski said he and his new team each has something to prove. Wisniewski was acquired by the Hurricanes on Saturday in a trade with the Anaheim Ducks, who scratched him from each of their 16 Stanley Cup P...

Share Tweet

yahoo.com

10 hours ago

The Anaheim Ducks wanted free-agent defenseman Francois Beauchemin back next season. General Manager Bob Murray even called him "a warrior." Francois Beauchemin wanted to return, too, but on his terms. And those terms started at three years at $5 millio…

Share Tweet

yahoo.com deadspin.com

11 hours ago

Columbus Blue Jackets general manager Jarmo Kekalainen sees newly acquired winger Brandon Saad and center Ryan Johansen as making sweet, sweet music together for a number of years. "We've been looking for a left winger, left shot, left wing for Ryan Joh…

Share Tweet

It's gotten to the point where listening to Nashville Predators GM David Poile flailing about trying to rationalize re-signing Mike Ribeiro is downright painful. Most painful, obviously, is the way he speaks about Ribeiro's vital place on the roster whi…

Share Tweet

Edmonton Oilers trade Boyd Gordon to Arizona Coyotes for Lauri Korpikoski

NHL.com

12 hours ago

GLENDALE, Ariz. - The Edmonton Oilers have traded centre Boyd Gordon to the Arizona Coyotes in exchange for forward Lauri Korpikoski. The 31-year-old Gordon had six goals and seven assists in 68 games with the Oilers last season. He also led ...

Share Tweet

yahoo.com

12 hours ago

New Calgary Flames defenseman Dougie Hamilton isn't going to dispel any sort of rumors about his leaving the Boston Bruins because to him, there weren't any real problems. Recently, Hamilton became the latest Boston-area athlete to be shoved out the doo…

Share Tweet

NHL.com

12 hours ago

Arizona Coyotes General Manager Don Maloney announced today that the Coyotes have acquired center Boyd Gordon from the Edmonton Oilers in exchange for forward Lauri Korpikoski. "We are very pleased to re-acquire Boyd Gordon," said Maloney. "Bo...

Share Tweet

yahoo.com

13 hours ago

According to TMZ Sports, former Los Angeles Kings center Mike Richards was stopped crossing the border from the United States into Canada on June 17 and was questioned about the prescription painkiller oxycodone. It's important to note this fact in the …

Share Tweet

NHL.com

13 hours ago

TORONTO - The Acadie-Bathurst Titan made Russian forward Vladimir Kuznetsov the first overall pick in the Canadian Hockey League's import draft Thursday. Kuznetsov, 17, played last season for Avto Yekaterinburg and helped his country win the ...

Share Tweet

yahoo.com

15 hours ago

Tim Murray is a smart guy and the Sabres are clearly still in something of a rebuild mode. But given the moves this weekend, the end-date on that was moved up considerably. People who would consider the Sabres "contenders" headed into next season are cu…

Share Tweet

Elevated Plays Of The Week

Mar 20

Check out some of the best goals, hits and saves from this week in the NHL, including ESPN analyst Linda Cohn trying out for the Florida Panthers.

Ducks Edge Avs In Overtime

Mar 20

Corey Perry's overtime goal lifted the Ducks past the Avs 3-2.

Bernier Scores Twice In Devils' Win

Mar 20

Steve Bernier scored his 100th career goal in the Devils' 3-1 win over the Sabres.

Lightning Strike Red Wings

Mar 20

The Lighting topped the Red Wings 3-1 for their second straight win.