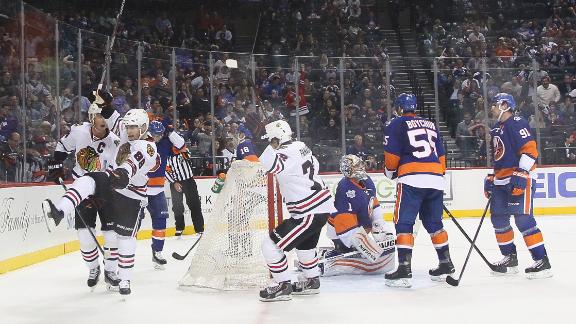 McDonald: Islanders fans give Barclays mixed reviews
Share
Tweet
NHL.com

39 minutes ago

DETROIT - Justin Abdelkader had a hat trick and Dylan Larkin scored in his NHL debut, helping the Detroit Red Wings beat the Mike Babcock-led Toronto Maple Leafs 4-0 on Friday night. Jimmy Howard stopped 21 shots for his 21st career shutout f...

Share Tweet

yahoo.com

58 minutes ago

James Wisniewski's debut season with the Carolina Hurricanes lasted all of 47-seconds. Nashville Predators forward Viktor Arvidsson (who?!) is battling with Wisniewski for the puck when he gets tangled up with the lower body of Wiz. As the defenseman hi…

Share Tweet

Nylander scores as Marlies open AHL season with victory over Moose

NHL.com

1 hour ago

TORONTO - Toronto prospect William Nylander scored once and led all players with nine shots on net and Josh Leivo had a goal and two assists as the Marlies opened their American Hockey League season with a 5-3 win over the visiting Manitoba Moos...

Share Tweet

NHL.com

1 hour ago

Edmonton Oilers forward Connor McDavid is ready to continue his NHL career with the hype of his first game behind him. "I just feel more relaxed today," McDavid told the Edmonton Journal on Friday at Bridgestone Arena, where the Oilers will pla...

Share Tweet

NHL.com

3 hours ago

Detroit Red Wings forward Dylan Larkin scored in his NHL debut Friday against the Toronto Maple Leafs. Larkin gave the Red Wings a 3-0 lead 20 seconds into the second period of their season opener when he lifted a shot over the right shoulder o...

Share Tweet

yahoo.com

4 hours ago

The NHL season has started, which means many, many fresh Jersey Fouls have come rolling into our email and sent to us via Twitter. Hence the return of Jersey Fouls of the Week, a column that will run throughout the year. Thank goodness – you can only ge…

Share Tweet

Devils will invite Lamoriello to Brodeur ceremony

NHL.com

5 hours ago

NEWARK, N.J. -- New Jersey Devils co-owner Josh Harris said Friday he has every intention of contacting Lou Lamoriello to extend an invitation to attend the jersey retirement ceremony for goaltender Martin Brodeur on Feb. 9 at Prudential Center. ...

Share Tweet

No Introduction Needed: Ben Hutton turning heads early with Vancouver Canucks

NHL.com

5 hours ago

VANCOUVER - Luca Sbisa had never heard of Ben Hutton before the pair met on the first day of Vancouver Canucks' training camp. "I didn't personally know who he was," said Sbisa. "Nobody really knew who he was." They do now. The rookie d...

Share Tweet

yahoo.com

6 hours ago

Aaron Ward, the former NHL defenseman and current TSN analyst, was arrested on Friday in Cary, North Carolina, and charged with "assault against a woman," according to WNCN. He was also charged with "interfering with emergency communication," …

Share Tweet

NHL.com

6 hours ago

It is unknown how long Buffalo Sabres goalie Robin Lehner will be out after he sustained a lower-body injury in the season opener Thursday. "Robin Lehner will have more evaluation done today and tomorrow and maybe have a further prognosis on wh...

Share Tweet

ESPN.com

6 hours ago

Protesters seek Stoner apology for killing grizzly

Share Tweet

yahoo.com

7 hours ago

Mike Babcock makes his return to Detroit – well, in the regular season – as the new head coach of the Toronto Maple Leafs. But rather than facing a Red Wings team that had to throw away the script when he departed, he faces one that's trying to continue…

Share Tweet

yahoo.com

8 hours ago

Mike Richards and the Los Angeles Kings have reached a settlement on the forward's terminated contract. A resolution was announced by both the Kings and the NHLPA. The NHLPA's statement: "The National Hockey League Players' Association (NHLPA) and the N…

Share Tweet

yahoo.com

9 hours ago

BROOKLYN, N.Y. – The Chicago Blackhawks spent a third summer since 2010 celebrating a Stanley Cup championship and a fifth off-season since 2009 recovering from playing hockey into late-May, early-June. The off-seasons have been short. Three of them hav…

Share Tweet

One RFA defenseman down, two to go, as the Anaheim Ducks signed defenseman Simon Despres to a five-year contract extension. After an abnormally slow eight minutes, the financial details were reported by Renaud Lavoie of TVA: #ducks Simon Després: 5 ans …

Share Tweet

yahoo.com

9 hours ago

Here are your Puck Headlines: A glorious collection of news and views collected from the greatest blogosphere in sports and the few, the proud, the mainstream hockey media. Have a link you want to submit? Email us at . Tonight, the #EmpireStateBuilding …

Share Tweet

Elevated Plays Of The Week

Mar 20

Check out some of the best goals, hits and saves from this week in the NHL, including ESPN analyst Linda Cohn trying out for the Florida Panthers.

Ducks Edge Avs In Overtime

Mar 20

Corey Perry's overtime goal lifted the Ducks past the Avs 3-2.

Bernier Scores Twice In Devils' Win

Mar 20

Steve Bernier scored his 100th career goal in the Devils' 3-1 win over the Sabres.

Lightning Strike Red Wings

Mar 20

The Lighting topped the Red Wings 3-1 for their second straight win.

Sports Columnists

NBA - Blake Griffin wants to take his defense and the Clippers to another …

Oct 7

Blake Griffin is looking to become an elite defender and a vocal leader, and in turn take the Clippers to a championship, writes J.A. Adande.

NBA - Los Angeles Clippers must learn to play without DeAndre Jordan

Sep 25

The Clippers were able to re-sign DeAndre Jordan. With a more able reserve unit behind him, the team must now learn how to win without him, writes J.A. Adande.

See the rankings (Insider)

Sep 22

Chad Ford says the Knicks are managed by "a neophyte coach, a buffoonish owner and an unproven team president." Amazingly, New York still isn't last p...