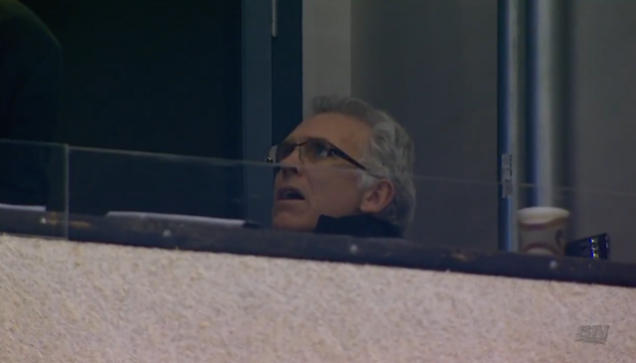 deadspin.com
Updated 35 minutes ago
Despite the Sabres and Coyotes actively tearing apart their rosters for a better chance at the first overall pick, the Oilers—a franchise that doesn't need to try to undermine itself—earned the top spot. Okay, maybe "earned" is the wrong word, there.Rea…
Share
Tweet
Tyler Johnson helps Lightning solve Mrazek, dominate Red Wings

thehockeynews.com

3 hours ago

The best player on the ice in Tampa Saturday was a 5-foot-8 forward who couldn't be stopped. The Bolts' Tyler Johnson channeled Martin St-Louis of old, firing in the first goal of the afternoon and putting the game out of reach with a breakaway tally at…

Share Tweet

thehockeynews.com

9 hours ago

Spoiler alert: The Buffalo Sabres will win tonight's NHL draft lottery with the numbers 11, 5, 6 and 7. Your trusty correspondent knows this because he went to this really cool website that simulates the NHL draft lottery and it told him so. Then he did…

Share Tweet

thehockeynews.com yahoo.com NHL.com

22 hours ago

Andrew Hammond was every bit the match for Carey Price, but it was the Habs' Alex Galchenyuk who ultimately burgled the win in overtime for Montreal. Galchenyuk's spinning, no-look wrist shot found its way past Hammond and four Ottawa players in front o…

Share Tweet

NHL.com

Apr 17 (yesterday)

MONTREAL -- Forwards Mark Stone of the Ottawa Senators and Max Pacioretty of the Montreal Canadiens will play in Game 2 of the Eastern Conference First Round series at Bell Centre on Friday. Stone sustained a microfracture and ligament damage i...

Share Tweet

Which Game 1 loser faces the most pressure to win Game 2?

thehockeynews.com

Apr 17 (yesterday)

If you've just lost Game 1 of the Stanley Cup playoffs or if you're annoyed at the header of this article, you're likely thinking, "Sheesh, it's one game, this is not news, mountain out of a molehill," etc. And you'd be right in certain cases. You'd be …

Share Tweet

yahoo.com

Apr 17 (yesterday)

Look, I get it. The Bruins missed the playoffs, and based on team CEO Charlie Jacobs's threats earlier this season, someone had to pay the price. Peter Chiarelli put together the team, so it was him. Claude Julien also coached the team, and so when the …

Share Tweet

Draft lottery odds: the most likely outcome for your team

thehockeynews.com

Apr 17 (yesterday)

It's amazing how things will change by Saturday night. Connor McDavid will know which NHL team he will belong to. The McDavid parents will know in which city their son's adult life will begin to unfold and flourish. Vendors will go crazy preparing McDav…

Share Tweet

yahoo.com

Apr 17 (yesterday)

Here are your Puck Headlines: A glorious collection of news and views collected from the greatest blogosphere in sports and the few, the proud, the mainstream hockey media. Have a link you want to submit? Email us at . Our Pg 1: Sens-Habs Game 2. And th…

Share Tweet

Senators' Pageau is following in Briere's footsteps

ESPN.com

Apr 17 (yesterday)

Senators' Pageau is following in Briere's footsteps

Share Tweet

Elevated Plays Of The Week

Mar 20

Check out some of the best goals, hits and saves from this week in the NHL, including ESPN analyst Linda Cohn trying out for the Florida Panthers.

Lightning Strike Red Wings

Mar 20

The Lighting topped the Red Wings 3-1 for their second straight win.

Bernier Scores Twice In Devils' Win

Mar 20

Steve Bernier scored his 100th career goal in the Devils' 3-1 win over the Sabres.

Sharks Skate Past Maple Leafs

Mar 19

The Sharks beat the Maple Leafs 4-1 to snap their two-game losing streak.