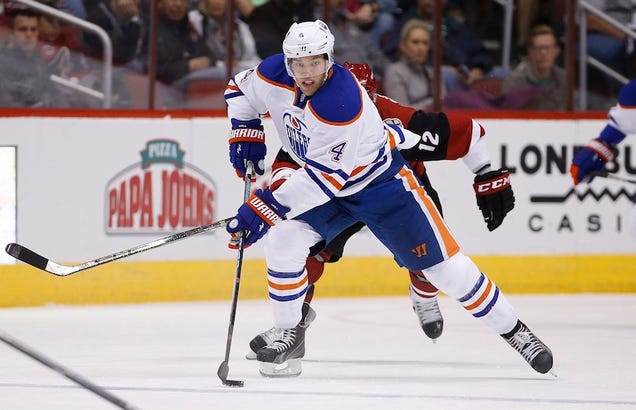 ESPN.com
deadspin.com
NHL.com
Updated 15 hours ago
Devils acquire 'slighted' Hall in trade with Oilers
Share
Tweet
AP Source: NHL forwards Nystrom, Raymond placed on waivers

NHL.com

16 hours ago

A person with direct knowledge of the moves tells The Associated Press that Nashville Predators forward Eric Nystrom and Calgary Flames forward Mason Raymond have been placed on waivers in order for their teams to buy out the remaining year of t...

Share Tweet

thehockeynews.com

21 hours ago

As the July 1 opening day of the 2016 NHL unrestricted free agent market approaches, speculation is heating up over potential destinations of the top free-agent stars. TSN's Pierre LeBrun believes the Detroit Red Wings, Buffalo Sabres, and Toronto Maple…

Share Tweet

Canucks fined for tampering after GM's remarks

Share Tweet

yahoo.com

Jun 28 (yesterday)

As the 2015-16 season ended for Milan Lucic it seemed highly unlikely he would leave the Los Angeles Kings for unrestricted free agency. His rugged style fit LA perfectly. He became a loud leadership voice in the locker room. His family liked the lifest…

Share Tweet

yahoo.com

Jun 28 (yesterday)

Here are your Puck Headlines: A glorious collection of news and views collected from the greatest blogosphere in sports and the few, the proud, the mainstream hockey media. Have a link you want to submit? Email us at . • Trevor Daley's mom, Trudy, died …

Share Tweet

VANCOUVER - The Vancouver Canucks announced Monday the club has placed Chris Higgins on waivers with the intention of buying out the final year of his contract. The move to cut ties doesn't come as a shock after the veteran forward found hims...

Share Tweet

Ducks issue offers to Lindholm, Rakell, Noesen; not to Pirri

ANAHEIM, Calif. - The Anaheim Ducks have issued qualifying offers to defenceman Hampus Lindholm and forwards Rickard Rakell and Stefan Noesen. The Ducks declined to make qualifying offers Monday to five players, including forward Brandon Pirr...

Share Tweet

SAN JOSE, Calif. - The San Jose Sharks issued a qualifying offer to pending restricted free agent forward Tomas Hertl and three other players. The Sharks also issued qualifying offers Monday to restricted free agents forwards Matt Nieto and R...

Share Tweet

The Ottawa Senators were expecting big things from Alex Chiasson. He was one of the key pieces going from the Dallas Stars to the Ottawa Senators in the trade for Jason Spezza nearly two years ago. However, Chiasson just never seemed to catch on with th…

Share Tweet

Coyotes sign goalie Domingue to 2-year deal

GLENDALE, Ariz. - The Arizona Coyotes have signed goalie Louis Domingue to a two-year contract. Terms of the deal were not released Monday. The 24-year-old Domingue was solid as Arizona's goalie after Mike Smith went out with a core injury...

Share Tweet

Oilers sign winger Iiro Pakarinen to one-year deal

EDMONTON - The Edmonton Oilers have signed winger Iiro Pakarinen to a one-year contract. The 24-year-old registered 13 points (five, eight assists) and eight penalty minutes in 63 games with the Oilers last season. The six-foot-one, 215-po...

Share Tweet

Calgary group pushing for new NHL, CFL facilities makes pitch to city council

CALGARY - The group that wants to build a new NHL arena and CFL stadium in Calgary wants to meet with city administrators to move the proposed project into the next phase. Calgary Flames president Ken King made a presentation to Calgary city ...

Share Tweet

thehockeynews.com

Jun 27 (3 days ago)

With the 2016 NHL draft now history, here's a look at some notable speculation that emerged from the weekend. All eyes are firmly upon the Tampa Bay Lightning and their contract talks with pending unrestricted free agent center Steven Stamkos. Since Fri…

Share Tweet

yahoo.com

Jun 27 (3 days ago)

BUFFALO, N.Y. — It's still not always easy to tell whether the Calgary Flames are going to make actual good decisions at any given time. In general they're trending in the right direction, away from trading for Brandon Bolligs and signing Deryk Engellan…

Share Tweet

Brad Treliving saw the rules for the expansion draft and immediately was in an advantageous position. The Calgary Flames' general manager needed a goaltender, and with Las Vegas set to harvest the NHL for two of them in a year, his colleagues ha...

Share Tweet

Ducks Edge Avs In Overtime

Mar 20

Corey Perry's overtime goal lifted the Ducks past the Avs 3-2.

Sharks Skate Past Maple Leafs

Mar 19

The Sharks beat the Maple Leafs 4-1 to snap their two-game losing streak.

Ducks Edge Kings In Overtime

Mar 18

Ryan Kesler's overtime goal lifted the Ducks past the Kings 3-2.

'SportsCenter's' Inside The NHL

Mar 17

John Buccigross, Barry Melrose and Scott Burnside kick around the rule changes proposed by the general managers, look at the turmoil in San Jose and make their picks at the tight race for the Presidents' Trophy.