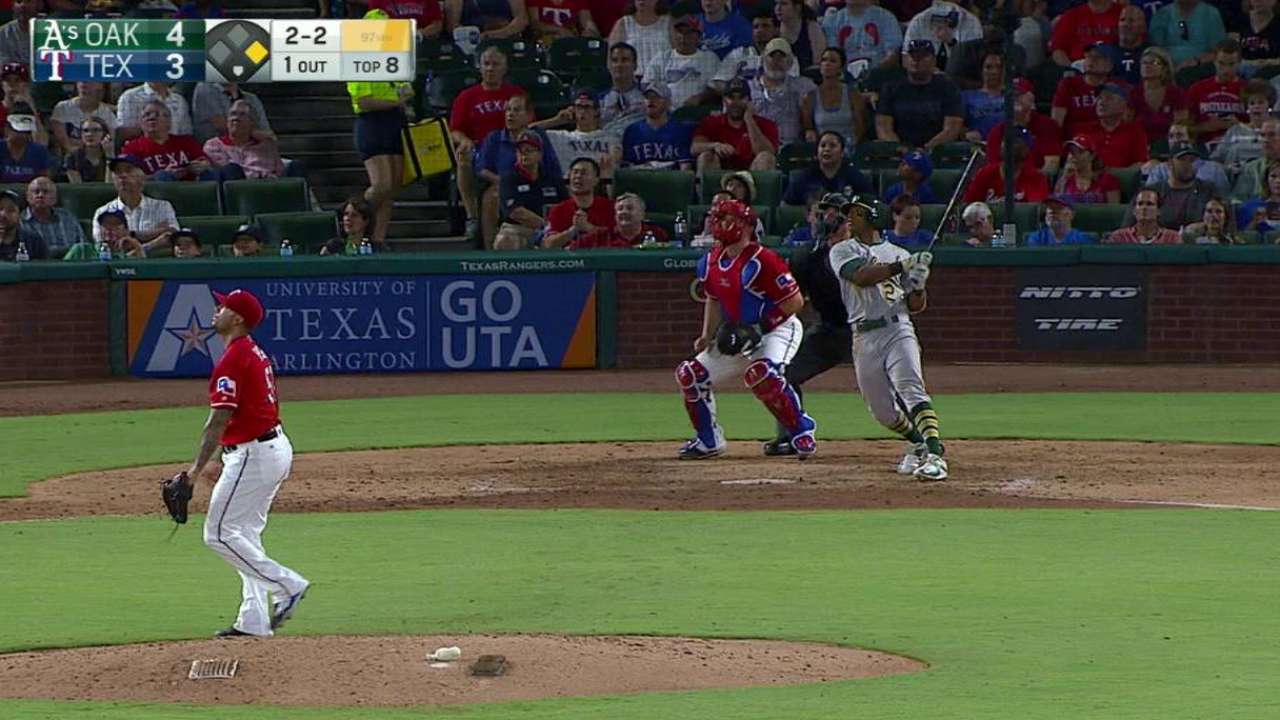 MLB.com nytimes.com

Jul 27 (yesterday)

The A's powered their way to a 6-3 victory over the Rangers on Tuesday night, using home runs from Coco Crisp, Josh Reddick and Marcus Semien to even a three-game series at Globe Life Park.

Share Tweet

nytimes.com yahoo.com

Jul 26 (yesterday)

When a baseball-loving boy stopped Oakland reliever Sean Doolittle by chance Monday to check out the A's bandanna worn by the pitcher's dog, the little guy got an impromptu opportunity to play shadow baseball with a big leaguer.

Share Tweet

MLB.com

Jul 26 (yesterday)

Joey Gallo, the Rangers No. 1 prospect per MLBPipeline.com, was recalled from Triple-A Round Rock on Tuesday. Gallo was on his way to Globe Life Park at the time of the announcement, but there was no indication if he would be available for Tuesday night…

Share Tweet

Welcome to The Walk Off, the nightly MLB recap from Big League Stew. Here we'll look at the top performers of the night, show you a must-see highlight and rundown the scoreboard. First, we start with a game you need to know about. At this point in his c…

Share Tweet

yahoo.com

Jul 25 (3 days ago)

For about 30 seconds on Saturday, before the wild news broke about Chris Sale throwing a fit and cutting up his throwback jersey, some baseball fans thought he had been traded to the Texas Rangers. Imagine that rotation: Sale, Yu Darvish, Cole Hamels. W…

Share Tweet

Butler's blast lifts A's past Rays for series win

MLB.com

Jul 24 (4 days ago)

Billy Butler's solo home run in the eighth proved to be the difference in the A's 3-2 win over the Rays Sunday at the Oakland Coliseum.

Share Tweet

nytimes.com

Jul 24 (4 days ago)

With a little more playing time these past few days, Athletics slugger Billy Butler is finally getting comfortable at the plate.

Share Tweet

A's homer twice, KO Colome, Rays in 9th

MLB.com

Jul 24 (5 days ago)

Jake Smolinski and Ryon Healy homered in the ninth to hand Alex Colome his first blown save of the season as the A's stunned the Rays with a 4-3 win at the Oakland Coliseum.

Share Tweet

Rays rock A's Gray, roll to 3rd straight win

MLB.com

Jul 22 (6 days ago)

The hot-hitting Rays took batting practice off of Sonny Gray, tagging the struggling A's starter for nine hits in a 7-3 series-opening victory at the Coliseum on Thursday night.

Share Tweet

nytimes.com MLB.com

Jul 22 (6 days ago)

Tim Beckham homered and then sparked a four-run inning with his eighth straight hit over three games to lead the Tampa Bay Rays to a 7-3 victory over the Oakland Athletics on Thursday night.

Share Tweet

Hahn set to return to A's, start finale vs. Rays

MLB.com

Jul 21 (7 days ago)

The A's will call on right-hander Jesse Hahn for a Sunday home start against the Rays, which will mark his first appearance with Oakland since June 8.

Share Tweet

A's showcase science of baseball at STEM clinic

MLB.com

Jul 21 (7 days ago)

A's pitcher Kendall Graveman knew he needed to select a major by the end of his sophomore year at Mississippi State, and leaned toward pursuing business until his father, Gary, suggested something else.

Share Tweet

Fister's 7 scoreless help Astros shut down A's

MLB.com

Jul 20

Right-hander Doug Fister strung together seven scoreless innings to help the Astros avoid a three-game sweep at the hands of the A's with a commanding 7-0 win at the Coliseum on Wednesday afternoon.

Share Tweet

nytimes.com

Jul 20

Doug Fister pitched seven innings and Jose Altuve continued his torrid hitting as the Houston Astros defeated the Oakland Athletics 7-0 on Wednesday.

Share Tweet

yahoo.com

Jul 20

When Houston's Marwin Gonzalez was at the plate with two strikes on him in the third inning Tuesday night in Oakland, an ice cream vendor way out in the seats down the third-base line in left field decided it was a good time to turn his back on the game…

Share Tweet

nytimes.com MLB.com

Jul 19

With three wins in four games since the All-Star break against two of the hottest teams in the majors, the Athletics are building some momentum.

Share Tweet

Donaldson delivers in 9th to lift Jays, sting A's

MLB.com

Jul 17

Josh Donaldson made the most of a second chance against his former team when he came to the plate in the ninth inning, hitting a go-ahead two-run double to help the Blue Jays claim a 5-3 win Sunday at the Coliseum.

Share Tweet

Kershaw Struck By Liner, Loses Part Of Tooth

Mar 20

Clayton Kershaw was hit by Andy Parrino's broken-bat liner in the bottom of the third inning in the Dodgers' 3-2 loss to the A's. Kershaw remained in the game.

How Will Jason Giambi Be Remembered?

Feb 16

Jerry Crasnick reflects on the career and legacy of Jason Giambi, who announced his retirement from baseball Monday.

Greatest Dynasties In Baseball History

Jan 26

Cary Chow and David Schoenfield look at the greatest baseball dynasties and pick out where the current Giants fit on the list.

Buster's Blog: Athletics' Bustling Offseason

Jan 15

Buster Olney takes a look at the Athletics' offseason moves and what to expect this upcoming season.