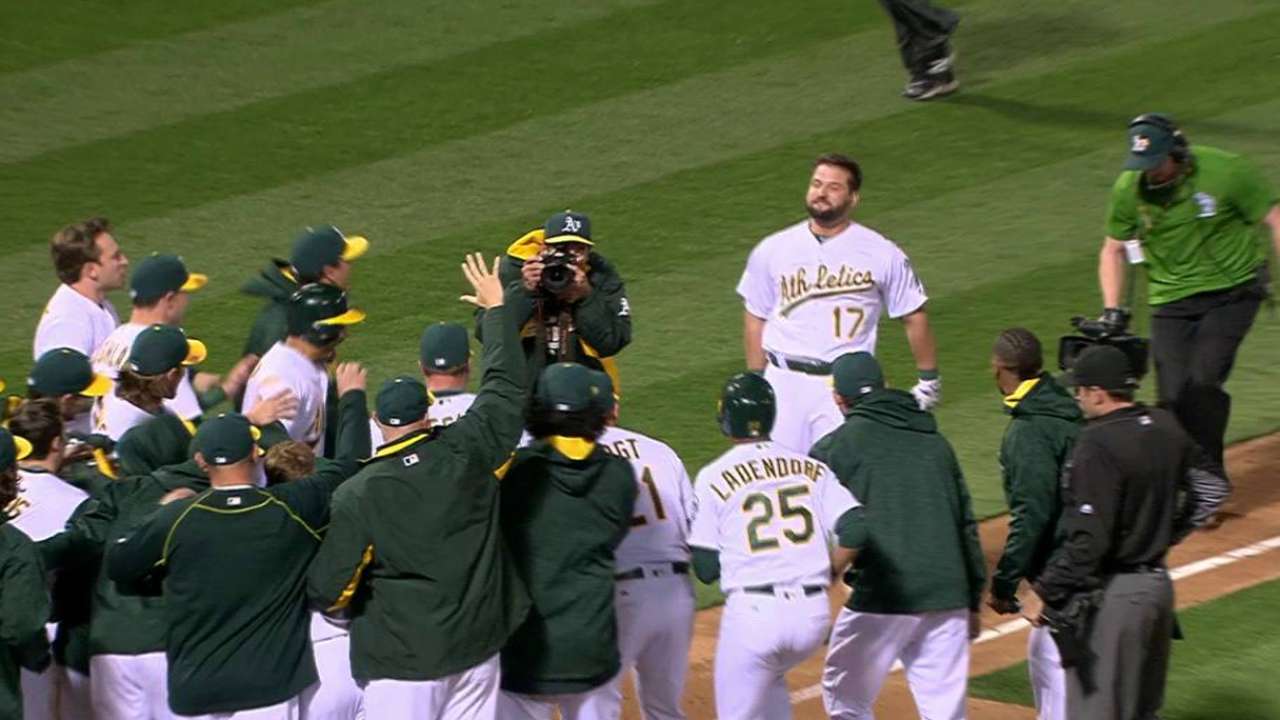 Yonder gone! A's stun Astros on walk-off blast
MLB.com
Updated 11 hours ago
Yonder Alonso notched his first homer of the season in thrilling fashion, launching a walk-off, three-run homer off Pat Neshek in the ninth inning for the A's, who also watched their top pitching prospect, Sean Manaea, make his big league debut in the 7…
Share
Tweet
Alonso's 3-Run Homer Gives Athletics 7-4 Win Over Astros

nytimes.com

11 hours ago

A's first basemen Yonder Alonso has spent the past few weeks doing extra with hitting coaches searching for anything to get him out of a dreadful funk.

Share Tweet

Bassitt to DL with elbow strain; Hahn recalled

MLB.com

15 hours ago

Right-hander Chris Bassitt was placed on the disabled list earlier in the day with an elbow strain, leading the A's to recall righty Jesse Hahn from Triple-A Nashville and slot him into a Saturday start against the visiting Astros.

Share Tweet

Anthony Gose Doubles, Homers to Lead Tigers Over A's 7-3

nytimes.com

Apr 28 (yesterday)

Anthony Gose doubled and homered, Anibal Sanchez pitched through a wild outing and the Detroit Tigers beat Oakland 7-3 Thursday to take three of four in the series against the Athletics.

Share Tweet

Five Tigers knock in runs to thump A's

MLB.com

Apr 28 (yesterday)

Anthony Gose hit a two-run homer and scored on an Ian Kinsler double as part of an early-inning Tigers outburst, supporting Anibal Sanchez through a wild outing for a 7-3 win and a series victory over the A's Thursday at Comerica Park.

Share Tweet

Morosi: Reddick tunes out free-agency talk

MLB.com

Apr 28 (2 days ago)

Josh Reddick's fast start to the 2016 campaign is perfectly timed, as the 29-year-old can be a free agent after the season. But the A's outfielder said he isn't focusing on that at all.

Share Tweet

Top Tigers prospect Michael Fulmer is about to get his chance in the big leagues. Manager Brad Ausmus confirmed after Wednesday night's 9-4 win over the A's the club will call up the hard-throwing right-hander from Triple-A Toledo to start against the T…

Share Tweet

Martinezes plate 7 as Verlander handles A's

Hours after Tigers manager Brad Ausmus shook up his batting order, his offense broke out of its mid-April funk to tie its season high in runs, turning what could have been a Justin Verlander-Sonny Gray pitchers' duel decidedly in Detroit's favor during …

Share Tweet

nytimes.com

Apr 27 (3 days ago)

Brad Ausmus shook up the lineup and Detroit responded with its highest-scoring game of the season.

Share Tweet

A's prospect Manaea set for callup

A's manager Bob Melvin confirmed Wednesday that No. 2 prospect Sean Manaea will join the A's in Oakland on Friday and make his Major League debut that night against the Astros.

Share Tweet

nytimes.com

Apr 26 (4 days ago)

Bob Melvin had no major concerns about sending left-hander Rich Hill to the mound against Detroit's lineup of righty sluggers.

Share Tweet

King of the Hill: Lefty leads A's past Tigers

MLB.com

Apr 26 (4 days ago)

One night after the Tigers' offense broke out of an early-season slumber against the A's, Rich Hill put it back to sleep. The former University of Michigan standout tossed seven scoreless innings, taking advantage of a three-run fourth and a Marcus Semi…

Share Tweet

deadspin.com yahoo.com

Apr 26 (4 days ago)

Sean Murphy, a pitcher in the Oakland A's minor league system since 2010, died in Arizona on Monday. He was 27.Read more...

Share Tweet

MLB.com nytimes.com

Apr 26 (4 days ago)

Major League Baseball will not suspend Tyler Collins for his improper gesture toward fans at Comerica Park during Monday's 7-3 win over the A's, a league spokesperson confirmed to MLB.com Tuesday evening.

Share Tweet

Pipeline preview: Phils' Williams, Reds' Reed among those to watch

MLB.com

Apr 26 (4 days ago)

The Phillies' Nick Williams, the Reds' Cody Reed, the A's Daniel Mengden and the Astros' Joe Musgrove are among the top prospects in action on Tuesday.

Share Tweet

2-HR game from Miggy powers win for Zimm

MLB.com

Apr 25 (5 days ago)

Jordan Zimmermann allowed his first run as a Tiger, but Miguel Cabrera's two-homer, four-hit game more than made up for it, ending Detroit's four-game losing streak with a 7-3 win over the A's on Monday night at Comerica Park.

Share Tweet

nytimes.com

Apr 24 (6 days ago)

Jose Bautista hit a two-run homer, Ezequiel Carrera added a solo shot and the Toronto Blue Jays beat the Oakland Athletics 6-3 on Sunday.

Share Tweet

Two for Tulo -- and Donaldson -- power Jays

MLB.com

Apr 23 (7 days ago)

Troy Tulowitzki hit a pair of home runs while Josh Donaldson added one of his own as the Blue Jays' offense finally came to life in an 8-3 victory over the A's on Saturday afternoon at Rogers Centre.

Share Tweet

Gray sharp as A's hold on for 6th straight win

Chris Coghlan hit a three-run homer and Sonny Gray pitched seven innings of three-run ball as the Athletics extended their winning streak to six games with an 8-5 win over the Blue Jays on Friday night at Rogers Centre.

Share Tweet

Tulo, Saunders held out with injuries

Shortstop Troy Tulowitzki and outfielder Michael Saunders were both held out of the Blue Jays' lineup for Friday's series opener against the A's due to injury.

Share Tweet

yahoo.com

Apr 22

The hottest team in the American League rolls into Toronto on Friday looking to extend their winning streak to six games. The Oakland Athletics are coming off a sweep of the Yankees in New York and took two out of three from the defending World Series c…

Share Tweet

Donaldson, Bonds meet former clubs on MLB.TV

A pair of MVPs will meet their former teams today. Since the A's traded Josh Donaldson to the Blue Jays in November 2014, all the third baseman has done is lead Toronto back to the postseason, take American League MVP honors and then get off to hot star…

Share Tweet

Kershaw Struck By Liner, Loses Part Of Tooth

Mar 20

Clayton Kershaw was hit by Andy Parrino's broken-bat liner in the bottom of the third inning in the Dodgers' 3-2 loss to the A's. Kershaw remained in the game.

How Will Jason Giambi Be Remembered?

Feb 16

Jerry Crasnick reflects on the career and legacy of Jason Giambi, who announced his retirement from baseball Monday.

Greatest Dynasties In Baseball History

Jan 26

Cary Chow and David Schoenfield look at the greatest baseball dynasties and pick out where the current Giants fit on the list.

Buster's Blog: Athletics' Bustling Offseason

Jan 15

Buster Olney takes a look at the Athletics' offseason moves and what to expect this upcoming season.