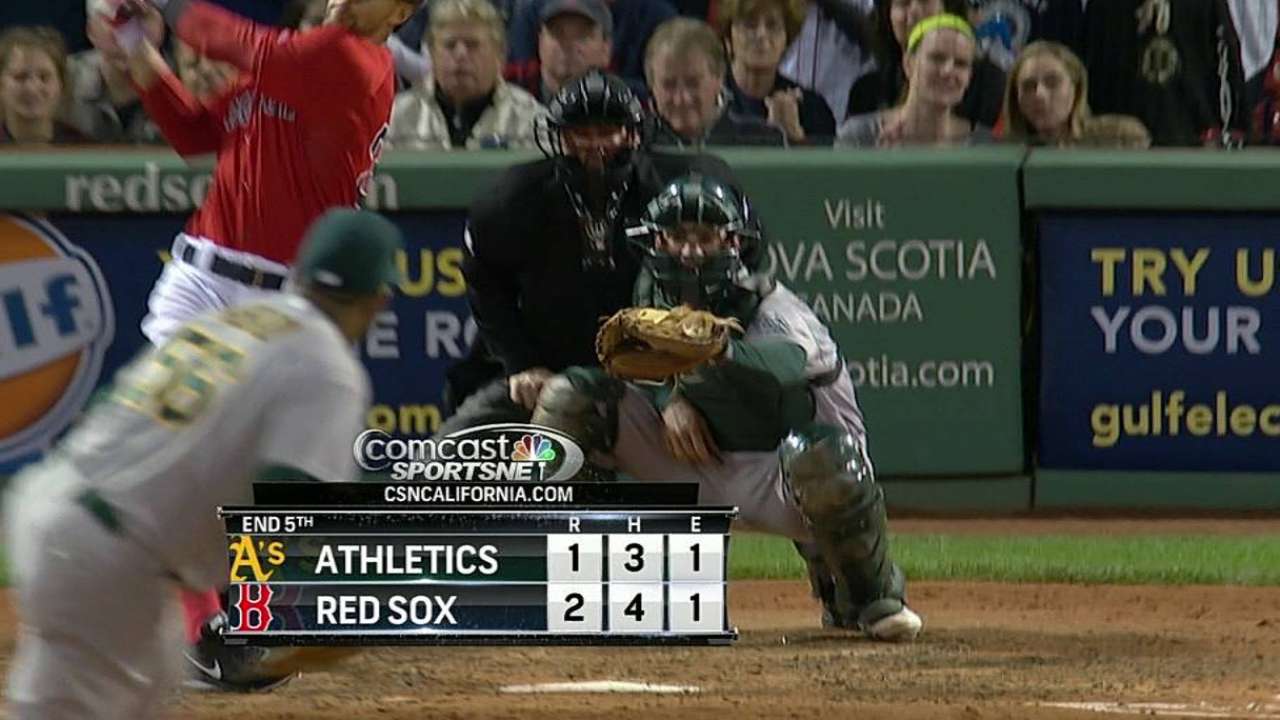 Oakland Athletics closer Sean Doolittle is unlikely to be ready for the start of the season because of a slight tear to the rotator cuff in his left shoulder along with considerable inflammation and irritation in the area.

Upvote Share Tweet

A's, Sogard avoid arbitration with one-year deal

MLB.com

Jan 23 (6 days ago)

The A's have avoided arbitration with Eric Sogard, coming to terms on a one-year deal with the infielder on Friday.

Upvote Share Tweet

Zobrist, Semien give A's infield new look up the middle

MLB.com

Jan 20

The A's entered this offseason with seemingly just one clear need: a shortstop. Nearly four months later, they've overhauled their entire infield. In fact, not one of last year's everyday infielders is returning. New faces will be seen at every position…

Upvote Share Tweet

A's lock up five players on 1-year contracts

MLB.com

Jan 16

The Athletics on Friday avoided arbitration with five players, agreeing to terms on one-year deals with outfielders Josh Reddick, Craig Gentry and Sam Fuld, third baseman Brett Lawrie and right-hander Ryan Cook.

Upvote Share Tweet

MLB, The Giants, And The Law Job The A's ... Again

deadspin.com

Jan 16

Major League Baseball is breathing a huge sigh of relief after a federal appeals court upheld a broad scope of the league's exemption from federal antitrust law on Thursday. But the league's win comes at high price for the Oakland A's—and adds to the li…

Upvote Share Tweet

A federal appeals court upheld the dismissal of antitrust claims in a lawsuit by the city of San Jose against Major League Baseball, which accused the sport of illegally blocking a proposed move of the Oakland Athletics to the area.

Upvote Share Tweet

Right-hander Tyler Clippard said he was shocked after he heard the Nationals traded him to the Athletics for shortstop Yunel Escobar, even though Clippard heard rumors throughout the offseason that he could be dealt.

Upvote Share Tweet

Rizzo: Desmond is Nats' SS, but ears are open

MLB.com

Jan 15

A day after acquiring infielder Yunel Escobar from the Athletics, Nationals general manager Mike Rizzo indicated that Ian Desmond will be the team's shortstop in 2015, but didn't rule out trading him either.

Upvote Share Tweet

Appeals Court Rejects Bid to Move Oakland A's to Silicon Valley

nytimes.com

Jan 15

The city of San Jose, California cannot seek a court order allowing the Oakland A's baseball team to move to Silicon Valley, a U.S appeals court ruled on Thursday.

Upvote Share Tweet

MLB.com

Jan 13

The Indians' most prominent arbitration case this offseason involves the team's most prominent acquisition of the winter. Slugger Brandon Moss, who was acquired in a trade with the A's in December, was one of six players to file for arbitration for Clev…

Upvote Share Tweet

Zobrist expresses gratitude for 'chapter' with Rays

MLB.com

Jan 11

A day after getting traded to Oakland, Ben Zobrist noted that he was "sad to be leaving Tampa Bay." The Rays traded Zobrist and Yunel Escobar to the Athletics for catcher John Jaso and prospects Daniel Robertson and Boog Powell.

Upvote Share Tweet

Greatest Dynasties In Baseball History

Jan 26

Cary Chow and David Schoenfield look at the greatest baseball dynasties and pick out where the current Giants fit on the list.

Buster's Blog: Athletics' Bustling Offseason

Jan 15

Buster Olney takes a look at the Athletics' offseason moves and what to expect this upcoming season.

Lester Talks Deal

Dec 15

Jon Lester discusses what went into his decision to sign a six-year, $155 million deal with the Cubs.

Lester Signing Feels Like Hope

Dec 14

Kate Fagan explains why the Cubs' signing of pitcher Jon Lester feels different from other offseason moves.