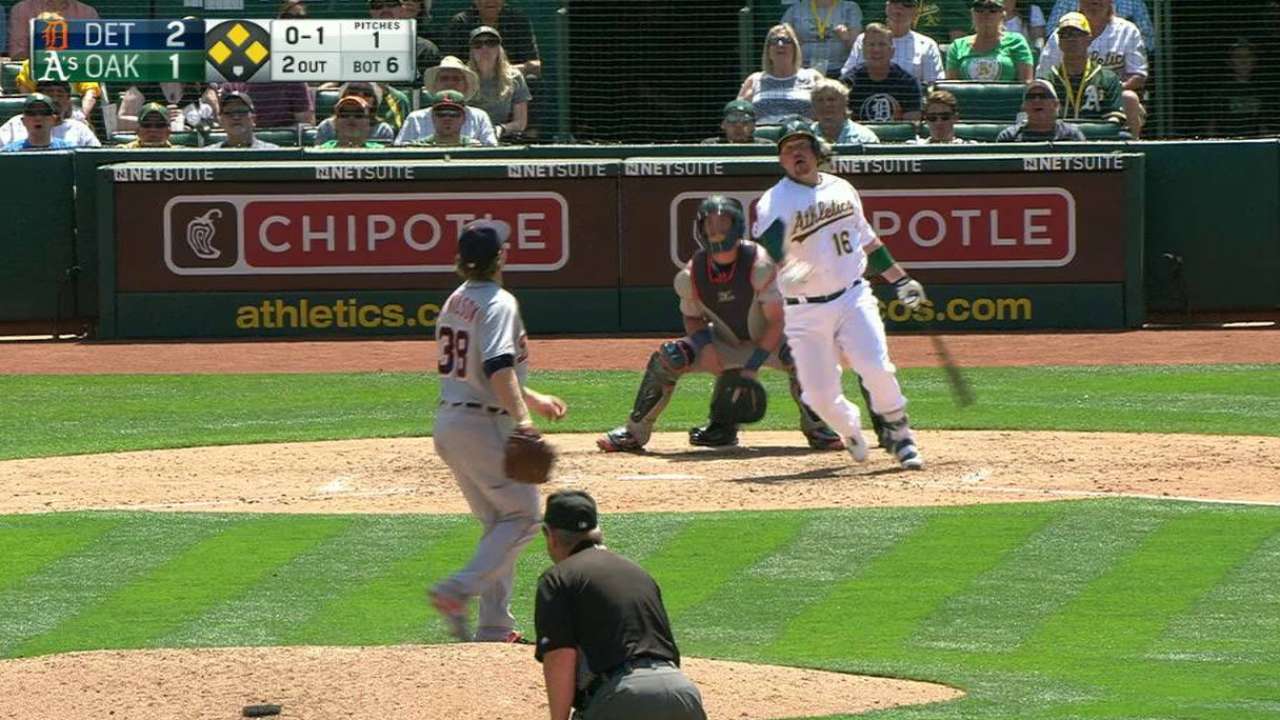 Hill exits game vs. Tigers with injury

MLB.com

7 hours ago

A's left-hander Rich Hill left Sunday's game against the Tigers in the seventh inning with an apparent injury.

Share Tweet

nytimes.com MLB.com

May 28 (yesterday)

Billy Butler got the Athletics going, Khris Davis broke it open and the Oakland Athletics had their largest offensive output of the season.

Share Tweet

MLB.com

May 28 (yesterday)

About three hours before Saturday's 12-3 loss to the A's, Brad Ausmus poked his head into the visiting manager's office at the Coliseum just as bench coach Gene Lamont was wrapping up a pregame meeting with reporters.

Share Tweet

Butler, Davis fuel A's 17-hit attack in rout of Tigers

MLB.com

May 28 (yesterday)

The A's busted out of their offensive slump with a commanding 12-3 victory over the Tigers at the Coliseum on Saturday afternoon, highlighted by home runs from Billy Butler, Danny Valencia and Khris Davis, whose three-run shot in the seventh inning mark…

Share Tweet

yahoo.com

May 28 (yesterday)

A typical baseball season produces thousands upon thousands of double plays. Still, we doubt we'll see another double play quite as strange as the one turned by the Oakland A's on Friday night. Or perhaps we should say, we doubt we'll see another double…

Share Tweet

Gray set to throw from mound in injury rehab

MLB.com

May 27 (2 days ago)

A's ace Sonny Gray is making strides in his rehab from a right trapezius strain and is slated to throw off the mound for the first time since suffering the injury on Saturday.

Share Tweet

MLB.com nytimes.com

May 26 (4 days ago)

Adam Lind launched a pair of homers and drove in six runs in a four-hit night as the Mariners jumped on first-time A's starter Zach Neal en route to a 13-3 series-clinching romp Wednesday at Safeco Field.

Share Tweet

Martin tweaks hamstring, exits Mariners' win

MLB.com

May 26 (4 days ago)

Leonys Martin continued his recent hot streak with an RBI single in the third inning of the Mariners' 13-3 win over the A's on Wednesday, but the center fielder was taken out the following frame after hurting his left hamstring while running the bases.

Share Tweet

MLB.com

May 25 (5 days ago)

The A's were one out away from defeating the Mariners until Leonys Martin hit a two-run, walk-off home run.

Share Tweet

nytimes.com

May 25 (5 days ago)

Leonys Martin needed a few looks to figure out Ryan Madson's changeup, and then he solved the offspeed pitch in a big way.

Share Tweet

nytimes.com

May 22

The Yankees earned their fifth win in a row and the 12th in their last 17 games.

Share Tweet

Bay breeze: Yanks sweep A's, win 5th in row

MLB.com

May 22

A two-run sixth inning and home runs from Brian McCann and Jacoby Ellsbury propelled the Yankees to a 5-4 win and a sweep of the A's Sunday at the Coliseum.

Share Tweet

A's place ace Gray on 15-day disabled list

MLB.com

May 22

The A's placed right-hander Sonny Gray on the 15-day disabled list on Sunday with a strained right trapezius.

Share Tweet

yahoo.com

May 22

Oakland A's outfielder Coco Crisp has been well traveled over his 15-year MLB career, suiting up for four different teams. He's found a home with the A's though, having spent the last seven seasons under their employ. Considering Crisp grew up in Los An…

Share Tweet

Yankees 5, Athletics 1: Yankees Defeat Athletics for Fourth Straight Victory

Masahiro Tanaka pitched seven strong innings and Rob Refsnyder, a recent call-up, drove in two runs as the Yankees climbed out of last place.

Share Tweet

Tanaka, Castro trigger Yanks' 4th straight win

MLB.com

May 21

Masahiro Tanaka returned to form with seven strong innings and Starlin Castro notched three hits as the Yankees won their fourth straight contest on Saturday, posting a 5-1 victory over the Athletics at the Coliseum.

Share Tweet

A-Rod targets Tuesday vs. Jays for return

MLB.com

May 20

Alex Rodriguez accompanied the Yankees on their seven-game road trip against the D-backs and Athletics, but the team has decided to wait until they return home to activate him from the disabled list.

Share Tweet

Gray's Struggles Continue as Athletics Lose 8-3 to Yankees

Oakland manager Bob Melvin is trying to keep a positive spin on Sonny Gray's season, even as the Athletics' ace continues to suffer through one of the longest slumps of his career.

Share Tweet

Yanks' big 4th, sharp CC fuel 3rd straight win

MLB.com

May 21

Carlos Beltran collected three doubles and as many RBIs, helping the Yankees hand Sonny Gray and the A's another loss at the Coliseum on Friday night by an 8-3 decision.

Share Tweet

Yankees 8, Athletics 3: Ronald Torreyes Steps Out of Teammates' Shadows to Rally Yankees

A triple by Torreyes started a five-run inning that helped the Yankees beat the A's for a third straight win.

Share Tweet

Tanaka Helps Yankees Beat A's for 4th Straight Win

With his surgically repaired right elbow no longer throbbing in pain, Masahiro Tanaka is back to pitching the way the Yankees envisioned when they outbid several teams to lure him from Japan two years ago.

Share Tweet

MLB.com

May 20

The A's added another player to the disabled list, and a significant one at that: Josh Reddick became the 12th member of the team to hit the DL after fracturing his left thumb in Thursday night's 4-1 loss to the Yankees.

Share Tweet

nytimes.com

May 20

Solid pitching by Ivan Nova, and solid hitting by Carlos Beltran, gave the Yankees the edge despite some blunders on the basepaths.

Share Tweet

Kershaw Struck By Liner, Loses Part Of Tooth

Mar 20

Clayton Kershaw was hit by Andy Parrino's broken-bat liner in the bottom of the third inning in the Dodgers' 3-2 loss to the A's. Kershaw remained in the game.

How Will Jason Giambi Be Remembered?

Feb 16

Jerry Crasnick reflects on the career and legacy of Jason Giambi, who announced his retirement from baseball Monday.

Greatest Dynasties In Baseball History

Jan 26

Cary Chow and David Schoenfield look at the greatest baseball dynasties and pick out where the current Giants fit on the list.

Buster's Blog: Athletics' Bustling Offseason

Jan 15

Buster Olney takes a look at the Athletics' offseason moves and what to expect this upcoming season.