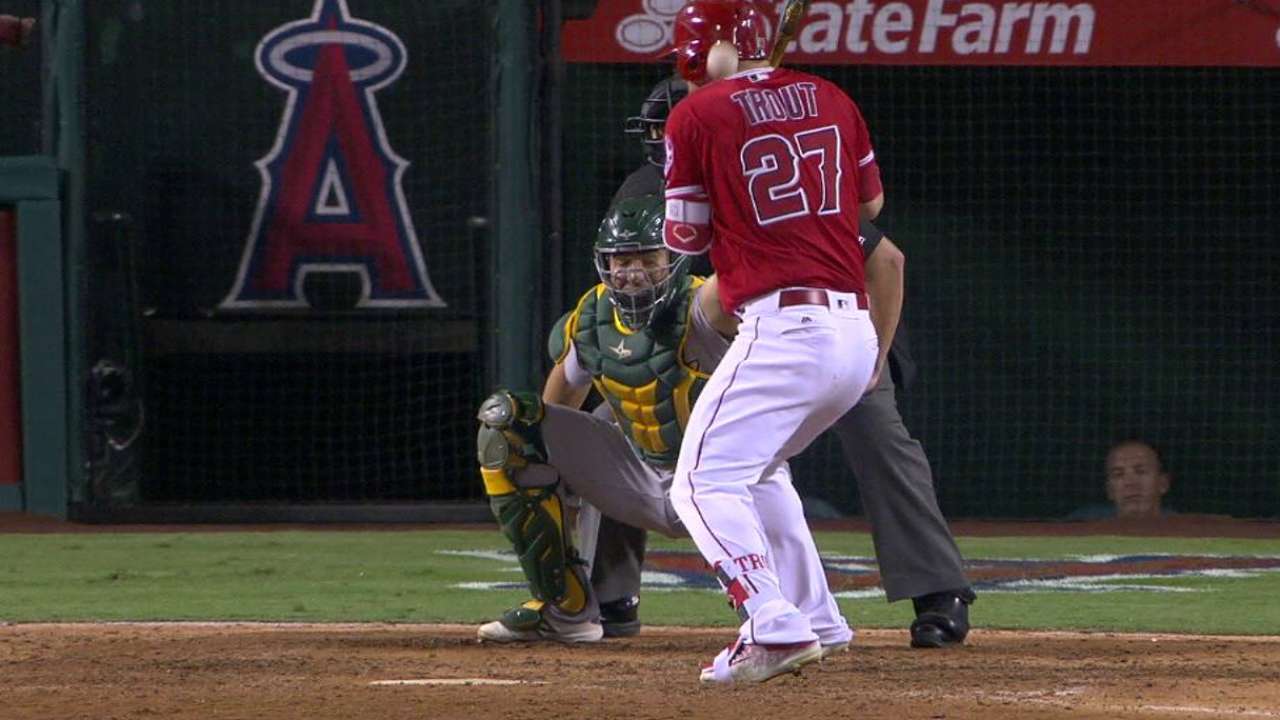 nytimes.com MLB.com

23 hours ago

The Los Angeles Angels saw one of their future stars make strides but may have lost their biggest star for the last days of the season, as Mike Trout exited the game after taking a fastball to the shoulder.

Share Tweet

MLB.com

Sep 28 (yesterday)

Jefry Marte broke open Tuesday's victory over the A's with his first career grand slam, as the Angels rolled to a lopsided win.

Share Tweet

Marte, Nolasco Lead Angels Over A's 8-1

nytimes.com

Sep 28 (yesterday)

Rookie Jefry Marte hit his first career grand slam in a seven-run fourth inning Tuesday night and the Los Angeles Angels beat the Oakland Athletics 8-1.

Share Tweet

Versatile Olson finding footing in A's outfield

MLB.com

Sep 27 (2 days ago)

A's rookie Matt Olson perfectly fits the mold of a prototypical first baseman, yet the A's power-hitting prospect, who stands 6-foot-5, has spent more time in right field than any other position in recent seasons.

Share Tweet

Trout goes deep as Angels top A's

MLB.com

Sep 27 (3 days ago)

Albert Pujols knocked in the go-ahead run in the eighth and Mike Trout had two hits, including his 29th home run. Pitcher Jered Weaver retired the first 14 hitters he faced before departing with lower back tightness. Oakland pitcher Sean Manaea allowed …

Share Tweet

Jered Weaver Contemplates Future After Angels Beat A's 2-1

nytimes.com

Sep 27 (3 days ago)

If Jered Weaver is in his final week with the Los Angeles Angels, the veteran right-hander will try to finish his 11 seasons the right way.

Share Tweet

Rangers blank A's, move closer to home field

MLB.com

Sep 24 (5 days ago)

The Rangers went with a makeshift lineup on Saturday, the day after clinching the American League West title, but not every regular could get the afternoon off.

Share Tweet

A's hoping Gray returns before season's end

MLB.com

Sep 24 (5 days ago)

A's right-hander Sonny Gray faced hitters Saturday, taking the next step in what he hopes will be his return to the mound before the season concludes.

Share Tweet

nytimes.com MLB.com

Sep 24 (6 days ago)

The Texas Rangers became the first American League team to clinch a playoff spot when they clinched the AL West Division with a 3-0 victory over the Oakland Athletics on Friday.

Share Tweet

yahoo.com

Sep 23 (6 days ago)

Sorry, Oakland Athletics, your World Series trophy is in another castle. And, hopefully it's not filled with sewage. The A's are a team that traditionally fluctuates between under-appreciated overachievers and not-quite-there youngsters. Well, file this…

Share Tweet

MLB.com

Sep 22

Thanks to the Angels and the Astros, the Rangers will have to wait until they get to Oakland before they get another chance to clinch the American League West. The Angels bested the Rangers, 5-4, in a night game at Globe Life Park after the Astros defea…

Share Tweet

Davis improving from illness, remains out

A's outfielder Khris Davis, sent home Tuesday night with a stomach ailment, remained out of the lineup for Wednesday afternoon's series finale against the Astros.

Share Tweet

Astros All-Star second baseman Jose Altuve hasn't been finding hits as often as he did in the first five months of season, which made for what seemed like a struggle to reach 200. After making outs in his first three at-bats in Tuesday's 2-1 win over th…

Share Tweet

A's play Astros under protest after overturned call

The A's played Tuesday's game against the Astros under protest after manager Bob Melvin appeared to express disagreement with the placement of a runner following a replay review in the third inning.

Share Tweet

Gattis Homers Twice to Help Astros Complete Sweep of A's

nytimes.com

Sep 21

Evan Gattis homered twice, catcher Jason Castro threw out a runner to end the game and the contending Houston Astros beat the Oakland Athletics 6-5 on Wednesday to complete a sweep.

Share Tweet

MLB.com

Sep 20

The Astros were in desperate need of a hero in the late innings Monday night, and Marwin Gonzalez answered the call.

Share Tweet

nytimes.com

Sep 20

A big pinch-hit double by seldom-used Tyler White in the eighth inning and little discipline at the plate by Marwin Gonzalez in the ninth provided just enough to keep the Houston Astros on the fringe of the AL wild card race.

Share Tweet

A's swat 3 HRs, get Alcantara 1st win

MLB.com

Sep 18

Raul Alcantara, given a 7-0 lead after five innings, outpitched Rangers starter Yu Darvish, and the Athletics held on for an 11-2 victory at Globe Life Park on Saturday night.

Share Tweet

AL-Best Rangers Lose 11-2 as Darvish Struggles Again vs A's

nytimes.com

Sep 17

Joey Wendle led off the game with his first major league homer for Oakland, Marcus Semien also went deep against Yu Darvish and the Athletics beat the AL-best Texas Rangers 11-2 on Saturday night.

Share Tweet

yahoo.com

Sep 17

With a comfortable 9 1/2-game lead in the AL West, Texas Rangers manager Jeff Banister already has his eye on the big prize. That's why the second-year skipper has gone out of his way this weekend to line up Cole Hamels, Yu Darvish and Colby Lewis, whic…

Share Tweet

A's bats do major damage in sweep of Royals

MLB.com

Sep 15

The homestand that was supposed to provide a launching pad for the Royals into serious postseason contention instead may have sealed the defending World Series champions' fate.

Share Tweet

Vogt Drives in 5 Runs as A's Win 14-5 to Sweep 4 From Royals

nytimes.com

Sep 15

Ryon Healy's long shot left the Kansas City Royals a longshot to return to postseason play.

Share Tweet

nytimes.com

Sep 15

Butler, released by the Oakland Athletics, was in the lineup, batting fifth, against the Red Sox on Thursday night.

Share Tweet

MLB.com

Sep 14

The postseason chances for the defending World Series champion Royals could now officially be on life support. After crushing losses in the first two games of the series, the Royals appeared zapped of energy Wednesday night, mustering just four singles …

Share Tweet

Alonso, Semien Hit 2-Run Doubles; A's Top Royals 8-0

nytimes.com

Sep 14

Yonder Alonso's doubles are spoiling the Kansas City Royals' postseason hopes.

Share Tweet

Kershaw Struck By Liner, Loses Part Of Tooth

Mar 20

Clayton Kershaw was hit by Andy Parrino's broken-bat liner in the bottom of the third inning in the Dodgers' 3-2 loss to the A's. Kershaw remained in the game.

How Will Jason Giambi Be Remembered?

Feb 16

Jerry Crasnick reflects on the career and legacy of Jason Giambi, who announced his retirement from baseball Monday.

Greatest Dynasties In Baseball History

Jan 26

Cary Chow and David Schoenfield look at the greatest baseball dynasties and pick out where the current Giants fit on the list.

Buster's Blog: Athletics' Bustling Offseason

Jan 15

Buster Olney takes a look at the Athletics' offseason moves and what to expect this upcoming season.