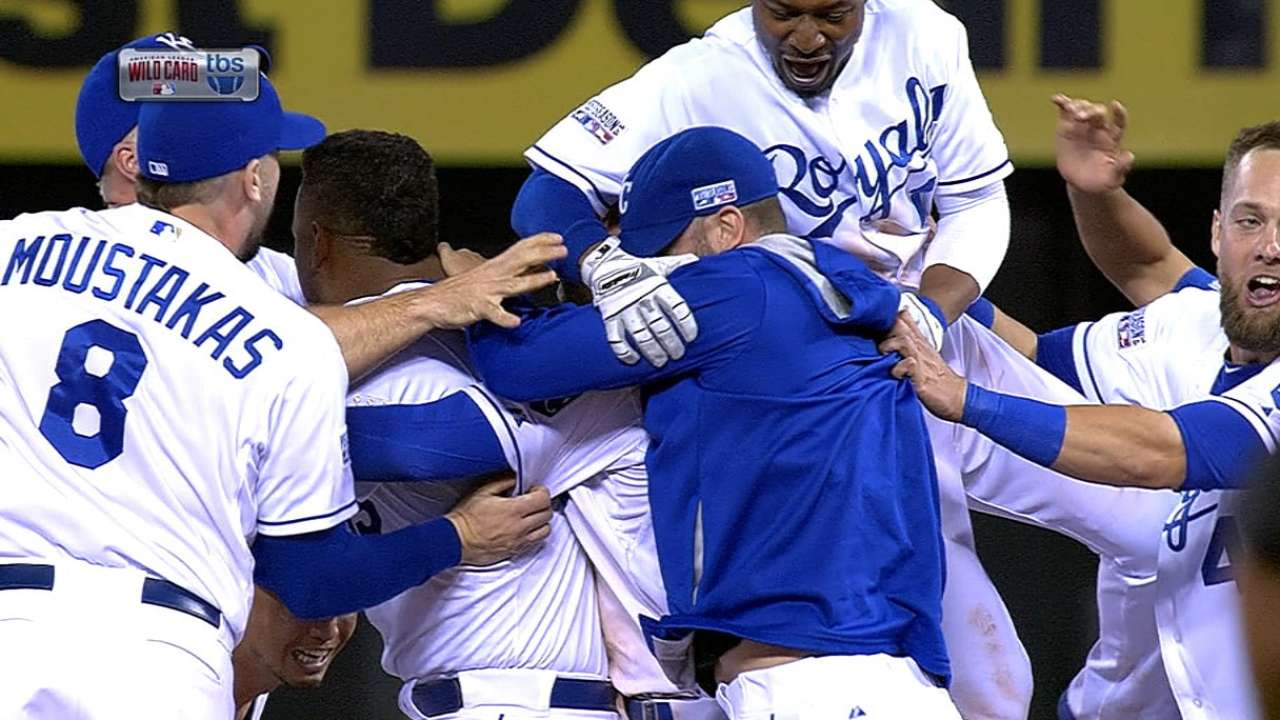 nytimes.com
MLB.com
deadspin.com
ESPN.com
yahoo.com
Updated 1 hour ago
On Tuesday night, the Royals won a game their fans can celebrate all winter. The A's, meanwhile, have now lost their last seven winner-take-all postseason games.
Upvote
Share
Tweet
Sanchez, Soria likely to be key cogs in bullpen

MLB.com

4 hours ago

Anibal Sanchez spent part of his Tuesday night viewing the Royals and Athletics battle in the American League Wild Card Game, watching the Royals' ability to put pressure on opponents with their speed.

Upvote Share Tweet

A's-Royals Confused The Hell Out Of Gamblers

deadspin.com

8 hours ago

Last night's AL play-in game was the kind of protracted back-and-forth that makes a baseball game genuinely exciting. It also drives bettors nuts. Here are the implied winning percentages, which are modeled off of live betting on Betfair by Gambletron 2…

Upvote Share Tweet

Royals puppy woman watched comeback from outfield and will get puppy after playoffs

yahoo.com

10 hours ago

Katie Castan will get her puppy, but she's waiting until after the playoffs to adopt. Castan was the Kansas City Royals fan spotted by TBS cameras in the middle of the fifth inning of Tuesday's wild card game between the Oakland A's and Royals holding a…

Upvote Share Tweet

This probably wasn't how Adam Dunn imagined things would go. Dunn was traded to the Oakland Athletics from the Chicago White Sox on Aug. 31 as Oakland looked to add postseason power. It was going to be the slugger's first time in the playoffs in his 14-…

Upvote Share Tweet

A's bullpen picks wrong time for rough night

MLB.com

19 hours ago

All but one of the five relievers who entered after Jon Lester exited in the eighth inning either gave up a run or allowed inherited runners to score.

Upvote Share Tweet

yahoo.com

19 hours ago

KANSAS CITY, Mo. – Salvador Perez just needed to take a pitch. A player not known for his patience at the plate, Perez was especially antsy in the late innings of Tuesday's wild-card win against the Oakland A's. With the Royals trailing 7-6 with one out…

Upvote Share Tweet

yahoo.com deadspin.com

19 hours ago

Ned Yost escaped with his job still in tact Tuesday night, after his Kansas City Royals came back three times to beat the Oakland Athletics in the AL wild-card game. For a while, it didn't look like Yost would be so lucky. He took out starting pitcher J…

Upvote Share Tweet

Royals rookie Finnegan flourishes in clutch relief

MLB.com

20 hours ago

Rookie Brandon Finnegan helped the Royals do something they hadn't done in 29 years -- celebrate a postseason victory -- by pitching 2 1/3 clutch frames in extra innings of a scintillating 9-8 walk-off triumph in 12 over the A's in the American League W…

Upvote Share Tweet

Defiant Royals Outfox A's in Wild Card Game

nytimes.com

20 hours ago

The Kansas City Royals beat the Oakland Athletics 9-8 in a thrilling, 12-inning do-or-die Wild Card playoff on Tuesday to eke out a victory in their first postseason game for 29 years.

Upvote Share Tweet

MLB.com

20 hours ago

A's catcher Geovany Soto was forced to exit Tuesday night's 9-8 loss to the Royals in the American League Wild Card Game in the bottom of the third inning because of a left thumb injury.

Upvote Share Tweet

Athletics season ends in Wild Card heartbreak

MLB.com

22 hours ago

The A's had a four-run lead in the eighth inning and one-run leads in the ninth and 12th, but the Royals refused to go away on Tuesday night and ended Oakland's season with a 9-8 victory when Jason Hammel gave up a walk-off single to Salvador Perez in t…

Upvote Share Tweet

Breaking Down Royals' Win

Sep 30

Dallas Braden breaks down the Royals' 9-8 win over the A's.

Perez On Game-Winning Hit

Sep 30

Salvador Perez discusses his RBI single that lifted the Royals past the A's 9-8 in extra innings.

Breaking Down The A's Season

Sep 30

Baseball Tonight Minute: The Baseball Tonight crew discusses the Oakland Athletics' season and what went wrong.

Royals Rally For Wild-Card Walk-Off Win

Sep 30

SportsCenter Highlight of the Night: Salvador Perez's RBI single in the 12th inning advanced the Royals to the American League Division Series with a 9-8 win over the Athletics.