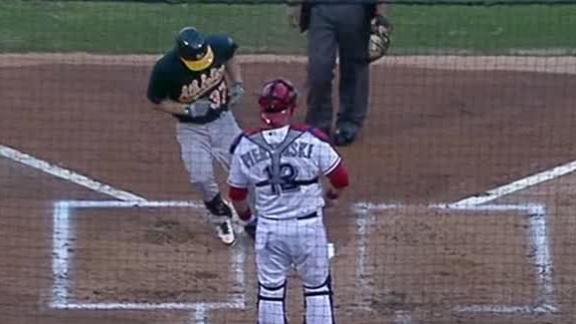 MLB.com

Jun 18, 2013

Jarrod Parker fired seven stellar innings, holding the Rangers hitless after the third, while Brandon Moss and John Jaso went deep to lead the A's over the Rangers, 6-2, on Tuesday in Texas.

Share Tweet

yahoo.com deadspin.com ESPN.com

Jun 18, 2013

The City of San Jose filed a federal antitrust lawsuit against Major League Baseball on Tuesday, appealing to the courts to clear the way for the proposed Oakland Athletics ballpark in San Jose. The lawsuit comes after years of stalling on what would be…

Share Tweet

San Jose Sues MLB

Jun 18

San Jose city officials claim that Major League Baseball is dragging its feet in relation to having team owners vote on a proposed move of the Oakland Athletics to their city.

San Jose Suing MLB To Move Athletics

Jun 18

Baseball Tonight Minute: Baseball Tonight looks at the case that San Jose has against the MLB.

Homers Lift A's Past Rangers

Jun 18

Brandon Moss and John Jaso both homered off of Yu Darvish in the A's 6-2 win over the Rangers.

Sports Columnists

2013 NBA playoffs -- Spurs left to regroup after Game 6

Jun 18

The Spurs were less than a minute away from a title, but now they're forced to regroup for a Game 7.

2013 NBA Finals -- Chris Bosh of Miami Heat -- Danny Green of San Antonio …

Jun 18

After San Antonio Spurs guard Danny Green hit 66 percent of his 3-pointers through the first five games of the NBA Finals, the Miami Heat's Chris Bosh declared there will be a different look for Game 6: no more open shots.