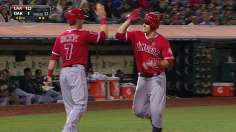 Halos rout division-leading A's behind Wilson
MLB.com
Updated Sep 17, 2013
C.J. Wilson tossed seven innings of one-run ball and the offense jumped all over Jarrod Parker and the first-place A's bullpen on Monday, posting a 12-1 victory on Monday, the Angels' sixth win in seven games.
Upvote
Share
Tweet
Parker's franchise-best unbeaten mark ends at 19

MLB.com

Sep 17, 2013

Jarrod Parker returned to the mound after being scratched due to illness on Sunday. However, Parker had his worst outing in months, allowing seven earned runs in 4 1/3 innings, snapping a 19-start unbeaten streak in Monday's 12-1 loss to the Angels. The…

Upvote Share Tweet
A's Walk Off Against Angels

Sep 17

Josh Donaldson's single in the bottom of the ninth lifted the A's past the Angels 2-1.
Sports Columnists
NFL -- NFC East no longer a beast - John Clayton mailbag

Sep 17

John Clayton's mailbag: The NFC East has gotten beat up early, and its struggles were easy to foresee.

Don Banks: Andy Reid's return to Philadelphia a historic trip back in time

Sep 17

He is the only man having already made the same trip down memory lane that Andy Reid faces this week in his much-anticipated return to Philadelphia, and somewhat predictably, he predicted cheers will greet his fellow former Eagles coach Thursday night a…

Don't Be Fooled: The Future of Offense Is Simplicity

Sep 17

Stanford's Kevin Hogan gets the offense set against Army. - (Frank DiBrango/Icon SMI) WEST POINT, N.Y. — The future of offensive football doesn't have to be no-huddle, and it doesn't have to be breakneck. It just has to be varied, and it has to put thou…