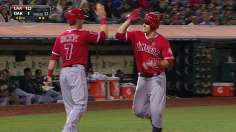 Parker's franchise-best unbeaten mark ends at 19

MLB.com

Sep 17, 2013

Jarrod Parker returned to the mound after being scratched due to illness on Sunday. However, Parker had his worst outing in months, allowing seven earned runs in 4 1/3 innings, snapping a 19-start unbeaten streak in Monday's 12-1 loss to the Angels. The…

Share Tweet
A's Walk Off Against Angels

Sep 17

Josh Donaldson's single in the bottom of the ninth lifted the A's past the Angels 2-1.