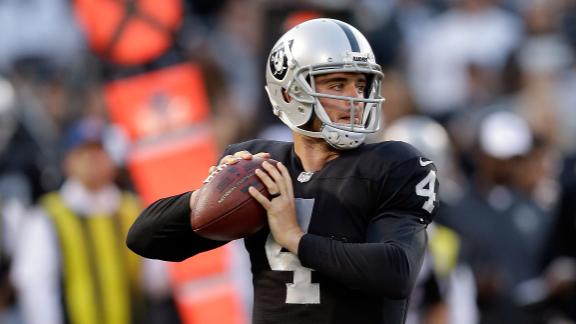 ESPN.com
yahoo.com
profootballtalk.com
insidebayarea.com
Updated 1 hour ago
The Oakland Raiders have named rookie Derek Carr their starting quarterback, according to a Fox Sports report.
Upvote
Share
Tweet
profootballtalk.com insidebayarea.com

5 hours ago

A former Patriots second-round pick is among 10 players signed to the Raiders' initial practice squad. Cornerback Ras-I Dowling, whom New England took with the first pick of Round Two in 2011, is the most experienced of the 10 signees announced by Oakla…

Upvote Share Tweet

insidebayarea.com

19 hours ago

A Bay Area News Group NFL special section was delivered to subscribers Sunday and also available at 7-Eleven stores for $4.95. It's in a magazine format, and far and away the most impressive presentation for which I've been involved in some 30 years in …

Upvote Share Tweet

profootballtalk.com

Aug 31 (yesterday)

The Raiders have added a youthful edge-rushing prospect. The club has claimed ex-Seahawks defensive end Benson Mayowa on waivers, Tom Pelissero of USA Today reported Sunday. A second-year player from Idaho, the 23-year-old Mayowa played two regular seas…

Upvote Share Tweet

ESPN.com

Aug 30 (yesterday)

Most significant moves: Safety Brandian Ross was a surprise cut. He started 13 games the past season, and he had 75 tackles. The Oakland Raiders re-signed him in May. He was expected to be a key backup this year. The Ross cut meant seventh-round pick Jo…

Upvote Share Tweet

profootballtalk.com insidebayarea.com

Aug 30 (2 days ago)

As per custom, the Raiders were the last team to announce their cuts, rolling in three hours after the league's deadline to submit them. There wasn't what you'd call a surprise among the group, though they did cut veteran wideout Greg Little. The rest o…

Upvote Share Tweet

Raiders 53-man roster broken down by position group

insidebayarea.com

Aug 30 (2 days ago)

Quarterbacks (3) _ Matt Schaub, Derek Carr, Matt McGloin. Running backs (5) _Darren McFadden, Maurice Jones-Drew, Latavius Murray, Marcel Reece, Jamize Olawale. Tight ends (3) _ Mychal Rivera, David Ausberry, Brian Leonhardt. Wide receivers (5) _ Brice …

Upvote Share Tweet

Greg Little out in Oakland

profootballtalk.com

Aug 30 (2 days ago)

If the Browns now regret cutting receiver Greg Little, they can do something about it. Little, claimed by the Raiders on waivers after he was cut by the Browns in May, has been released by Oakland. He'll be exposed to the waivers process again, with all…

Upvote Share Tweet

The Raiders are reportedly set to release one of their 2012 draft picks. Via Instagram, defensive end Jack Crawford indicated Friday night that the club had parted ways with him. "Wish the best for all my teammates I went to battle with and will always …

Upvote Share Tweet

The Rams' patience may have paid off. Per a league source, the Seahawks will release quarterback Terrelle Pryor. A 2011 third-round supplemental pick of the Raiders, Pryor will hit the waiver wire, since he doesn't yet have four years of experience. The…

Upvote Share Tweet

Dennis Allen still vague on QB job

ESPN.com

Aug 29 (3 days ago)

Oakland Raiders coach Dennis Allen said Friday he will know who his starting quarterback for their Week 1 game at the New York Jets early in the week. However, Allen did not shed any light of whether Matt Schaub or rookie Derek Carr will be behind cente…

Upvote Share Tweet

profootballtalk.com ESPN.com nytimes.com

Aug 29 (3 days ago)

Raiders rookie quarterback Derek Carr played well in the preseason finale on Thursday night. But did he play well enough to unseat Matt Schaub as the starter? Coach Dennis Allen isn't saying. Allen said today that Schaub was not at the facility because …

Upvote Share Tweet

insidebayarea.com ESPN.com

Aug 29 (3 days ago)

Updated, filed for print . . . As the Raiders began the process of forming their 2014 roster Friday, quarterback Matt Schaub was not at the facility and dealing with a "personal issue.'' Raiders coach Dennis Allen, asked about the condition of Schaub's …

Upvote Share Tweet

A look at how Raiders 53-man roster is shaping up after win over Seattle Seahawks

insidebayarea.com

Aug 29 (3 days ago)

Some names could conceivably be released Friday, but using recent history as a guide, the Raiders will likely wait until the 1 p.m. Saturday deadline and possibly beyond before announcing the composition of their 53-man roster. At that point, the 53 who…

Upvote Share Tweet

PFT Live: Raiders talk with Vic Tafur, PFT Planet calls and tweets

The preseason schedule came to an end on Thursday night with few starting players taking part in the action. The Raiders used the occasion to give rookie quarterback Derek Carr the start and extended playing time and Vic Tafur of the San Francisco Chron…

Upvote Share Tweet

insidebayarea.com

Aug 29 (4 days ago)

Most of the Raiders key players received the night off Thursday. Others such as veteran wide receiver Denarius Moore played because the coaches wanted one last look at them before the final roster cuts take place. Moore made a convincing case for being …

Upvote Share Tweet

Could Carr Take QB Job From Schaub?

Aug 29

Jarrett Bell discusses the Raiders' quarterback situation and whether Derek Carr's performance against the Seahawks made a strong enough case to grab the starting spot from Matt Schaub.

Derek Carr to get extended playing time against the Seahawks

Aug 28

Oakland Raiders quarterback Derek Carr will get extended playing time in their final preseason game against the Seattle Seahawks.

Carr Strong In Raiders' Win

Aug 28

Derek Carr threw for 143 yards and three touchdowns in the Raiders' 41-31 win over the Seahawks.

Inside The Huddle: Four AFC QBs Struggle

Aug 28

John Clayton shows why four AFC teams have to be concerned about their starting QBs' performances this offseason.