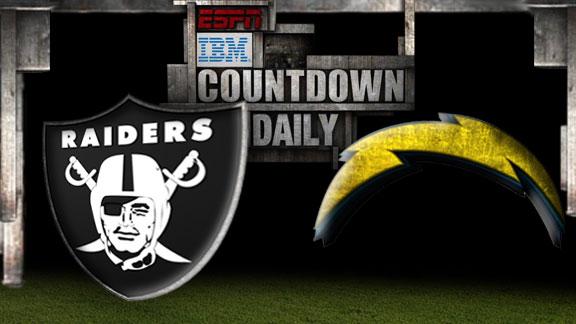 insidebayarea.com
CNNSI.com
ESPN.com
profootballtalk.com
Updated Dec 28, 2012
Ready or not, here he comes. Terrelle Pryor will start the Raiders regular-season finale Sunday at quarterback against the San Diego Chargers at Qualcomm Stadium, coach Dennis Allen announced Friday. "I feel that I'm ready,'' Pryor said. "I felt
Share
Tweet
yahoo.com

Dec 28, 2012

Maurice Jones-Drew is one of the most reliable running backs in the NFL, but more than two months after suffering a foot sprain in a game against the Raiders, the Jaguars have finally put MJD on the injured reserve list. While only a week remains in the…

Share Tweet

profootballtalk.com

Dec 28, 2012

Cam Newton has made multiple donations to the Human Fund this week. Along with his previously reported $21,000 fine for bumping referee Jerome Boger, Newton has also been fined another $10,000 for his actions in last week's game against the Raiders. The

Share Tweet

Matt Leinart: I deserve to start

profootballtalk.com

Dec 28, 2012

The Raiders haven't named their starting quarterback for Sunday's finale against the Chargers, but one of the candidates believes that he's deserving of the starting job. While Matt Leinart says he'd be supportive of Terrelle Pryor in the event th

Share Tweet

Run game doesn't give Raiders fall-back

sfgate.com

Dec 28, 2012

Run game doesn't give Raiders fall-back The Raiders' offensive coordinator is a two-drops-full guy, always seemingly smiling and finding the best in a circumstance, even if the circumstances are as bad as his offense has been. Normally, a team would tur…

Share Tweet

Sports Columnists

Peter King: Cowboys on familiar ground with win-or-go-home Week 17

Dec 28

In the offseason, Dallas coach Jason Garrett visited the Yankees' spring-training home in Tampa, and sought out Derek Jeter. Garrett was raised in Yankee country, so he has great respect for the Yankee shortstop, and he wanted to ask him about leadershi…

NFL - John Clayton's five most cherished NFL records

Dec 28

Football records might not resonate like those in baseball, but there are five NFL records that stand above the rest, John Clayton writes.