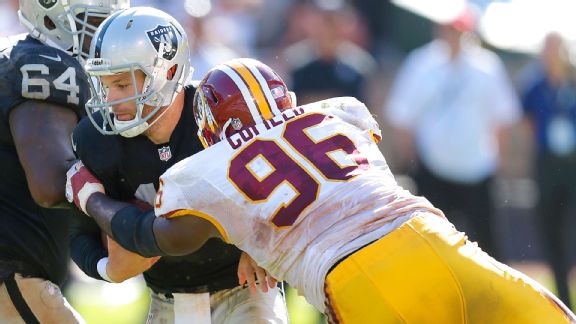 ESPN.com
profootballtalk.com
Updated Sep 29, 2013
OAKLAND -- The thinking went like this and, really, never deviated, despite some cloak and dagger gamesmanship from Oakland Raiders coach Dennis Allen late in the week and conflicting reports: If Terrelle Pryor was healthy enough to suit up against the …
Share
Tweet
insidebayarea.com

Sep 29, 2013

OAKLAND – In a perfect world, Rashad Jennings doesn't see much playing time for the Raiders. If he's on the field a great deal, that signifies that a front-line player is injured. Such was the case Sunday, when Jennings was called upon to fill in for ru…

Share Tweet

ESPN.com insidebayarea.com profootballtalk.com

Sep 29, 2013

OAKLAND -- Observed in the locker room after the Oakland Raiders' 24-14 loss to the Washington Redskins. Long gone: Neither running back Darren McFadden nor Pro Bowl fullback Marcel Reece were at their locker in the immediate aftermath of coach Dennis A…

Share Tweet

insidebayarea.com

Sep 29, 2013

The Raiders won the toss and deferred their decision until the second half. Sebastian Janikowski's opening kickoff is a touchback . . . might have split the uprights . . .

Share Tweet

ESPN.com

Sep 29, 2013

Join our ESPN.com NFL experts as they break down the Washington Redskins' visit to the Oakland Raiders. Contribute your thoughts and questions beginning at 4:25 p.m. ET. And, be sure to visit our NFL Nation Blitz page for commentary from every game, as …

Share Tweet

yahoo.com

Sep 29, 2013

Even though Oakland quarterback Terrelle Pryor has been cleared to play, he will not start against the Washington Redskins, according to reports. Fox Sports and ESPN both reported that Matt Flynn will start at quarterback for the Raiders today. That com…

Share Tweet

profootballtalk.com

Sep 29, 2013

Lane Kiffin, the former Raiders head coach whose high-profile firing in Oakland was the subject of much discussion in the NFL, has now been involved in a high-profile firing that will be the subject of much discussion in college football. USC announced …

Share Tweet

Redskins Rally For First Win

Sep 29

The Redskins scored 24 unanswered points to top the Raiders 24-14.

Sunday Blitz: Redskins-Raiders Recap

Sep 29

Jim Basquil and Eric Allen break down the Redskins week 4 win over the Raiders.

Week 4: Washington Redskins vs. Oakland Raiders highlights

Sep 29

The Washington Redskins overcame a 14-point deficit to get their first win of the season against the Oakland Raiders.

Raiders postgame press conference

Sep 29

Raiders react following game with Redskins

Sports Columnists

Don Banks: Seattle's latest road victory sends message to rest of NFC; mor…

Sep 29

NASHVILLE, Md. -- Musings, observations and the occasional insight as we review the results of Week 4 in the NFL, and watch the surprising 3-1 Titans dispatch the Jets at LP Field. ...