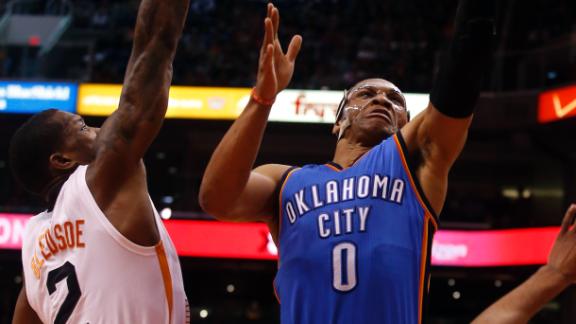 OKC focusing on playoffs after losing Durant

ESPN.com

Mar 28 (yesterday)

A day after Kevin Durant was ruled out for the rest of the regular season because of issues with his surgically repaired right foot, the Oklahoma City Thunder said they are focusing on continuing their playoff push.

Share Tweet

NBA MVP Kevin Durant will miss the rest of the season and have bone graft surgery next week to treat a fractured bone in his right foot.

Share Tweet

yahoo.com

Mar 26 (4 days ago)

Tim Duncan's been an awful lot of things in his illustrious 18-year career — an NBA champion (five times), an All-Star (15 times), the league's Most Valuable Player (two times), the NBA Finals' Most Valuable Player (three times), an All-NBA selection (1…

Share Tweet

Spurs stop OKC's streak with 39-point rout

ESPN.com

Mar 26 (4 days ago)

Tony Parker had 21 points and six assists, and the San Antonio Spurs stopped Oklahoma City's four-game winning streak with a runaway 130-91 victory over the Thunder on Wednesday night.

Share Tweet

Westbrook, Kanter vault Thunder by Lakers

ESPN.com

Mar 24 (5 days ago)

NBA scoring leader Russell Westbrook poured in 27 points and added 11 assists and Enes Kanter contributed 25 points and 16 rebounds as the Thunder beat the Lakers 127-117 on Tuesday night for their fourth straight victory.

Share Tweet

Thunder's Roberson (ankle) to sit 2-3 weeks

ESPN.com

Mar 24 (6 days ago)

Thunder shooting guard Andre Roberson is out two to three weeks because of a sprained left ankle, according to the team.

Share Tweet

Oklahoma City Thunder star and MVP candidate Russell Westbrook has put up some unreal numbers over this season and especially the past few months, regularly leading his team in every major statistical category. The greatest manifestation of that dominan…

Share Tweet

OKC's Collison (ankle) out at least 10 days

ESPN.com

Mar 21

Oklahoma City Thunder forward Nick Collison will miss at least the next 10 days with a sprained left ankle, Scott Brooks announced at practice on Saturday.

Share Tweet

yahoo.com

Mar 21

Friday was not an especially good day for the Oklahoma City Thunder, who announced that reigning MVP Kevin Durant has ceased basketball activities and could miss the remainder of the season due to persistent soreness in his right foot. While OKC has don…

Share Tweet

Westbrook's 9th triple-double propels OKC

ESPN.com

Mar 20

Westbrook posts another triple-double; Thunder beat Hawks

Share Tweet

Reigning NBA MVP Kevin Durant likely won't return this season.

Share Tweet

yahoo.com

Mar 19

Since his trade from the Oklahoma City Thunder to the Houston Rockets in October 2012, James Harden has become one of the most prolific and efficient scores in the NBA. However, Harden came into Thursday night's game with the visiting Denver Nuggets hav…

Share Tweet

yahoo.com

Mar 18

Pending restricted free agent guard Reggie Jackson got his wish when the Oklahoma City Thunder traded him to the Detroit Pistons at the deadline, finding the starting point guard job he desired and the chance to become a foundational component instead o…

Share Tweet

Is Durant Being Shut Down For The Season?

Mar 20

Amin Elhassan reacts to the news that Kevin Durant will be out indefinitely and figures to not see him the rest of the season.

The Healing Problems With Durant's Foot

Mar 20

Dr. Mark Adickes explains the issues with Kevin Durant's type of foot injury and how the pain continues to affect him even after surgery.

Westbrook, Thunder Topple Hawks

Mar 20

Russell Westbrook recorded his ninth triple-double of the season and the Thunder defeated the Hawks 123-115.

Westbrook, Thunder Snap Celtics' Streak

Mar 18

Russell Westbrook scored 36 points and collected 10 assists as the Thunder snapped the Celtics' five-game win streak with a 122-118 victory.