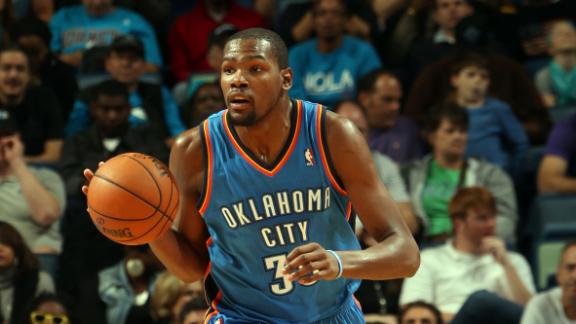 Updated Dec 1, 2012
Share
Tweet
Kevin Durant scored 20 points, Russell Westbrook added 18 points and 10 assists, and the Oklahoma City Thunder won their fifth straight game, 100-79 over the struggling New Orleans Hornets on Saturday night.
Sources:
ESPN.com
thunderobsessed.com
Meltdown Time! All Jazzed Up.

Updated Dec 1, 2012

Share Tweet

The Jazz fans were mostly complaining about their own team and didn't have a lot to say about the Thunder.  Mostly complaining about the refs — surprise, surprise.   My favorite comment is in bold.  What's yours?   Westbrook's a Punk OKC by 3

Source:

thunderobsessed.com
Thunder Roll To Fifth Straight Win

Dec 1

Kevin Durant scores 20 points to lead Thunder to 100-79 win over Hornets.