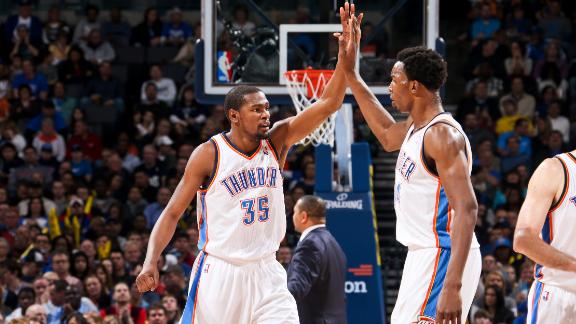 More from Charles Barkley and company

In today's paper, I wrote about Charles Barkley's concerns about the Thunder. Barkley and fellow TNT/NBA TV analysts Kenny Smith and Steve Smith shared their thoughts on a few other topics, as well as some additional Thunder-related issues that did no

Upvote Share Tweet

dimemag.com

Feb 8, 2013

If you didn't catch Cleveland's recent upset win over OKC, you missed out. Badly. That was the night Kyrie Irving officially announced himself as a superstar. Yes, we all knew he could play before then. He's an All-Star, a plus-20-a-night scorer. Bu

Upvote Share Tweet

Durant to enjoy the view during All-Star Weekend

Kevin Durant accepts last year' All-Star Game MVP award from NBA commissioner David Stern.   In the past, three-time scoring champion Kevin Durant would multi-task during All-Star Weekend. Come next weekend in Houston, the 24-year-old superstar will st

Upvote Share Tweet

Daily Starting Five — 2.8.13

thunderobsessed.com

Feb 8, 2013

The Starting Five is five links from around the league that focus on the Oklahoma City Thunder. Sometimes serious, sometimes light-hearted. We're bringing you links from around the world wide web. This guy is a flippin' idiot: But Westbrook?  At thi

Upvote Share Tweet

Westbrook and Harden to reunite

Point guard Russell Westbrook and former Thunder teammate James Harden will reunite while representing the Western Conference in the Shooting Stars competition of All-Star Saturday Night on Feb. 16 at the Toyota Center in Houston. Also representing the …

Upvote Share Tweet

How Many NBA Teams Are Title Contenders?

Feb 8

NBA Countdown breaks down the top teams in the NBA that are title contenders.