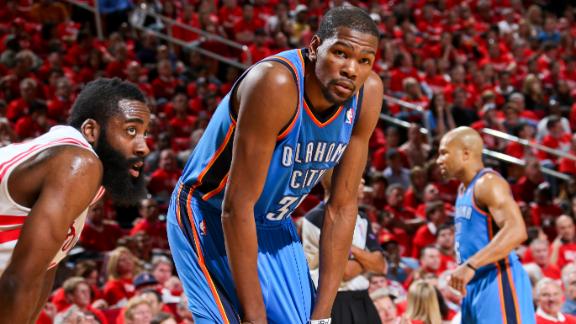 CNNSI.com

May 3, 2013

After letting Houston back in the series, the Thunder finally closed out their first-round duel vs. the Rockets with a 103-94 Game 6 win, thanks in large part to their bench.

Upvote Share Tweet

nba.com ESPN.com newsok.com

May 3, 2013

Oklahoma City star Kevin Durant isn't worried about tweets from Houston rookie Royce White that say the Thunder are looking shaky.

Upvote Share Tweet

Harden's Season in a Word: Great

nytimes.com

May 3, 2013

James Harden's amazing season for the Houston Rockets, his first as a team's primary offensive option, has gone largely overlooked.

Upvote Share Tweet

Comparing the current Thunder to LeBron's 2009 Cavaliers team

newsok.com

May 3, 2013

Anthony Slater [img url=]2043433[/img] You've probably heard the comparison more than once the past week. With Russell Westbrook done for the playoffs and Kevin Durant left to navigate through hounding triple-teams for the slimmest of offensive airspace

Upvote Share Tweet

Knicks, Thunder facing similar pressure

CNNSI.com

May 3, 2013

As the Knicks and Thunder head into Game 6 of their respective series, the two teams are experiencing similar pressure.

Upvote Share Tweet

Power Lunch: Chat with Darnell Mayberry

newsok.com

May 3, 2013

NewsOK.com Sports StaffPower Lunch: Chat with Thunder writer Darnell Mayberry Read more on NewsOK.com

Upvote Share Tweet

Flawed Strategy Crimps Thunder's Chances

nytimes.com

May 3, 2013

The Thunder's decision to intentionally foul Omer Asik of the Rockets turned out to be ill-advised.

Upvote Share Tweet

Baby with pants down wanders in, chills out during Rockets-Thunder postgame show (Video)

yahoo.com

May 3, 2013

After the Houston Rockets went into Chesapeake Energy Arena and confidently took down the Oklahoma City Thunder in Game 5 on Wednesday, CSN Houston brought gleeful Rockets fans all the relevant news and notes from the big series-extending road win - Jam

Upvote Share Tweet

Thunder-Rockets Preview

May 3

Holly Rowe takes a look at Game 6 between the Thunder and Rockets.

Under More Pressure To Win: Melo Or KD?

May 3

Israel Gutierrez says that Carmelo Anthony faces more pressure than Kevin Durant in Friday's NBA playoff action.

Kevin Durant After The Thunder Advance

May 3

Kevin Durant scored 27 points in the Thunder's 103-94 Game 6 win over the Rockets.

Thunder Put Away Rockets

May 3

The Thunder used a balanced attack with six players in double figures to defeat the Rockets 103-94 and advance to face the Grizzlies.