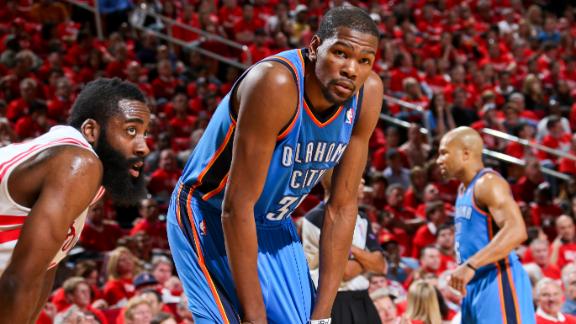 Updated May 3
Share
Tweet
The Thunder are glad to be done with the Rockets ... for now, writes Marc Stein.
Updated May 3

Share Tweet

After letting Houston back in the series, the Thunder finally closed out their first-round duel vs. the Rockets with a 103-94 Game 6 win, thanks in large part to their bench.

Source:

CNNSI.com

Updated May 3

Share Tweet

Oklahoma City star Kevin Durant isn't worried about tweets from Houston rookie Royce White that say the Thunder are looking shaky.

Sources:

nba.com ESPN.com newsok.com

Harden's Season in a Word: Great

Updated May 3

Share Tweet

James Harden's amazing season for the Houston Rockets, his first as a team's primary offensive option, has gone largely overlooked.

Source:

nytimes.com

Comparing the current Thunder to LeBron's 2009 Cavaliers team

Updated May 3

Share Tweet

Anthony Slater [img url=]2043433[/img] You've probably heard the comparison more than once the past week. With Russell Westbrook done for the playoffs and Kevin Durant left to navigate through hounding triple-teams for the slimmest of offensive airspace

Source:

newsok.com

Knicks, Thunder facing similar pressure

Updated May 3

Share Tweet

As the Knicks and Thunder head into Game 6 of their respective series, the two teams are experiencing similar pressure.

Source:

CNNSI.com

Power Lunch: Chat with Darnell Mayberry

Updated May 3

Share Tweet

NewsOK.com Sports StaffPower Lunch: Chat with Thunder writer Darnell Mayberry Read more on NewsOK.com

Source:

newsok.com

Flawed Strategy Crimps Thunder's Chances

Updated May 3

Share Tweet

The Thunder's decision to intentionally foul Omer Asik of the Rockets turned out to be ill-advised.

Source:

nytimes.com

Baby with pants down wanders in, chills out during Rockets-Thunder postgame show (Video)

Updated May 3

Share Tweet

After the Houston Rockets went into Chesapeake Energy Arena and confidently took down the Oklahoma City Thunder in Game 5 on Wednesday, CSN Houston brought gleeful Rockets fans all the relevant news and notes from the big series-extending road win - Jam

Source:

yahoo.com

Thunder-Rockets Preview

May 3

Holly Rowe takes a look at Game 6 between the Thunder and Rockets.

Under More Pressure To Win: Melo Or KD?

May 3

Israel Gutierrez says that Carmelo Anthony faces more pressure than Kevin Durant in Friday's NBA playoff action.

Kevin Durant After The Thunder Advance

May 3

Kevin Durant scored 27 points in the Thunder's 103-94 Game 6 win over the Rockets.

Thunder Put Away Rockets

May 3

The Thunder used a balanced attack with six players in double figures to defeat the Rockets 103-94 and advance to face the Grizzlies.