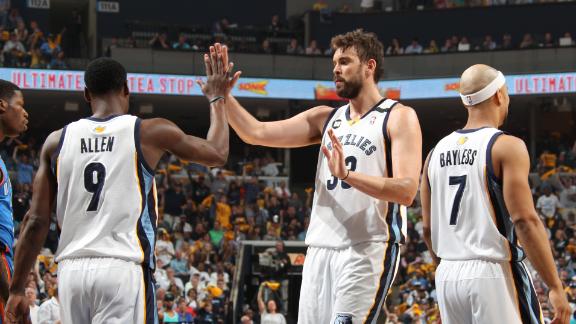 ESPN.com
Updated May 12, 2013
Kevin Durant has done more of everything for the Oklahoma City Thunder since Russell Westbrook was lost for the rest of the season with a knee injury after Game 2 of the Thunder's first round series against the Houston Rockets.
Share
Tweet
newsok.com

May 12, 2013

Berry Tramel[img]2051667[/img] My first post-game email after the Thunder's 87-81 loss to the Grizzlies concerned someone bashing Kendrick Perkins.Read more on NewsOK.com

Share Tweet

Reggie Jackson Does His Best Russell Westbrook Interpretation & Puts Together Nasty Highlights

dimemag.com

May 12, 2013

Reggie Jackson might be the only person alive who doesn't miss Russell Westbrook, and while OKC is struggling to cop with it, he's been doing what he can. In the Thunder's Game 3 loss, Jackson posted 16 points and 10 boards and had a few of the game

Share Tweet

Hi Mom

May 12

In celebration of Mother's Day, Jeremy Schaap chronicles the history of athletes paying tribute to their mothers.