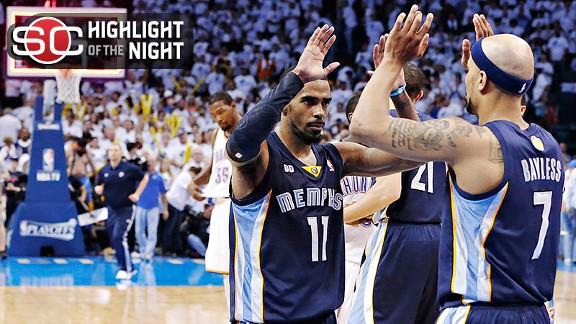 ESPN.com
newsok.com
Updated May 16, 2013
The day after his Oklahoma City Thunder was knocked out of the second round of the playoffs by the Memphis Grizzlies, Kevin Durant vowed to learn from this season, not lament it.
Share
Tweet
With every season that ends, for the playoff teams at least, we felt it right to take a look ahead. TNT already has the rights to "Gone Fishin'," and because we're sure that someone, somewhere, still likes that Wyclef song, we're going with &q…

Share Tweet

CNNSI.com

May 16, 2013

Ousted NBA players' association executive director Billy Hunter alleges in a lawsuit that president Derek Fisher had a secret deal with owners during the 2011 lockout that benefited himself, his publicist and certain players.

Share Tweet

Watch Tony Allen Earn One Of The Weirdest Technical Fouls You'll Ever See

dimemag.com

May 16, 2013

Tony Allen is a great defender, earning another All-Defensive First Team selection this year (his second-straight selection to the First Team). Besides adding that shutdown mentality on the wings, the former Celtic also enhances the Grizzlies with a lit…

Share Tweet

Durant, Thunder see positives despite letdown in playoffs

nba.com

May 16, 2013

The way Kevin Martin describes it, the Oklahoma City Thunder lost the "vision" of a potential championship run the morning they learned All-Star point guard Russell Westbrook would be out for the rest of the postseason.

Share Tweet

deadspin.com

May 16, 2013

If you want to find the most obvious reason that the Oklahoma City Thunder were unable to advance past the second round of the playoffs, your search will end with the words "Russell Westbrook." But Westbrook's absence wasn't the only thing hol…

Share Tweet

Marc Gasol isn't getting ahead of himself, is 'a big Quentin Tarantino fan,' apparently

Marc Gasol didn't have a monster Game 5 against the Oklahoma City Thunder on Wednesday, finishing making just five of his 13 field-goal attempts and grabbing a non-eye-popping seven rebounds in 41 minutes. But the burly center was there when the Memphis…

Share Tweet

Tayshaun Prince Dunks On All of the Thunder

dimemag.com

May 16, 2013

Signs things are not going your way in an elimination game of your NBA Playoff series: Tayshaun Prince is putting dunks on you that he hasn't done in games since he was at Dominguez High School: For breaking news, rumors, exclusive content, and contests

Share Tweet

thunderobsessed.com yahoo.com CNNSI.com newsok.com ESPN.com

May 16, 2013

Kevin Durant is our fearless leader. However, not every night he's shooting lights out. Tonight, Durant shot just 5-of-21 from the floor, including a 16-foot jumper to tie the game with 3.3 seconds left. It ended a very bad shooting night for KD. It was

Share Tweet

Durant struggles (5-of-21 FG), misses game-tying shot

CNNSI.com

May 16, 2013

A nightmarish night for Kevin Durant led to an early exit for the Thunder. The Grizzlies ground out an 88-84 victory in Game 5 to reach their first West finals in franchise history.

Share Tweet

Tony Allen throws shirt on court during Derek Fisher 3, results in Thunder 4-point play (Video)

Well, here's something you don't see every day. Oklahoma City Thunder guard Derek Fisher attempted a 3-pointer with his team trailing by 11 points and just over five minutes remaining in the third quarter of Game 5 of his team's Western Conference semif…

Share Tweet

Fall Of The Thunder

May 16

A Thunder season that began with infinite promise ends five games into the second round. Daily Thunder's Royce Young on what went wrong, and what's next.

Does Kevin Durant Deserve A Pass?

May 16

Stephen A. Smith and Skip Bayless discuss whether Kevin Durant deserves a pass for his output in four Thunder losses to the Grizzlies.