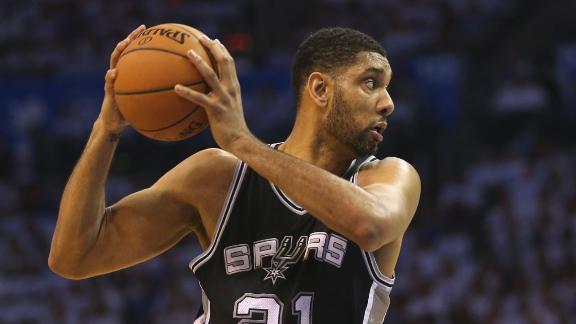 Tony Parker out for 2nd half of Spurs-Thunder Game 6 with sore left ankle

yahoo.com

May 31, 2014

The San Antonio Spurs have built their reputation on team basketball, a style predicated on ball movement and offensive balance. That approach will be tested in Game 6 of the Western Conference Finals against the Oklahoma City Thunder and potentially be…

Share Tweet

CNNSI.com

May 31, 2014

Spurs forward Kawhi Leonard threw down a poster dunk over Thunder forward Serge Ibaka during San Antonio's first possession of Game 6 in Oklahoma City on Saturday.

Share Tweet

Thunder To Force Game 7?

May 31

Stephen A. Smith explains why he believes the Thunder will win big in Game 6 of the Western Conference finals against the Spurs.

Stephen A. Smith: 'The Matchup We've All Been Waiting For'

May 31

Stephen A. Smith is quite excited about the NBA Finals rematch between the San Antonio Spurs and Miami Heat.

Thunder Fall Short Of Goal

May 31

Scott Brooks, Kevin Durant and Russell Westbrook react to falling short of the NBA championship this season.

Time For A Change In Oklahoma City?

May 31

Avery Johnson points to mistakes made by the Thunder but doesn't feel like a major shake-up is needed in Oklahoma City.

Sports Columnists

Daily Dime: Spurs get another crack at Heat

May 31

The Spurs showed clutch play in Game 6 against OKC, getting the NBA Finals shot they wanted against the Heat, J.A. Adande writes.