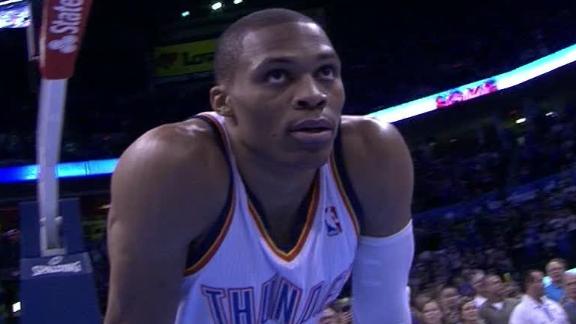 OKLAHOMA CITY (AP) So far, Kevin Martin considers it an easy transition into James Harden's old role as the Oklahoma City Thunder 's top bench player.
Share
Tweet
By Anthony Slater — - @anthonyVslater Backed by strong performances from the stars, Oklahoma City smoked Portland 106-92 in the home opener on Friday night. Here's some rapid reaction: It was over when… …Oklahoma City lost the season opener in he

Share Tweet

Oklahoma City-Portland pregame: Three things to watch

Oklahoma City faces Portland in the home opener Friday night / Steve Dykes-US PRESSWIRE Three OKC things to watch 1. Westbrook's bounceback - The confident but streaky guard was off last night. No doubt about that. He went 6/21 shooting, committed six

Share Tweet

Portland gets up-close look at Harden trade

Portland coach and former Oklahoma standout Terry Stotts The Portland Trail Blazers will get an up-close look at the ramifications surrounding the OKC-Houston trade. After playing the Thunder at Chesapeake Energy Arena tonight at 7, the Blazers face the…

Share Tweet

dimemag.com

Nov 2, 2012

The 2012-13 NBA regular season is finally upon us. For fans, this means it's time to re-up on your team's merchandise. Anyone can go to the nearest sporting goods store and pick up a brand new jersey or hat, but what about the unique collectibles that

Share Tweet

thunderobsessed.com

Nov 2, 2012

After last night's loss to the Spurs, I was frustrated, yet optimistic on this season. I sat up until 3am thinking and talking Thunder basketball with my followers, while researching this team. A few things came to mind and I'd like to make some Bol

Share Tweet

TNT crew speaks out on the Thunder

  While Charles Barkley believes the Thunder is still the team to beat in the Western Conference after trading James Harden to Houston, his fellow TNT analysts aren't so sure after watching Thursday night's last-second 86-84 season-opening loss at S

Share Tweet

Behind the Box Score, where the San Antonio Spurs are exactly where you left them

yahoo.com

Nov 2, 2012

San Antonio Spurs 86, Oklahoma City Thunder 84 We're all very excited about the return of actual NBA games that count, so incredibly chuffed to see Tim Duncan and Kevin Durant bounding about our TV screens, and happy that we can return to enjoying what …

Share Tweet

Spurs coach Gregg Popovich still isn't 'happy' about between-quarter interviews (VIDEO)

yahoo.com

Nov 2, 2012

Like most people who follow the NBA, I've got a ton of respect for David Aldridge. But when I saw the former Washington Post, ESPN and Philadelphia Inquirer scribe manning the AT&T Center's sidelines for Thursday night's matchup between the Oklahoma…

Share Tweet

The Peake is at its peak

There have been many victories the past four NBA seasons, but the most favorable score in the history of Chesapeake Energy Arena no doubt was 62-38. When city voters approved a 1-cent sales tax extension on March 4, 2008, the Seattle SuperSonics took on…

Share Tweet

CNNSI.com

Nov 2, 2012

Can Oklahoma City return to the NBA Finals without James Harden? The first impressions weren't promising, as Harden scored 37 to win his debut with the Rockets and the Thunder were ineffective offensively during their 86-84 loss Thursday at San Antonio.

Share Tweet

With less than 30 seconds left in the fourth quarter of Thursday night's marquee (well, only) contest, a Western Conference finals rematch with the visiting Oklahoma City Thunder, San Antonio Spurs point guard Tony Parker hit an unlikely 3-pointer while…

Share Tweet

newsok.com CNNSI.com

Nov 2, 2012

By Anthony Slater — - @anthonyVslater Oklahoma City dropped its season opener on Thursday night, losing 86-84 in San Antonio. Here's some rapid reaction: Turning point Tony Parker drilled a corner three with 28 seconds left, tying the game and foresh

Share Tweet

Harden Drops 45

Nov 2

James Harden scores a career-high 45 in Rockets' 109-102 win over Hawks.

Westbrook Drops 32 Points On Blazers

Nov 2

Russell Westbrook's 32 points lead Thunder to win over Trail Blazers.

THTV: Thunder Miss Harden

Nov 2

TrueHoop's Henry Abbott with Daily Thunder's Royce Young on the loss of James Harden, whether the Thunder are better now, and if they still can return to the NBA Finals.

Confident Thunder Will Reach NBA Finals?

Nov 2

Stephen A. Smith, Skip Bayless discuss Thunder's season-opening loss to the Spurs.