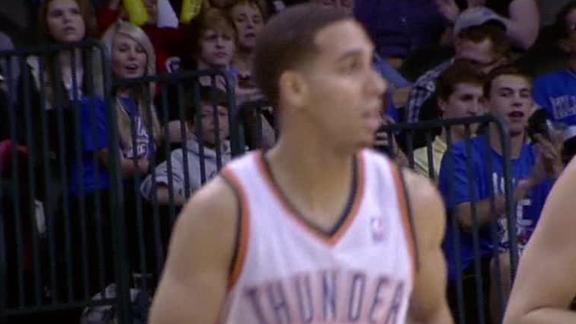 Updated Nov 6, 2012
Share
Tweet
Russell Westbrook shrugged off a sore shoulder to score 19 points and the Thunder cruised past the Raptors 108-88 on Tuesday night.
Sources:
ESPN.com
thunderobsessed.com
newsok.com
Updated Nov 6, 2012

Share Tweet

On the outside looking in, life couldn't be better for James Harden than it is right now. He has an extension worth close to $80 million. He's the focal point, the franchise player of a young and talented team that's won two of their first three gam

Sources:

dimemag.com newsok.com

3-on-3: It's not time to freak out, yet…

Updated Nov 6, 2012

Share Tweet

With three games under the Thunder's belt, a couple of writers and the owner of ThunderObsessed decided to get together and discuss if it was time to really freak out about the early struggles this season. Was it about James Harden? Is Kevin Durant bein

Source:

thunderobsessed.com

Perry Jones III Loves Pizza Rolls

Updated Nov 6, 2012

Share Tweet

Oklahoma City Thunder rookie Perry Jones III loves pizza rolls. Our source for this? Perry Jones III. More »

Source:

deadspin.com

Updated Nov 6, 2012

Share Tweet

OKC Thunder Power Lunch Chat with Darnell Mayberry

Source:

newsok.com

You're Allowed to Hate the Thunder Now

Updated Nov 6, 2012

Share Tweet

During Sunday night's game against Atlanta, Russell Westbrook and Thabo Sefolosha of the Oklahoma City Thunder finished the first quarter by barking a...

Source:

grantland.com

Thunder Roll Raptors, 108-88

Nov 6

Thunder cruise to win over Raptors.

NBA Real Or Hype?

Nov 6

Kurt Rambis looks at some early results from the new NBA season.

Sports Columnists

Ian Thomsen: Lakers search for identity, more mail

Nov 6

We are going to remember Tuesday because of the elections, and we are going to remember the last week because of Hurricane Sandy.