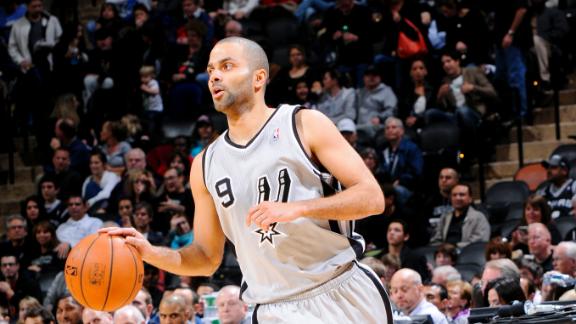 nba.com

Updated 23 hours ago

? Jamal Crawford, the second-leading scorer for the Clippers, is set to return tonight when L.A. hosts the Hawks at Staples Center. Crawford missed the last three games with a strained left calf, though the Clippers didn't skip a beat in winning all thr…

Upvote Share Tweet

The Orlando Magic's Victor Oladipo and the Memphis Grizzlies' Nick Calathes today were named the Kia NBA Eastern and Western Conference Rookies of the Month, respectively, for games played in February.

Upvote Share Tweet

The Magic will pay a brief video tribute to Dwight Howard, which seems nuts but makes sense

yahoo.com

Updated Mar 5 (4 days ago)

Throughout the 2013-14 campaign, the Orlando Magic have aired brief video tributes to former Magic players and coaches who have returned as part of visiting teams, in keeping with the organization's year-long celebration of its 25th anniversary as an NB…

Upvote Share Tweet

Book excerpt: Bird-Cooper rivalry in 'Showtime'

CNNSI.com

Updated Mar 4 (5 days ago)

No one gave Michael Cooper and the Showtime Lakers more trouble (or trash talk) than Larry Bird.

Upvote Share Tweet

Ten Before Tip: NBA news from Sunday

nba.com

Updated Mar 2 (7 days ago)

? The Spurs' Tony Parker will play tonight against the Mavericks for the first time in six games, finally recovered from an assortment of aches and pains from his wrist to his calf ? and maybe his head (fatigue). The Spurs (42-16) went 5-1 in Parker's a…

Upvote Share Tweet

LeBron James' switch to a clear mask didn't hinder his shooting eye, and he had 20 points Saturday to help the Miami Heat earn their seventh consecutive victory by beating the Orlando Magic 112-98.

Upvote Share Tweet

Kevin Love brings the dunk contest back with a pass off the wall at Timberwolves practice (Video)

yahoo.com

Updated Feb 27

Every February, an NBA figure of some repute (usually Magic Johnson) declares that the dunk contest is back. It is almost always difficult to believe such a statement, in part because people seem to have to remind us of it every year. If it were true, t…

Upvote Share Tweet

Horace Grant wonders if a missed phone call could have kept Shaquille O'Neal in Orlando (Video)

yahoo.com

Updated Feb 27

The Shaquille O'Neal and Anfernee Hardaway-led Orlando Magic were one of the great non-dynasties in NBA history, making the Finals once and Conference finals once, being swept in both series', before watching O'Neal grin his way to Los Angeles as a free…

Upvote Share Tweet

The 10-man rotation, starring how Rob Hennigan overhauled the Magic in (basically) no time flat

yahoo.com

Updated Feb 26

A look around the league and the Web that covers it. It's also important to note that the rotation order and starting nods aren't always listed in order of importance. That's for you, dear reader, to figure out. C: SB Nation. Tyler Lashbrook does a nice…

Upvote Share Tweet

Who Was Better: Tracy McGrady Or Clyde Drexler?

dimemag.com

Updated Feb 26

Tracy McGrady apologists love to point to 2002-03, and in a way, they should. T-Mac was arguably the best player in the world, leading a rag-tag group of misfits to a near upset in the first round against Detroit while putting together one of the greate…

Upvote Share Tweet

Horace Grant Discusses Shaq, Kobe, Michael Jordan, Penny & More

dimemag.com

Updated Feb 25

Some of our readers might not be old enough to remember just how important Horace Grant was to the first Bulls 3-peat, and how the Orlando Magic team he joined before the 1995-96 season eliminated Michael Jordan and the Bulls from the playoffs when MJ h…

Upvote Share Tweet

nba.com

Updated Feb 24

? Utah Jazz starting center Derrick Favors will be back against the Boston Celtics tonight after missing three straight games with a sprained right hip. Favors, however, will play a limited number of minutes. He has made gradual progress since suffering…

Upvote Share Tweet

10 Reasons Why The '90s Was The Best Era In The NBA

dimemag.com

Updated Feb 24

We are nearly 15 years removed from the '90s but it is still the most talked about era in NBA history. The 1990s was just a great all-around decade for modern culture and style. Whether it was watching Will Smith in the Fresh Prince, Biggie and Tupac go…

Upvote Share Tweet

yahoo.com

Updated Feb 24

In December of 2011, in a last ditch attempt to make their franchise player happy in the wake of a disappointing playoff run and prolonged lockout, the Orlando Magic decided to sign Glen "Big Baby" Davis away from the Boston Celtics. The motives were si…

Upvote Share Tweet

yahoo.com

Updated Feb 22

You've got to hand it to the New York Knicks: They always find a way to infuse something exciting and unique into their often head-scratching and abysmal play. Friday night's addition to the contemptible canon? Having an impressive go-ahead alley-oop re…

Upvote Share Tweet

The Orlando Magic's rebuilding process will continue without Glen Davis.

Upvote Share Tweet

Cavaliers guard Dion Waiters is out for Cleveland's game against the Orlando Magic with a hyperextended left knee.

Upvote Share Tweet

Questions surround Doug McDermott's draft stock

CNNSI.com

Updated Feb 18

Doug McDermott is an offensive machine, but will his defense cause him to slip in the NBA draft?

Upvote Share Tweet

Kobe's Rushmore: MJ, Bird, Magic, Russell

ESPN.com

Updated Feb 16

LeBron James said he'll be there one day, but Kobe Bryant said Bill Russell is there right now.

Upvote Share Tweet

CNNSI.com

Updated Feb 15

Storylines abound in the 2014 All-Star Game. None fascinate more than the LeBron-KD rivalry.

Upvote Share Tweet

Howard, Rockets Cruise In Orlando

Mar 5

Dwight Howard posted a double-double of 19 points and 14 rebounds in the Rockets' 101-89 win over the Magic.

Heat Cruise Past Magic

Mar 1

Dwyane Wade scored 24 points as the Heat improved to 23-4 at home with a 112-98 win over the Magic.

The Masked Man Takes Flight

Mar 1

LeBron James finished an alley-oop from Dwyane Wade in the Heat's win against the Magic.

Magic Snap Road Woes

Feb 26

The Magic snapped a 16-game road losing streak, handing the 76ers their 12th straight loss.