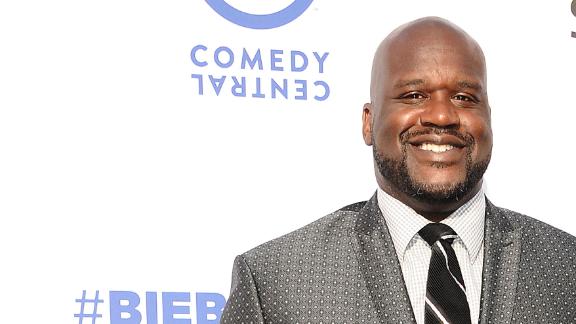 It's been nearly two decades since Shaquille O'Neal left the Orlando Magic to pursue the championship that eluded him during his first four seasons in the NBA.
Share
Tweet
Magic's Payton has 2nd straight triple-double

ESPN.com

Mar 20

Elfrid Payton had 22 points, 10 rebounds and 10 assists, and the Orlando Magic snapped a six-game losing streak with 111-104 victory over the Portland Trail Blazers on Friday night.

Share Tweet

LeBron to have knee treated after 'scary' fall

ESPN.com

Mar 15

LeBron James tweaked his right knee in the second half of the Cleveland Cavaliers' 123-108 win over the Orlando Magic on Sunday and is hopeful it won't sideline him for his return to Miami to face the Heat on Monday night.

Share Tweet

Kyrie-led Cavs extend roll with rout of Magic

ESPN.com

Mar 15

Kyrie Irving scored 33 points, J.R. Smith had 25 and the Cavaliers rolled past the Magic 123-108 on Sunday night.

Share Tweet

Cleveland Cavaliers forward Kevin Love sat out Sunday's game against the Orlando Magic for rest.

Share Tweet

The Orlando Magic are inducting Shaquille O'Neal into the team's Hall of Fame.

Share Tweet

yahoo.com

Mar 9

For years, Magic Johnson's brief and unspectacular coaching career fit within an easily digestible narrative. Magic, just a year and a half removed from retiring as a player and a year and a half removed from being unnecessarily shouted out of making a …

Share Tweet

Vucevic, four others out for Magic against Kings

nba.com

Mar 6

Magic starting center Nik Vucevic and four others are sidelined with injuries for Orlando's game Friday night against the Sacramento Kings.

Share Tweet

Magic's Marble out 4-6 weeks with detached retina

nba.com

Mar 4

Orlando Magic rookie guard Devyn Marble is expected to miss four to six weeks because of a detached retina in his left eye.

Share Tweet

yahoo.com

Mar 3

Well, this is depressing. Former Houston Rockets, Orlando Magic and New York Knicks guard Steve Francis got dragged to the floor, stepped on and choked by his own chain, which was later stolen, during an altercation at a hip-hop show in Houston over the…

Share Tweet

yahoo.com

Feb 25

Last year, in the midst of another season toiling in the D-League, looking for a way back into the NBA, former New York Knicks and Boston Celtics forward Bill Walker decided to make a change. So long, Bill; hello, Henry. "It's just my middle name,&…

Share Tweet

Orlando Magic interim coach James Borrego will remain in that post at least through the end of the season.

Share Tweet

yahoo.com

Feb 14

NEW YORK — Andrew Wiggins tried to warn us. "You guys are in for a surprise," said a smiling Wiggins after being named the Most Valuable Player of Friday night's BBVA Compass Rising Stars Challenge. "Trust me — it's going to be crazy. I c…

Share Tweet

Victor Oladipo Sings Horribly, Throws Down Tremendous Dunk

deadspin.com

Feb 14

Victor Oladipo, the living and sole justification for the existence of the Orlando Magic, entered tonight's slam dunk contest in Brooklyn to a hilariously off-key rendition of the theme to "New York, New York" before throwing down what turned …

Share Tweet

yahoo.com

Feb 13

Magic Johnson's return to the NBA All-Star Game in 1992 following his HIV-positive diagnosis stands as a transcendent moment not just in the NBA, but across all of sports. So it's an easy choice for the best All-Star moment ever. But what about on-court…

Share Tweet

Hawks' Millsap replaces Pelicans' Davis in Degree Shooting Stars

nba.com

Feb 12

Atlanta Hawks All-Star forward Paul Millsap will replace injured All-Star forward Anthony Davis of the New Orleans Pelicans in the Degree® Shooting Stars during State Farm® All-Star Saturday Night on Feb. 14 at Barclays Center in Brooklyn, N.Y. In addit…

Share Tweet

Magic Stun Blazers

Mar 20

Victor Oladipo, Elfrid Payton and Nikola Vucevic each scored 22 points in the Magic's 111-104 win over the Blazers.

Why Elfrid Payton Should Be Rookie Of Year

Mar 19

ESPN director of production analytics Ben Alamar makes the case for why Magic guard Elfrid Payton should be the NBA Rookie of the Year.

Rondo's No-Look, Over-The-Head Pass

Mar 18

Mavs guard Rajon Rondo threw a full-court, no-look, over-the-head assist to teammate Monta Ellis for the layup against the Orlando Magic.

Magic's Surge Not Enough Against Mavs

Mar 18

The Magic erased a 22-point deficit but fell to the Mavericks 107-102.