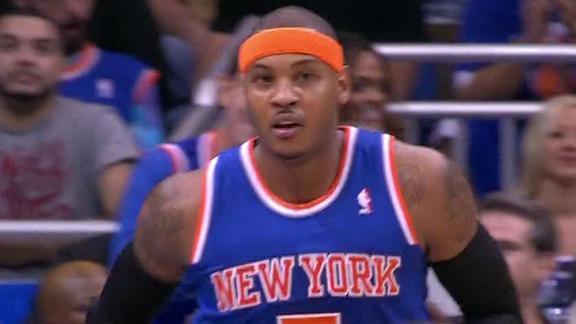 Updated Nov 13, 2012
Share
Tweet
Carmelo Anthony scored 25 points, and JR Smith and Raymond Felton each added 21 as the New York Knicks held off the Orlando Magic 99-89 on Tuesday night.
Updated Nov 13, 2012

Share Tweet

The start of the second quarter of Tuesday's game between the New York Knicks and the Orlando Magic was delayed when a Magic stunt team member was rushed to the hospital after she fell and hit her head on the court.

Sources:

ESPN.com deadspin.com
Knicks Improve To 5-0

Nov 13

Knicks go on 18-4 run in the fourth quarter to put away the Magic, 99-89.
Sports Columnists
Ian Thomsen: Lakers not putting D'Antoni in a position to succeed; more ma…

Nov 13

Did Phil Jackson ask for an ownership share of the Lakers? Did he seek to limit his participation in road trips? Was he demanding to have final say on roster moves, Laker Girl tryouts and celebrity seating? Is it true that he wanted Jimmy Buss to person…