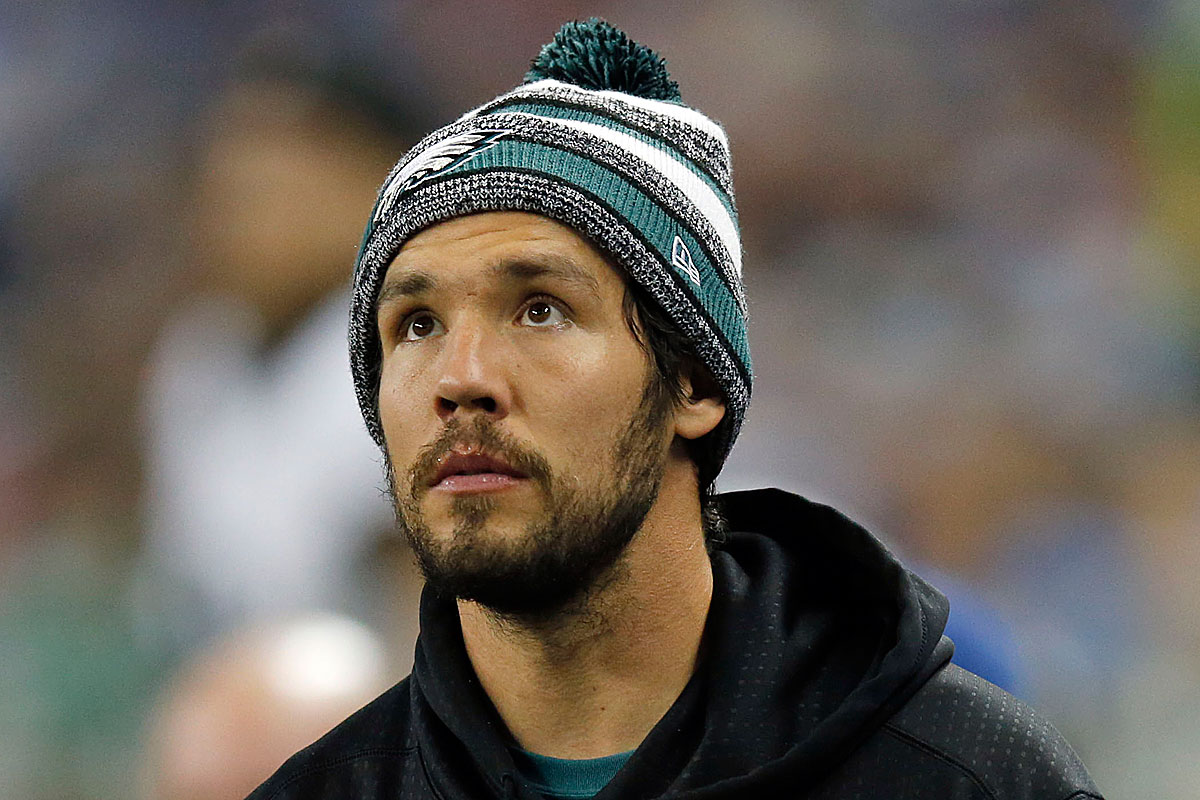 philly.com
Updated 58 minutes ago
The quarterback is returning from a concussion and an injury to his left, nonthrowing, shoulder.
Share
Tweet
philly.com yahoo.com

1 hour ago

The beleaguered coach denies speaking to anyone from Southern Cal about its coaching job.

Share Tweet

Can Eagles pull off a miracle?

philly.com

3 hours ago

Former Flyer Brian Boucher reminds the Birds that strange things happen in sports.

Share Tweet

philly.com ESPN.com

6 hours ago

The Eagles signed offensive lineman Barrett Jones off the Chicago Bears practice squad and released veteran Julian Vandervelde.

Share Tweet

philly.com profootballtalk.com

9 hours ago

Eagles coach Chip Kelly told reporters Monday he did not meet with USC officials before the school hired Clay Helton, contrary to a report. Kelly said he is not interviewing for college jobs and wants to coach the Eagles.

Share Tweet

An N.F.C. East Team Will Make the Playoffs, but Which One?

nytimes.com

12 hours ago

The Giants (5-6), the Redskins (5-6), the Eagles (4-7) and the Cowboys (3-8) have done little to distinguish themselves in the N.F.L. this season.

Share Tweet

Eagles' challenge is avoiding second defensive collapse

ESPN.com

19 hours ago

Eagles' challenge is avoiding second defensive collapse

Share Tweet

philly.com

22 hours ago

The Colts quarterback threw for 315 yards against the Bucs Sunday and is 4-0 in starts this season.

Share Tweet

Eagles' fatal flaw: time of possession

philly.com

Nov 29 (yesterday)

Thanks partly to Chip Kelly's up-tempo offense, the Eagles' defense is on the field too much and is wearing down.

Share Tweet

philly.com ESPN.com

Nov 29 (yesterday)

The sky is not falling on the Eagles. It has crashed upon them, and the force of the blow from three straight repulsive losses has launched Chip Kelly into a hellish existence in which it is not a stretch to consider his team among the worst in the NFL.

Share Tweet

Howie Roseman could be on the rise again in Philly

profootballtalk.com

Nov 29 (yesterday)

After Eagles coach Chip Kelly put together a second straight 10-win season, Kelly made a run at G.M. Howie Roseman. It was bizarre and it was ugly and it ultimately was painted as a win-win by Eagles owner Jeffrey Lurie. Now that Kelly could be closing …

Share Tweet

profootballtalk.com

Nov 28 (2 days ago)

We don't often say this about a 5-5 team, but if the Giants can win on Sunday, they've all but locked up their division. Two of the Giants' NFC East division rivals had disasters on Thanksgiving, and it's now hard to imagine either the Eagles or the Cow…

Share Tweet

Chip Kelly refutes report he met with USC

Nov 30

ESPN Eagles reporter Phil Sheridan breaks down the latest rumors surrounding Chip Kelly and where the coach will be in 2016.

Has Chip Kelly lost the team?

Nov 29

Wendi Nix and Keyshawn Johnson talk about Chip Kelly's failed off-season decisions and if he has lost the locker room.

Too soon to assume Kelly out as Eagles coach?

Nov 27

ESPN NFL Insider Field Yates breaks down why it's too soon to project Chip Kelly not being the Eagles coach next season even, though Kelly's offseason personnel decisions haven't panned out.

Is Chip Kelly era coming to an end in Philadelphia?

Nov 27

Stephen A. Smith expects this season to be the end for Chip Kelly with the Eagles, especially after the team's disastrous performance on Thanksgiving.