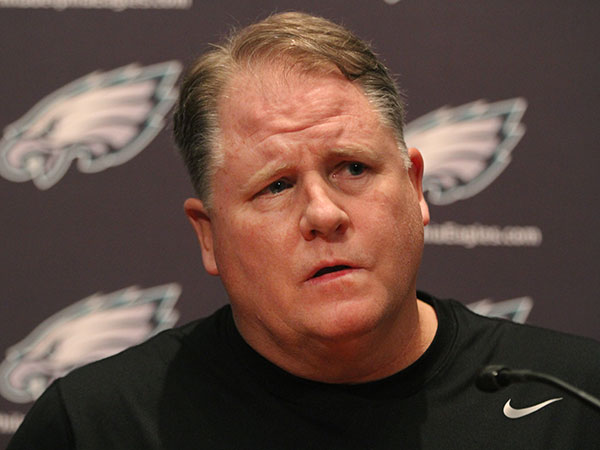 philly.com
profootballtalk.com
ESPN.com
CNNSI.com
Updated 15 hours ago
News Item: Eagles owner Jeffrey Lurie said last week the demotion of former general manager Howie Roseman was not a reflection on Roseman's abilities as a player personnel evaluator. "I just think Chip [Kelly] wanted his own football player personn…
Share
Tweet
profootballtalk.com philly.com

Mar 27 (yesterday)

When LeSean McCoy, Jeremy Maclin, Trent Cole and Todd Herremans made plans to attend a fundraiser last night, they were Eagles. Since then, they became former Eagles, part of a flurry of offseason activity that sent them all packing, along with quarterb…

Share Tweet

Chuck Bednarik Viewing

philly.com

Mar 26 (yesterday)

Eagles fans and NFL dignitaries traveled to Bethlehem, Pa., on Thursday, March 26, to pay tribute to the life of former Eagles great Chuck Bednarik.

Share Tweet

profootballtalk.com philly.com

Mar 26 (2 days ago)

Rams coach Jeff Fisher has said that his team only agreed to trade Sam Bradford because Nick Foles was the player the Eagles' offered, and that the Rams thought Foles could be their franchise quarterback. That meshes with what Chip Kelly revealed at thi…

Share Tweet

philly.com

Mar 25 (3 days ago)

PHOENIX - A day after Eagles owner Jeffrey Lurie said that Chip Kelly wanted "a football guy" to run the Eagles personnel department, the Eagles coach said moving Howie Roseman out as general manager and promoting Ed Marynowitz as his chief sc…

Share Tweet

philly.com ESPN.com nytimes.com

Mar 25 (3 days ago)

PHOENIX - With the Eagles' big free-agent splashes likely behind them, they probably will need to rely on internal options and the draft to replace departed veterans at safety, wide receiver, and right guard.

Share Tweet

ESPN.com

Mar 25 (3 days ago)

IRVING, Texas -- When DeMarco Murray signed with the Philadelphia Eagles, owner and general manager Jerry Jones said if there was no salary cap the NFL's reigning rushing champion would have remained a member of the Dallas Cowboys. The Cowboys weren't w…

Share Tweet

Chip Kelly: I rated Odell Beckham No. 1 overall in last year's draft

profootballtalk.com

Mar 25 (3 days ago)

Giants receiver Odell Beckham Jr. was the best rookie in the NFL last year. That came as no surprise to Eagles coach Chip Kelly. Kelly said that heading into last year's draft, he personally considered Beckham not just the best receiver in the draft but…

Share Tweet

philly.com

Mar 25 (4 days ago)

Andy Reid, Bill O'Brien praise Chip Kelly as a personnel man and say the Eagles are in good hands with him at the helm.

Share Tweet

Eagles Owner Explains Chip Kelly's Promotion

Mar 24

Sal Paolantonio and Phil Sheridan discuss what they learned about the Eagles during Day 2 of the NFL owners meetings.

Jaworski: Bednarik Had Profound Impact On Football

Mar 21

Ron Jaworski discusses the life and legacy of Eagles icon and Hall of Famer Chuck Bednarik.

Eagles Legend Bednarik Dies At 89

Mar 21

Two-time NFL champion and Eagles Hall of Famer Chuck Bednarik died Saturday at the age of 89.

Chip Kelly Takes Wrecking Ball To Eagles' Roster

Mar 17

Eagles reporter Phil Sheridan says Chip Kelly spent two years deciding the kind of players he needs to run his system in Philadelphia.