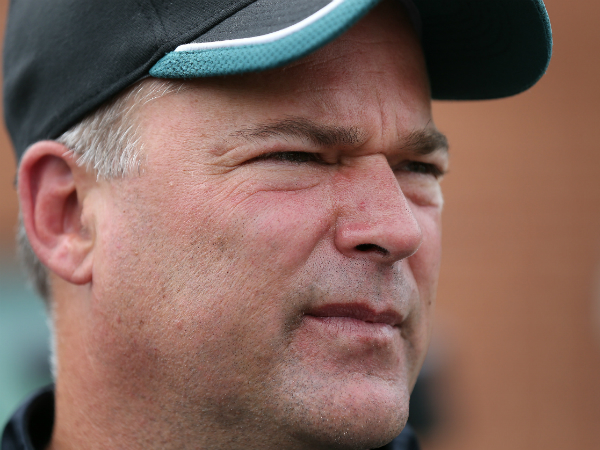 Davis: Chip does more for players than anybody
philly.com
Updated 3 hours ago
Eagles defensive coordinator Bill Davis was asked about how Chip Kelly relates to players, in the wake of allegations that Kelly is too much of a control freak or even has trouble relating to black players. Davis said the criticisms make little sense to…
Share
Tweet
Eagles lose Travis Long to torn ACL for second straight year

profootballtalk.com

49 minutes ago

Eagles linebacker Travis Long missed the entire season last year with a torn left ACL suffered in August. And now he'll miss his second straight season after tearing the same ACL today. The Eagles have confirmed that Long tore his left ACL in practice a…

Share Tweet

Marcus Smith's future is in his hands

philly.com

1 hour ago

By 1:30 Monday afternoon, all the Eagles players, except two, had left the practice fields at the NovaCare Complex. The two who remained were linebackers Connor Barwin and Marcus Smith, and they charged toward and slap-boxed with an orange-padded tackli…

Share Tweet

Chip Kelly: I don't hide my personal life, but it's bizarre anyone cares

profootballtalk.com

6 hours ago

Eagles coach Chip Kelly says that contrary to common belief, the recent revelation that he was once married wasn't something that he's been hiding. It's just something he doesn't care to discuss publicly. Kelly says that if people are interested in his …

Share Tweet

philly.com profootballtalk.com yahoo.com

10 hours ago

On the Eagles' first day of training camp, former Ram Sam Bradford took first-team reps as QB.

Share Tweet

profootballtalk.com philly.com

14 hours ago

Now-Steelers cornerback Brandon Boykin brought up an old topic when his initial remarks on being traded from the Eagles suggested that coach Chip Kelly wasn't comfortable with black men. But upon arriving at Steelers camp, Boykin tried to clarify his re…

Share Tweet

Eagles Notebook: Back on field, Moffitt in shape, ready to perform

philly.com

17 hours ago

The guard — who has battled drug usage, been arrested and quit the NFL since 2013 — now suits up as a Bird.

Share Tweet

Eagles training camp: August 2

philly.com

24 hours ago

Sunday was the first day of Eagles Camp at the Nova Care Center

Share Tweet

philly.com

Aug 2 (yesterday)

The speculation can stop: Eagles linebacker Mychal Kendricks will not be traded, coach Chip Kelly said Sunday. "Mychal Kendricks is not going anywhere," Kelly said. "I can tell you that right now. You can write that down in ink, not pencil."

Share Tweet

yahoo.com

Aug 2 (yesterday)

Chip Kelly might be a bit crazy when it comes to personnel moves, but that doesn't make the Philadelphia Eagles coach a racist, no matter how hard people pitch that controversy. Running back LeSean McCoy was first to insinuate Kelly was racist, likely b…

Share Tweet

profootballtalk.com

Aug 2 (yesterday)

Guard Evan Mathis was set to make $5.5 million for the Eagles this season, but stayed away from Philly during offseason workouts before being released amid conflicting accounts about whether or not that's what he wanted. Mathis hasn't landed another job…

Share Tweet

Eagles sign Villanova RB Monangai

philly.com

Aug 1 (2 days ago)

The Eagles signed rookie free-agent running back Kevin Monangai, a Villanova product, on Saturday. Monangai, who gained 3,167 rushing yards and scored 34 touchdowns for the Wildcats over four seasons, was at the Eagles' rookie camp in May.

Share Tweet

Eagles season can go one of three ways

philly.com

Jul 31 (3 days ago)

There are three doors, and the Eagles will walk through one of them this season. You don't need Monty Hall to tell you that not all doors are created equal, but that is the nature of a boom-or-bust season so reliant on things that are still uncertain.

Share Tweet

Eagles counting on Thurmond to switch from cornerback to safety

philly.com

Jul 31 (3 days ago)

Walter Thurmond watches Malcolm Jenkins in practice. He has emulated former teammates Earl Thomas and Antrel Rolle. It's part of his acclimation to a new position, but it's no coincidence those are safeties that Thurmond says he admires.

Share Tweet

yahoo.com

Jul 31 (3 days ago)

Why hasn't there been more Tim Tebow talk this offseason? We're kidding — sort of. On the one hand, Tebow always will generate buzz, and it reached the point of exhaustion before. But on the other, it has been a bit tame all things considered, especiall…

Share Tweet

ESPN tabs Chris Berman and Trent Dilfer as MNF B-team

profootballtalk.com

Jul 31 (3 days ago)

Chris Berman and Trent Dilfer will be in the booth for ESPN for the Week One late game on Monday Night Football. With the normal Monday Night team of Mike Tirico and Jon Gruden calling the early game, Eagles-Falcons, Berman and Dilfer will be in San Fra…

Share Tweet

Eagles QBs on getting reps

Aug 2

Sam Bradford and Mark Sanchez discuss training camp on Sunday, when Bradford worked with the first team.

Competition opens, but it's Sam Bradford's job to lose

Aug 2

ESPN Eagles reporter Phil Sheridan says that while Bradford may be in an open competition with Mark Sanchez, it is Bradford's job to lose. After trading for Bradford, coach Chip Kelly wants and needs Bradford to be the Eagles' starting quarterback.

Chip Kelly addresses Boykin trade

Aug 2

Eagles coach Chip Kelly discusses the Steelers' interest in obtaining Brandon Boykin and why Philadelphia finally decided to trade the cornerback.

Steelers trade for Eagles CB Brandon Boykin

Aug 1

ESPN's Jeremy Fowler says the Steelers' offense is too good to be handcuffed by problems in the secondary, prompting team brass to create more competition with a trade.