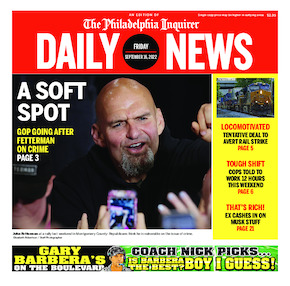 Domo: Mayock says Eagles must focus on bolstering WR corps
philly.com
Updated 10 hours ago
WHEN THE Eagles move on to Step 2 of their latest attempt to build a Super Bowl champion this offseason, Jim Schwartz is going to have to wait his turn.
Share
Tweet
Murphy: Eagles' McKelvin has seen angry fans before

philly.com

9 hours ago

EVER HEAR the one about the guy who comes home from work to find the final score of the Monday Night Football game and a male sex organ spray-painted on his lawn? It's a heck of a yarn: September 2009, first week of the season, Bills are 13 1/2-point do…

Share Tweet

Brookover: Eagles need DeSean more than he needs them

philly.com

11 hours ago

ASHBURN, Va. - It would be some story if the Eagles replaced DeSean Jackson with DeSean Jackson. As it is, the polarizing wide receiver with blinding speed has been out of Philadelphia for nearly three years and still his name and his impact linger.

Share Tweet

philly.com profootballtalk.com ESPN.com

11 hours ago

The week has gone by without much discussion about who will play right tackle for the Eagles, which is a good sign compared with the Eagles' first meeting with the Washington Redskins.

Share Tweet

Bowen: Eagles need to rev up run game

philly.com

11 hours ago

THE EAGLES' longest run last Sunday at Cincinnati went for 10 yards, and the runner was Carson Wentz. Splashier, more spectacular failures commanded the headlines in that 32-14 loss, the Eagles' third in a row, with each of those setbacks more one-sided…

Share Tweet

Domo's Eagles-Redskins Scouting Report

philly.com

13 hours ago

Recent history: The Redskins defeated the Eagles on Oct. 16, 27-20. Washington has won the last four and leads the series, which began in 1933, 85-73-5.

Share Tweet

As he readies for return, Eagles' Lane Johnson says he let team down; must be 'more responsible'

philly.com

17 hours ago

Lane Johnson told the Daily News on Thursday that he feels resposibility for the Eagles' struggles during his 10-game suspension, which ends Dec. 19, the day after the team visits the Ravens.

Share Tweet

Are Eagles trying hardest? 'We're not quitters'

Doug Pederson put his locker room on notice Monday when he questioned the Eagles' effort, suggesting that "not everybody" played hard Sunday in the loss to Cincinnati.

Share Tweet

Smallwood: Eagles' season no laughing matter

DOUG PEDERSON knew immediately that his attempt at levity had not gone well. At Wednesday's press conference, a reporter began a question with the notion that the Eagles were still technically in the NFC playoff picture.

Share Tweet

Eagles get Ryan Mathews back after two games out

profootballtalk.com

Dec 7 (yesterday)

The Eagles' leading rusher is back on the field. Philadelphia coach Doug Pederson said today that Ryan Mathews, who missed the last two games with a knee injury, is good to go and will practice today. Mathews leads the Eagles with 102 carries for 427 ya…

Share Tweet

ESPN.com

Dec 7 (yesterday)

Eagles reunion likely to 'intrigue' DeSean Jackson

Share Tweet

McLane: Eagles failed to invest properly at cornerback

The names and the faces change, but the Eagles have had inferior cornerbacks for at least five years. It isn't revisionist history to point out that the current cast was unlikely to be consistently effective. Management invested little in the position, …

Share Tweet

philly.com

Dec 6 (2 days ago)

Jim Schwartz met with his defensive players on Tuesday morning like he does each week. But the context was different after the Eagles' 32-14 loss to the Cincinnati Bengals on Sunday. He addressed the lack of effort and energy that coach Doug Pederson cr…

Share Tweet

Bucs promote Josh Huff from practice squad

profootballtalk.com

Dec 6 (3 days ago)

The Buccaneers gave Josh Huff a second chance, and it didn't take them long to give him a chance to realize it. The Bucs promoted the former Eagles wide receiver from the practice squad to fill the spot created by veteran wideout Cecil Shorts on injured…

Share Tweet

eaglesgab.com

Dec 5 (3 days ago)

Like it or not, next month Donald Trump will be the new President of the United States, and one thing that can't be denied is it's going to be an interesting four years in our country. There's been plenty of fun poked at the President elect, and one sit…

Share Tweet

philly.com

Dec 5 (3 days ago)

Eagles wide receiver Dorial Green-Beckham suffered a bruised abdominal muscle in the 32-14 loss to the Cincinnati Bengals on Sunday but is expected to play in the Eagles' next game against the Washington Redskins.

Share Tweet

philly.com ESPN.com profootballtalk.com

Dec 5 (3 days ago)

For all of the banal statements NFL head coaches make throughout a season, Eagles coach Doug Pederson offered an honest assessment when asked Monday if all of his players "played hard" in the team's embarrassing 32-14 loss to the Cincinnati Bengals.

Share Tweet

Best and worst QBs of Week 13: Andy Dalton carves up Eagles

ESPN.com

Dec 5 (4 days ago)

Best and worst QBs of Week 13: Andy Dalton carves up Eagles

Share Tweet

Commentary: Eagles are disrespecting their fans

philly.com

Dec 5 (4 days ago)

"I drain all the life out of myself out there," said Randall Cunningham, former Eagles' quarterback, when asked in 1990 about his effort on the playing field. "I get paid to play, to win, to give the city pride, so maybe everybody can for…

Share Tweet

Stephen A. takes on Chip Kelly

Jul 29

While Stephen A. Smith is in favor of the Eagles shutting up about Chip Kelly, Smith tears into Kelly for "stinking at his job" and getting fired only to land another NFL coaching job paying $6 million.

No reason for Eagles to rush Wentz

Jul 24

Adam Caplan breaks down how the Eagles are bringing along rookie QB Carson Wentz and why they are smart for taking this approach.

E:60: Randall Cunningham coaches daughter to the Olympics

Jul 21

A generation ago, Randall Cunningham electrified the NFL with his show-stopping athletic talents. Now he's headed to the Olympic Games as the coach of one of Team USA's best hopes for gold in the women's high jump -- his 18-year-old daughter Vashti

Doug Pederson has a QB plan, but how will it play out?

Jul 20

Doug Pederson said Sam Bradford will start the season as the No. 1 QB, but the team acquired Chase Daniel and Carson Wentz too. ESPN Eagles reporter Phil Sheridan says that Pederson may have a plan, but executing it is another matter entirely.