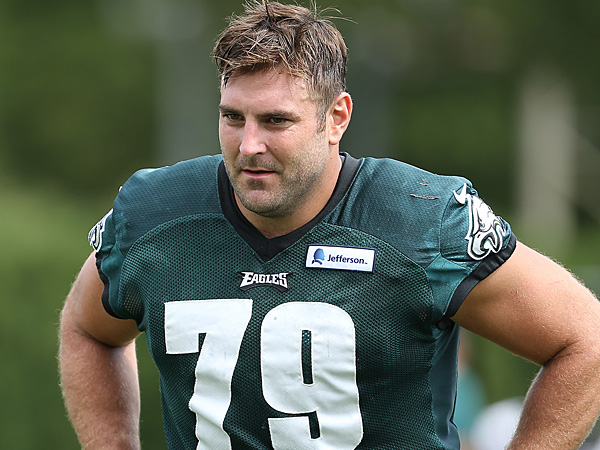 philly.com
profootballtalk.com
Updated 9 hours ago
Eagles starting guard Todd Herremans will try to play Sunday in spite of a partial biceps tear.
Upvote
Share
Tweet
ESPN.com philly.com

3 hours ago

DeMeco Ryans had to get about 20 tickets for friends in Houston for Sunday's game between the Philadelphia Eagles and Houston Texans. This, after all, used to be home. "It's going to be special going back to where I started playing," Ryans sai…

Upvote Share Tweet

ESPN.com

3 hours ago

PHILADELPHIA -- The Eagles face the Houston Texans Sunday, a team that practically demands the kind of defensive treatment opponents have been using on the Eagles this season. Eagles opponents have loaded up the box to stop LeSean McCoy, daring quarterb…

Upvote Share Tweet

philly.com

9 hours ago

Eagles who know the Texans' J.J. Watt like him and his work ethic; now if they can just keep him away from Nick Foles.

Upvote Share Tweet

profootballtalk.com philly.com

21 hours ago

Eagles center Jason Kelce has been out of action for more than a month since suffering a sports hernia against Washington in Week Three. Coach Chip Kelly told reporters on Wednesday that a decision about his future will be made before the team's Week Ni…

Upvote Share Tweet

Larry Fitzgerald wins NFC offensive player of the week

profootballtalk.com

Oct 29 (yesterday)

If the Eagles see the Cardinals again in the playoffs, they better come up with a better plan for slowing down Larry Fitzgerald. The veteran wide receiver was named NFC offensive player of the week after catching seven passes for 160 yards and a touchdo…

Upvote Share Tweet

philly.com ESPN.com

Oct 29 (yesterday)

Nick Foles pledges to work on his footwork this week in preparation for the Houston game.

Upvote Share Tweet

There might not be another offensive lineman in the NFL who knows Texans defensive end J.J. Watt as well as Andrew Gardner. They were teammates in Houston for three seasons, and as a backup, Gardner often had to face Watt in practice.

Upvote Share Tweet

Eagles, Allen move on from his costly mistake

Nate Allen continued to receive staunch support from the Eagles' coaching staff on Tuesday, when defensive coordinator Bill Davis said he is "absolutely confident" in the safety.

Upvote Share Tweet

ESPN.com profootballtalk.com

Oct 28 (yesterday)

Philadelphia Eagles running back Darren Sproles told reporters Tuesday that he expects to play against the Houston Texans on Sunday.

Upvote Share Tweet

NFL Live Prediction: Eagles-Texans

Oct 29

The NFL Live crew make their picks for Philadelphia at Houston.

Sproles Set To Return To Eagles

Oct 29

ESPN NFL Insider Louis Riddick discusses Eagles RB Darren Sproles' comment that he expects to play Sunday.

Jeremy Maclin Living Up To Expectations

Oct 28

ESPN Philadelphia Eagles reporter Phil Sheridan talks about the performance of Jeremy Maclin and how he's more than made up for the absence of DeSean Jackson.

Game Balls: Philadelphia at Arizona

Oct 26

Cardinals reporter Josh Weinfuss' game ball goes to receiver Larry Fitzgerald, who scored on a career-long 80-yard touchdown. Phil Sheridan honors Eagles receiver Jeremy Maclin for moving up to No. 8 on the Eagles' career receiving touchdown list.