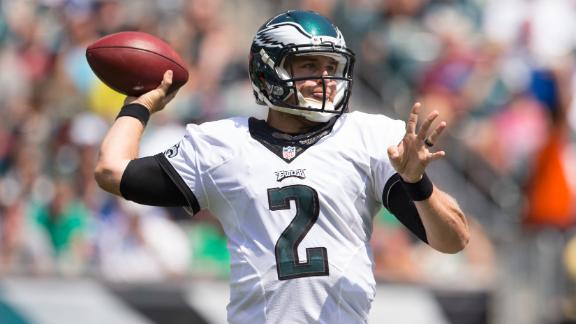 philly.com
ESPN.com
yahoo.com
profootballtalk.com
nytimes.com
Updated 4 hours ago
After Tebow outperformed Barkley in preseason finale, move of former fourth-rounder seemed inevitable.
Share
Tweet
Look for a terrific 13-3 season from the Eagles this season

philly.com

14 minutes ago

Eagles will thrive, with better weapons on offense, a stronger defense and potentially great special teams.

Share Tweet

Report: Eagles trying to trade Najee Goode

There were points this offseason when people wondered whether the Eagles were interested in trading linebacker Mychal Kendricks, but those thoughts went out the window when the Eagles signed Kendricks to a contract extension. That guaranteed a crowded g…

Share Tweet

The NFLPA and Tom Brady scored a big win in federal court over the NFL on Thursday and we'll have one of the key people involved on the winning side as a guest on PFT Live Friday. Attorney Jeffrey Kessler fielded the questions from Judge Richard Berman …

Share Tweet

Eagles to end John Moffitt's comeback from retirement attempt

The Eagles were willing to give John Moffitt a chance to come back to the NFL, but he didn't show them enough to warrant extending that chance to the regular season. According to John Lombardo of NJ.com, the Eagles have released the former Seahawks and …

Share Tweet

Eagles rookie Rasheed Bailey catches TD, hopes to stay

ESPN.com

Sep 4 (yesterday)

Eagles rookie Rasheed Bailey catches TD, hopes to stay

Share Tweet

yahoo.com philly.com

Sep 4 (yesterday)

The Philadelphia Eagles made a huge trade this offseason to acquire a big-name player coming off an ACL surgery. Oh, and then they traded for quarterback Sam Bradford, too. Don't forget inside linebacker Kiko Alonso, who came over to Philadelphia in the…

Share Tweet

RB Raheem Mostert remains upbeat at making Eagles roster

philly.com

Sep 3 (yesterday)

Undrafted rookie out of Purdue has a solid showing in the Eagles' final preseason game.

Share Tweet

nytimes.com

Sep 3 (yesterday)

Tim Tebow passed for 189 yards and a touchdown in a preseason finale.

Share Tweet

philly.com

Sep 3 (yesterday)

EAST RUTHERFORD, N.J. - For all the changes the Eagles made to their secondary this offseason, there are still unresolved questions about the group with the preseason over and only 10 days separating the team from the start of the regular season.

Share Tweet

ESPN.com

Sep 3 (yesterday)

Tom Brady decision impacts Eagles by deflating Dallas' edge over NFC East foes

Share Tweet

Week 1 of the NFL in 60 seconds

Sep 4

NFL Insider Dan Graziano delivers a quick preview of week 1 in the NFL.

Eagles ship Matt Barkley to Cardinals

Sep 4

Adam Schefter breaks down the Eagles' decision to trade Matt Barkley to the Cardinals and what it means for Tim Tebow in Philadelphia.

Tebow forces Kelly into tough decision

Sep 4

Mike Greenberg and Cris Carter discuss Eagles QB Tim Tebow's performance in Thursday night's preseason game and whether he did enough to make the final roster.

Tebow, Eagles fall to Jets

Sep 3

Tim Tebow connects on 11 of 17 passes for 189 yards with two touchdowns and an interception in Philadelphia's 24-18 loss to New York.