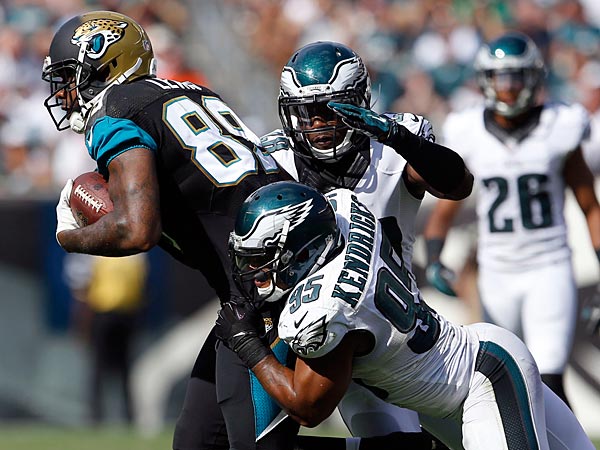 philly.com
ESPN.com
profootballtalk.com
Updated 1 hour ago
Mychal Kendricks was listed as questionable on the Eagles' Friday injury report for Sunday's game at the Arizona Cardinals. Kendricks has a calf injury and has already missed four games. He was limited at practice this week and several of his teammates …
Upvote
Share
Tweet
Acho brothers find themselves on opposing sides for the first time

philly.com

1 hour ago

For the first time, Eagles' Emmanuel Acho is not a teammate with his brother, Sam.

Upvote Share Tweet

philly.com ESPN.com

7 hours ago

When the Eagles run The running game appeared rejuvenated in the Eagles' last two games, with 145 yards against the Rams and 203 yards against the Giants. LeSean McCoy's 149-yard outburst against New York was a positive sign after the defending rushing …

Upvote Share Tweet

The Eagles miss DeSean Jackson's big plays

philly.com

10 hours ago

Chip Kelly's Eagles' offense is not as explosive as it used to be. It's easy to see why.

Upvote Share Tweet

Polk could see increased role for Eagles

philly.com

14 hours ago

Chris Polk had 799 carries in four seasons at the University of Washington. He's had 11 in three NFL seasons with the Eagles. He hasn't had an actual offensive touch - including the preseason - since the end of last season.

Upvote Share Tweet

The Inquirer's Eagles-Cards Predictions

philly.com

15 hours ago

Eagles-Cardinals predictions from The Inquirer's Eagles beat reporters:

Upvote Share Tweet

Eagles expect shape-shifting Cards defense

ESPN.com

17 hours ago

PHILADELPHIA – Everything Chip Kelly wants done on a football field, he wants done fast. His offense is built to take advantage of mismatches created when opposing defenses don't have the time to get their desired personnel on the field. In previous gam…

Upvote Share Tweet

Week 8 N.F.L. Matchups

nytimes.com

22 hours ago

This week's games include a matchup between the Eagles and the Cardinals, who have unexpectedly taken control of the N.F.C. West.

Upvote Share Tweet

Coming off a bye, improving defense should lift Eagles

Eagles had a great game against the Giants before their bye, and should be able to keep their momentum at Arizona.

Upvote Share Tweet

The Birds' touchdown percentage inside the 20 is only 40 percent this season.

Upvote Share Tweet

Eagles-killer Larry Fitzgerald's decline in production reflects more on his supporting cast than on him.

Upvote Share Tweet

Challenges ahead on the Eagles' schedule

The demanding 10-game homestretch will prove whether the Eagles are pretenders or contenders.

Upvote Share Tweet

Eagles guard against the desert bombs

Arizona has a big-play passing offense and the Birds haven't been stingy with those kind of plays this season.

Upvote Share Tweet

Eagles line coach Stoutland has weathered the storm

Jeff Stoutland has a name he uses to describe the naysayers of the world. There were quite a few members of this so-called fraternity who predicted doom when the Eagles offensive line lost one starter after another and inexperienced backups were pushed …

Upvote Share Tweet

CNNSI.com

Oct 23 (yesterday)

The MMQB Newsletter Enter your email below to receive the best of The MMQB in your inbox each weekday

Upvote Share Tweet

Nick Foles unscathed by line issues

ESPN.com

Oct 23 (yesterday)

PHILADELPHIA -- Normally, you'd look at the Philadelphia Eagles' matchup with the blitz-happy Arizona Cardinals and wonder whether quarterback Nick Foles can survive. After all, the Eagles' offensive line is still without left guard Evan Mathis and, it …

Upvote Share Tweet

Eagles defense faces another big test against Arizona

philly.com

Oct 23 (2 days ago)

Eagles show signs that their defense is improving, but Cardinals will let them know how good they really are.

Upvote Share Tweet

'Playbook': Philadelphia Eagles vs. Arizona Cardinals

Oct 24

The "Playbook" crew breaks down the battle of the birds and what it's going to take for the Philadelphia Eagles to go into Arizona and defeat the Arizona Cardinals.

NFL Cold Hard Facts

Oct 23

Mark Schlereth on DeMarco Murray's season, the Eagles vs. the Cardinals matchup and the key to the Ravens' success.

NFL Live Prediction: Eagles-Cardinals

Oct 23

The NFL Live crew make their picks for Philadelphia at Arizona.

Inside Edge: Eagles-Cardinals

Oct 23

ESPN NFL Insider Mike Sando delivers stats to help you make a pick for Philadelphia at Arizona.