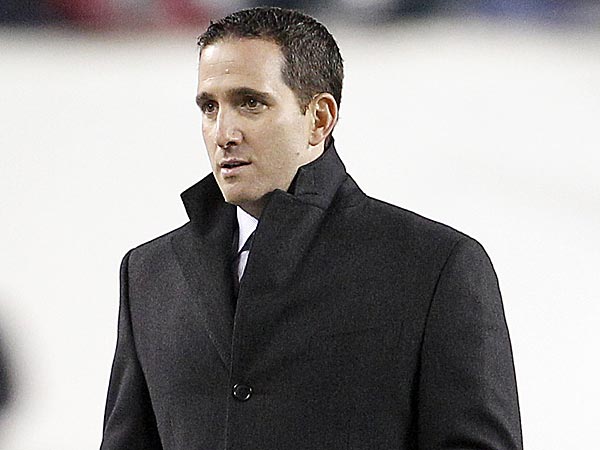 philly.com
deadspin.com
profootballtalk.com
CNNSI.com
ESPN.com
Updated Dec 3, 2012
Andy Reid's decision to fire Jim Washburn was viewed as the Eagles coach owning up to his mistake in hiring the defensive line coach in the first place.
Share
Tweet
profootballtalk.com ESPN.com CNNSI.com yahoo.com

Dec 3, 2012

The last time the Redskins hosted a Monday night game, Eagles quarterback Mike Vick had a night for the ages.  Now, his career in Philly most likely belongs to the ages. The declaration from coach Andy Reid that rookie Nick Foles will serve as the start…

Share Tweet

Eagles sign OL Matt Kopa

The Eagles finalized their 53-man roster by signing offensive lineman Matt Kopa from the Patriots' practice squad.

Share Tweet

CNNSI.com

Dec 3, 2012

PHILADELPHIA (AP) Philadelphia Eagles coach Andy Reid says rookie Nick Foles will be the starting quarterback even when Michael Vick returns from a concussion.

Share Tweet

profootballtalk.com

Dec 3, 2012

The Panthers are playing a lot of big games down the stretch. At least if you're an NFL draft junkie. While we spend most of our time in December dissecting the teams in the playoff hunt, we'll also spend some of our time looking at the teams racing t

Share Tweet

profootballtalk.com philly.com

Dec 3, 2012

Bryce Brown has proven two things in the last two weeks. One, that he can run well enough to be an NFL starter. Two, that LeSean McCoy has nothing to worry about as the Eagles' starter. Brown has 347 rushing yards and four touchdowns the last two weeks,

Share Tweet

ESPN.com

Dec 3, 2012

Tony Romo was brilliant Sunday night in the Dallas Cowboys' victory over the Philadelphia Eagles. But every quarterback who plays the Eagles these days is basically a mix of Tom Brady, Johnny Unitas and Flash Gordon, and anyway Romo's been good for a wh…

Share Tweet

profootballtalk.com

Dec 3, 2012

Beating the Eagles on Sunday night leaves the Cowboys within striking distance of an NFC playoff berth. But at this point, Dallas likely needs to run the table the rest of the way, in addition to getting some help, to make the postseason. And considerin…

Share Tweet

Pathetic Eagles' defense has no excuse

ARLINGTON, Texas - The primary sources of the Eagles' offensive problems are fairly obvious. You can see them with your own eyes, both on the field and on the stat sheet.

Share Tweet

ESPN.com

Dec 3, 2012

Pretty amazing that every team in the other seven NFL divisions finished Week 13 before the NFC East began it. The Cowboys and Eagles gave us an entertaining game Sunday night (though, sadly for Eagles fans, one with a too-familiar result), and ideally …

Share Tweet

nytimes.com

Dec 3, 2012

In his commentary segment at halftime of the Cowboys-Eagles game, Bob Costas spoke in favor of stricter gun control in the wake of Chiefs linebacker Jovan Belcher's murder-suicide.

Share Tweet

Eagles-Cowboys: Up-Down Drill

Up-Down Drill Nick Foles The rookie quarterback had his best game as a starter. Foles stood in early and took a big hit before he connected with Brent Celek. He made smart decisions, and he didn't turn the ball over. The kid may have a future.

Share Tweet

philly.com ESPN.com

Dec 3, 2012

ARLINGTON, Texas - Eagles defensive tackle Fletcher Cox and center Dallas Reynolds both started Sunday's game against the Dallas Cowboys despite being listed as questionable.

Share Tweet

Here are some observations and ruminations about Sunday night's Eagles-Cowboys game: ARLINGTON, Texas - Bryce Brown's rushing has been a revelation the last two games, but some of the credit for all those yards has to go to the Eagles' offensive line.

Share Tweet

Cowboys are just a-pathetic

ARLINGTON, Texas - After weeks of searching, the Eagles finally found an opponent that cared as little about a football game as them.

Share Tweet

eaglesgab.com

Dec 3, 2012

With every passing game, the end seems to be getting closer and closer for Andy Reid and probably many of the Eagles. Sunday night in Dallas, the team couldn't stop Tony Romo and the Cowboys, losing again 38-33. Philly had a 27-24 lead when Romo led an

Share Tweet

Cowboys-Eagles postgame report

Dec 3

Todd Archer and Jean-Jacques Taylor of ESPN Dallas discuss the Cowboys victory over the Eagles on Sunday night.

Countdown Daily Hot Topics: Week 13

Dec 3

Antonio PIerce answers your facebook questions

Eagles Fire Defensive Line Coach

Dec 3

After suffering their eighth straight loss, the Eagles have fired defensive line coach Jim Washburn.

Andy Reid postgame press conference

Dec 3

Philadelphia Eagles coach Andy Reid speaks to reporters following his team's 38-33 loss to the Dallas Cowboys Sunday night.