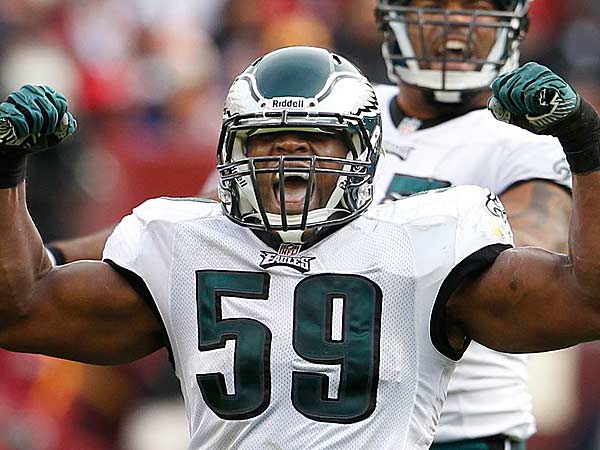 Eagles linebackers may need to adapt
philly.com
Updated Feb 12, 2013
Here is the seventh in a series of looks at the Eagles roster:
Share
Tweet
profootballtalk.com philly.com

Feb 12, 2013

During Monday's edition of Pro Football Talk on NBC Sports Network, we pointed out that the new contract signed by Eagles quarterback Mike Vick could provide the template for a contract that could be offered to Raiders quarterback Carson Palmer. It also

Share Tweet

Course Correction: After posting their worst record in the Rex Ryan …

CNNSI.com

Feb 12, 2013

After posting their worst record in the Rex Ryan era, the Jets appear in need of an overhaul. Andrew Perloff examines what needs to be done and if the Jets are willing to do it.

Share Tweet

CNNSI.com

Feb 12, 2013

New coach Chip Kelly faces a tricky rebuilding task with the Philadelphia Eagles as he incorporates his up-temp attack into the NFL.

Share Tweet

How about some non-Vick Eagles stuff?

ESPN.com

Feb 12, 2013

Right? Michael Vick has dominated the news coverage of the Philadelphia Eagles over the past 24 hours, and for good reason, but there's a lot more going on with the Eagles than the quarterback situation. There's the defense, to name one incredibly signi…

Share Tweet

profootballtalk.com

Feb 12, 2013

It might walk like a duck and talk like a duck, but the Eagles new head coach refuses to call it a duck. When Chip Kelly introduced his coaching staff yesterday, the biggest crowd flocked to defensive coordinator Billy Davis, who was asked the fairly ba…

Share Tweet

NFL32OT: Cowboys Aim To Keep Romo

Feb 12

Episode 267: Kevin Connors and Chris Mortensen discuss the Cowboys aim of signing Tony Romo to a long-term deal. Packers Greg Jennings breaks down what he looks for in a quarterback. The NFL32 crew discuss Michael Vick fitting in Chip Kelly's offense

State of the Franchise

Feb 12

Willie McGinest and Heath Evans break down the state of the Dallas Cowboys, Chicago Bears, Philadelphia Eagles and the Pittsburgh Steelers.