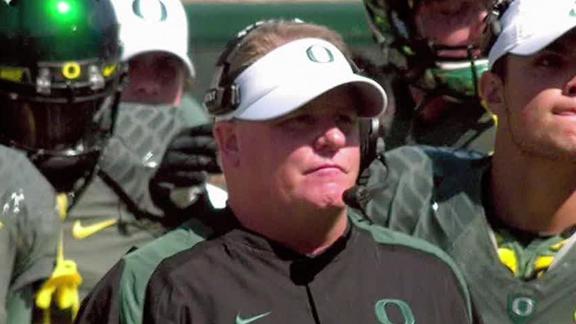 Updated Jan 4
Share
Tweet
Oregon coach Chip Kelly and the Cleveland Browns wrapped up seven hours of meetings Friday that were characterized as "very positive," though Kelly will proceed to interview with the Bills and the Eagles, sources said.
Updated Jan 4

Share Tweet

The New York Jets have begun their search for Mike Tannenbaum's replacement.

Source:

CNNSI.com

Updated Jan 4

Share Tweet

Andy Reid pulled up to Arrowhead Stadium in a black SUV on Friday, stepped out of it wearing a dark suit and red tie, and walked briskly toward the doors of the Kansas City Chiefs' home.

Sources:

CNNSI.com philly.com profootballtalk.com yahoo.com

Updated Jan 4

Share Tweet

The Philadelphia Eagles will interview Colts offensive coordinator Bruce Arians and Seahawks defensive coordinator Gus Bradley for their coaching vacancy.

McNabb: Banner took power from Reid, groomed Roseman

Updated Jan 4

Share Tweet

The idea that Andy Reid always had final say is a bit of a myth, according to former Eagles quarterback Donovan McNabb.

Broncos offensive coordinator Mike McCoy will apparently have a busy weekend

Updated Jan 4

Share Tweet

The New Year began with seven head coaching vacancies. One of those positions has been filled, as former Philadelphia Eagles head coach Andy Reid has reached an agreement with the Kansas City Chiefs. The news of Reid's agreement came as no surprise as h…

Source:

yahoo.com

Updated Jan 4

Share Tweet

KANSAS CITY, Mo. (AP) -- Scott Pioli is out as general manager of the Kansas City Chiefs, who have been negotiating the past two days with Andy Reid to become their next coach.

McNabb: Eagles 'just grabbing names out of a hat'

Updated Jan 4

Share Tweet

The Eagles would be smart to hire a defensive-minded coach and not Oregon's Chip Kelly, former Eagles quarterback Donovan McNabb said Thursday.

Updated Jan 4

Share Tweet

Jeremiah Trotter played a total of seven seasons for Andy Reid in three different stints with the Eagles. And he thinks he lost a lot of games because Reid got out-coached. "If it came down to both teams were even, talent-wise, I think the opponent's

Source:

profootballtalk.com

Updated Jan 4

Share Tweet

PENN STATE'S Bill O'Brien is the best professional head-coaching prospect out there. He has successful pro experience with the franchise every other NFL franchise wants to be like and was stunningly successful amid the worst of circumstances in his firs…

For now, quiet on Eagles coaching front

Updated Jan 4

Share Tweet

SCOTTSDALE, Ariz. - The Eagles on Thursday joined the Cleveland Browns as teams to interview Bill O'Brien, but that tasty morsel of news was rendered moot when O'Brien told the Harrisburg Patriot-News he was staying at Penn State.

Put money on Seahawks, Bengals, Packers, Colts

Updated Jan 4

Share Tweet

Seahawks (-3) over REDSKINS: Get out your scalpel and let's dissect Washington's 7-0 run after the bye. The Redskins beat the Eagles twice (so what?) the Cowboys twice (see "Tony Romo stinks" on Wikipedia), the fading Giants, the putrid Browns,

Golic Family Holiday

Jan 4

MIke Golic catches up with his sons Mike Jr. and Jake while they are on holiday break from Notre Dame.

Trotter: Reid Outcoached In Big Games

Jan 4

Former Eagles LB Jeremiah Trotter says Andy Reid was outcoached in big games.

Michael Vick's Future

Jan 4

Rapper/actor T.I. and the "First Take" crew discuss where they think Michael Vick should end up next season.

Multiple Teams Interested In Kelly

Jan 4

Ed Werder discusses the teams interested in signing Chip Kelly and what it would take to convince him to leave Oregon.