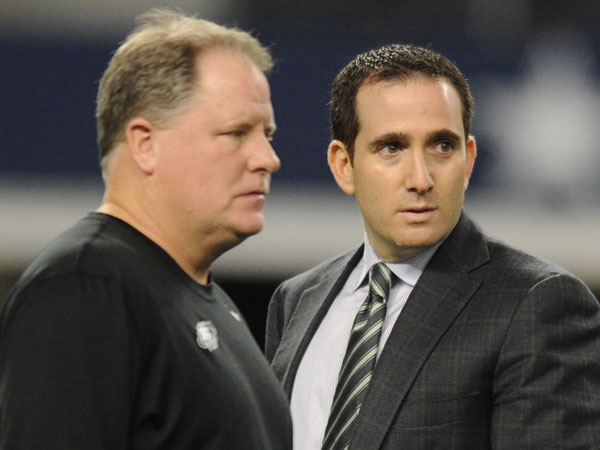 philly.com
eaglesgab.com
profootballtalk.com
CNNSI.com
nytimes.com
Updated Jan 5, 2014
The Eagles won their first NFC East championship since 2010, although recent history is against them repeating in 2014. No team has won back-to-back division titles since the Eagles in 2003-04.
Share
Tweet
philly.com ESPN.com profootballtalk.com

Jan 5, 2014

Is Nick Foles a franchise quarterback? It's a very simple question, but a complicated one to answer. Even Eagles owner Jeffrey Lurie couldn't give an affirmative response after Foles led the league in passer rating and set an NFL record in touchdown-to-…

Share Tweet

Sports of The Times: Before Signing a Strong Arm, Teams Should Heed Vick's Dark Past

nytimes.com

Jan 5, 2014

Eagles quarterback Michael Vick may wear a different jersey next season, but teams evaluating him should remember the horrors of Vick's dogfighting ring.

Share Tweet

'Just the tip of the iceberg,' Lurie says of Eagles

At one end of the Eagles' locker room late Saturday night was owner Jeffrey Lurie, offering optimism in the aftermath of his team's 26-24 playoff loss to the Saints, speaking of the future as if it were full of nothing but happy days for his franchise.

Share Tweet

PHILADELPHIA -- There's an old saying that sums up a superior head coach: He can beat your team with his team, and he can take your team and beat you coaching his team. That comes close to describing what happened to Eagles coach Chip Kelly in his first…

Share Tweet

A last-second field goal ended the Eagles' season as they fell to the Saints, 26-24, in the NFC Wild Card game at Lincoln Financial Field.

Share Tweet

Job one for Eagles tailgaters: Keep warm

Flames from fire pits and charcoal grills licked the night air in parking lots at Lincoln Financial Field on Saturday after the sun set and the pregame temperature plummeted for thousands of Eagles fans awaiting the team's playoff game against New Orlea…

Share Tweet

Riley Cooper has been a surprise clutch performer this season, and the Eagles' fourth-year receiver continued that in the second playoff game of his career.

Share Tweet

Earl Wolff was active for the Eagles in Saturday night's wild-card playoff game against the New Orleans Saints, although the rookie safety did not start or play in the first half. Patrick Chung remained the starter.

Share Tweet

ESPN.com

Jan 5, 2014

Phil Sheridan and Mike Triplett break down the New Orleans Saints' 26-24 win and a disappointing end to the Philadelphia Eagles' season.

Share Tweet

yahoo.com

Jan 5, 2014

The New Orleans Saints won the battle in the trenches against the Philadelphia Eagles, and it led to a road playoff game that answered a big question of their toughness. The Saints hadn't won away from home since before Thanksgiving, and it looked like …

Share Tweet

After dazzling Eagles season, a familiar, forlorn feeling

They started filing for the exits before it was even finished - Eagles fans trudging to the Lincoln Financial Field concourses with seconds still left on the game clock, leaving for a long walk back to their cars, to the Broad Street Line, to wherever t…

Share Tweet

2014 Wild Card Weekend REMIX

Jan 5

Relive all the high-flying highlights from each of the four games in this year's Wild Card Weekend in this epic best of video. It's the perfect way to catch up if you missed any of the playoff action.

Upon Further Review: Saints vs. Eagles

Jan 5

Phil Sheridan and Mike Triplett break down the Saints' win and a disappointing end to the Eagles' season.

Wild Card Weekend: Philadelphia Eagles QB Nick Foles highlights

Jan 5

Philadelphia Eagles QB Nick Foles threw for 195 yards and two touchdowns in his first career playoff game, but fell short to the New Orleans Saints 26-24 on Wild Card Saturday.

Philadelphia Eagles will keep fighting through offseason

Jan 5

Philadelphia Eagles quarterback Nick Foles during Saturday's press conference announced to the media that the Eagles will move on from this loss with a fighting attitude to get back to the playoffs in 2014.