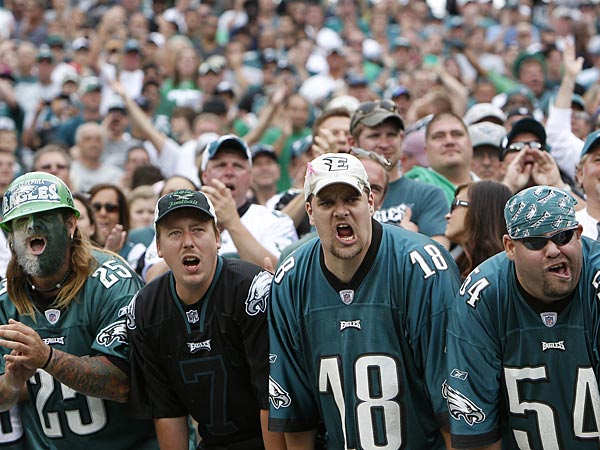 Updated Jan 31
Share
Tweet
The Eagles moved up three spots Thursday, but unfortunately for fans it was in ticket prices and not the NFL draft. The Eagles will raise ticket prices by an average of $8 in 2013, their first season under new coach Chip Kelly. It is their first increas…
Updated Jan 31

Share Tweet

The strong consensus belief is that new coach Chip Kelly wants to change the Philadelphia Eagles to a 3-4 defense from the 4-3 they currently run, and Rich Hofmann has taken a look at what, specifically, that would entail. His conclusion is that the Eag…

Sources:

ESPN.com philly.com

Tattoos link Eagles QB Nick Foles and 49ers TE Garrett Celek

Updated Jan 31

Share Tweet

NEW ORLEANS - Nick Foles and Garrett Celek are good friends. How good? When the two were roommates at Michigan State, they decided to get Chinese symbols tattooed on the inside of their left arms, just under their armpits. Tattoos often come with storie…

Updated Jan 31

Share Tweet

[][]Agitated, not angry Ray Lewis was asked again Wednesday about a Sports Illustrated report accusing him of using deer antler extract, a banned performance-enhancement drug, to help speed his healing from a torn triceps earlier this season. Lewis deni…

Akers looking for a Super ending to a rough season

Updated Jan 31

Share Tweet

NEW ORLEANS - The last Super Bowl that David Akers played in, his evening ended in desperation, Akers blooping an onside kick that was easily recovered by the Patriots' Christian Fauria late on a breezy night in Jacksonville, after the Eagles took way t…

Osi Keeping Options Open

Jan 31

Giants DE Osi Umenyiora joins "First Take" to discuss the disappointing end to New York's season, the NFC East, and his options as he hits free agency.