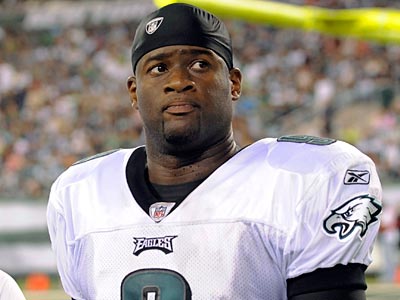 philly.com
Updated May 17, 2013
Vince Young, who played one season with the Eagles but will more likely be remembered by fans for his "Dream Team" comment during 2011 training camp, participated in the University of Texas' commencement ceremony on Friday.
Share
Tweet
Evan Mathis finds Manti Te'o 'adorable'

philly.com

May 17, 2013

Eagles guard Evan Mathis wasn't blown away by a glimpse of the Chargers' newest member.

Share Tweet

Contract Situations To Monitor

eaglesgab.com

May 17, 2013

WR DeSean Jackson is still in the prime of his career, but the Eagles may not want to pay him like an elite receiver. The Eagles currently have over $20 million in salary cap space, but that cash may soon dwindle. By carrying over over $20 million in ca…

Share Tweet

profootballtalk.com

May 17, 2013

Eagles tight end Clay Harbor showed promise last year as a pass-catcher. But he went from second in line to fourth in a hurry this offseason, and that traffic could send him to the other side of the ball. According to Bob Grotz of the Delaware County Ti…

Share Tweet

philly.com

May 17, 2013

Chip Kelly, Sam Hinkie and Joe Banner blind you with brightness.

Share Tweet

Is Donovan McNabb A Hall Of Famer?

May 17

Stephen A. Smith and Skip Bayless discuss whether Donovan McNabb will get inducted into the Pro Football Hall of Fame.