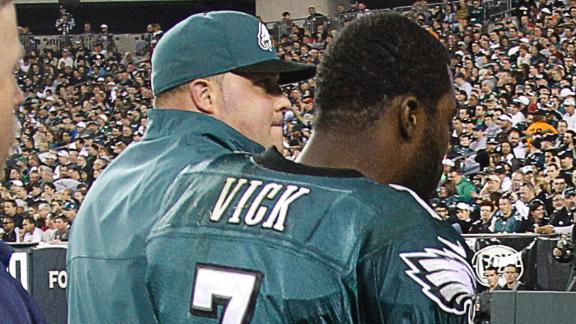 philly.com
ESPN.com
CNNSI.com
profootballtalk.com
Updated Nov 11, 2012
Michael Vick may have played his last game for the Eagles.
Share
Tweet
yahoo.com

Nov 11, 2012

Below is a run-down of the injury situations that Shutdown Corner will be monitoring before Week 11: Philadelphia Eagles quarterback Michael Vick exited Sunday's 38-23 loss to the Dallas Cowboys in the second game with a concussion. Vick was replaced in…

Share Tweet

LeSean McCoy rushed the ball only 16 times in Sunday's 38-23 loss to the Cowboys even though the Cowboys entered the game ranked 15th in NFL rushing defense and fifth in passing defense.

Share Tweet

Eagles reach a new low under Andy Reid

To be an Eagles fan is to be an expert in disappointment, a connoisseur of dashed hopes.

Share Tweet

philly.com CNNSI.com

Nov 11, 2012

Here is Paul Domowitch's report card from the Eagles' loss against the Cowboys. Click here to enter your grades. We will publish the results in Wednesday's Daily News.

Share Tweet

Riley Cooper provides rare Eagles highlight with great one-handed touchdown catch

yahoo.com

Nov 11, 2012

The Eagles are now 3-6 and haven't given their fans too much to get excited about, but receiver Riley Cooper had a great highlight against Dallas. Michael Vick's short fade route pass on third and goal was overthrown a bit, to get over Cowboys rookie co…

Share Tweet

Astoundingly, a race in the NFC East

PHILADELPHIA -- It was a happy bunch of Dallas Cowboys who filed off the Lincoln Financial Field and into the tiny visitors locker room. They'd scored in every way imaginable in a 38-23 victory over the Philadelphia Eagles, and to hear the chatter and c…

Share Tweet

profootballtalk.com

Nov 11, 2012

Donovan McNabb wants to know where everyone's going. The Rams and 49ers just tripped across each other repeatedly in overtime, finishing in a 24-24 tie. It's the first tie in the NFL since McNabb and the Eagles drew with the Bengals on Nov. 16, 2008.

Share Tweet

philly.com yahoo.com ESPN.com

Nov 11, 2012

The Eagles lost to the Cowboys, 38-23, at Lincoln Financial Field on November 11, 2012.

Share Tweet

profootballtalk.com ESPN.com

Nov 11, 2012

Eagles quarterback Michael Vick has left today's game against the Cowboys with an injury and has been replaced by rookie backup Nick Foles. It wasn't completely clear how Vick got hurt, but it may have happened when the back of his helmet hit the grou

Share Tweet

Join our ESPN.com NFL experts as they break down the divisional rivalry game between the Dallas Cowboys and the Philadelphia Eagles. Contribute your thoughts and questions beginning at 4:30 p.m. ET. See you there. Countdown Live: Cowboys-Eagles

Share Tweet

PHILADELPHIA -- As the Philadelphia Eagles prepare to host the Dallas Cowboys at 4:25 p.m. ET at Lincoln Financial Field, here's one reason for Cowboys fans to be feeling good and one reason for Eagles fans to be doing the same. Cowboys feeling good: Th…

Share Tweet

Bob Ford: Armageddon approaches for the Eagles

In the space of just eight games, the Eagles season has been transformed from the NFL equivalent of a documentary full of pathos and high drama to a low-budget science-fiction flick with a single plot point left to reveal: When exactly will the meteor s…

Share Tweet

Eagles vs. Cowboys: A battle for survival

There will be an even greater disparity than usual between the winning and losing locker rooms on Sunday evening. Eagles coach Andy Reid and Dallas Cowboys coach Jason Garrett - as well as their teams - are already answering questions about the future a…

Share Tweet

Sunday Blitz: Cowboys-Eagles Recap

Nov 11

Jim Basquil and Eric Allen break down the Cowboys' 38-23 win over the Eagles.

Philadelphia Eagles postgame press conference

Nov 11

Eagles react following game with Cowboys

Vick Injured In Eagles' Loss

Nov 11

Michael Vick left the game in the second quarter after suffering a concussion as the Cowboys defeated the Eagles 38-23.

Dallas Cowboys vs. Philadelphia Eagles highlights

Nov 11

Dallas Cowboys quarterback Tony Romo threw a pair of touchdowns to lead the Dallas Cowboys to a 38-23 win over the Philadelphia Eagles on Sunday.