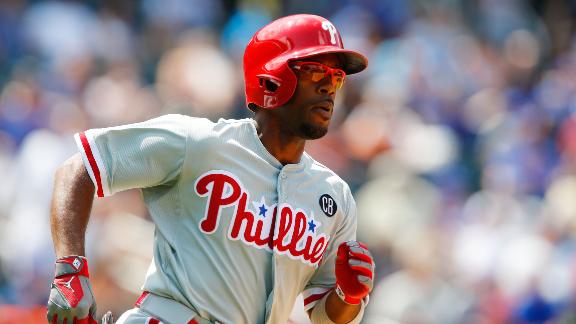 Phillies finalize Rollins-to-Dodgers deal

MLB.com

4 hours ago

The Phillies and Dodgers agreed more than a week ago to trade Jimmy Rollins to Los Angeles for a pair of Minor League pitchers, and the trade was officially announced on Friday. Philadelphia sent Rollins and cash to the Dodgers for left-handed pitcher T…

Upvote Share Tweet

With future uncertain, Hamels keeps open mind

MLB.com

Dec 17 (yesterday)

Is Cole Hamels the next Phillies player to be traded? Hamels would not mind following Jimmy Rollins to a winner, considering the circumstances.

Upvote Share Tweet

philly.com nytimes.com yahoo.com MLB.com ESPN.com

Dec 12 (7 days ago)

SAN DIEGO - Near the end of last season, Jimmy Rollins was asked how far he thought the Phillies were from returning to greatness. "I have no idea," Rollins said. "It could be next year." A reporter wondered why Rollins considered that possible.

Upvote Share Tweet

Phillies finally setting a course

philly.com

Dec 12

Even though a Cole Hamels deal seems unlikely, the Phillies seem to have a direction for their offseason.

Upvote Share Tweet

nytimes.com

Dec 10

The Phillies were reportedly working to complete a deal that would send Rollins, the team's career leader in hits, to the Dodgers.

Upvote Share Tweet

yahoo.com

Dec 10

SAN DIEGO — The new Los Angeles Dodgers front office started swapping Wednesday. After acquiring veteran shortstop Jimmy Rollins from the Philadelphia Phillies, the Dodgers went young, reportedly trading for pitcher Andrew Heaney, the Miami Marlins' top…

Upvote Share Tweet

yahoo.com

Dec 9

This is The Stew's running list of trades and signings that happen during baseball's Winter Meetings. We'll keep updating this post as the news happens. For more chatter and rumors, be sure to check out our Winter Meetings tracker. THURSDAYJustin Master…

Upvote Share Tweet

yahoo.com

Dec 9

SAN DIEGO — It's December and Ryne Sandberg already seems a bit tired of the question, because with the Philadelphia Phillies, it's the only question. How is this team going to get better? "Well, first of all," Sandberg said Tuesday during his…

Upvote Share Tweet

Phillies prospecting for value in offseason

philly.com

Dec 9

General manager Ruben Amaro Jr. has players to trade, but will he have any takers?

Upvote Share Tweet

yahoo.com philly.com

Dec 8

SAN DIEGO — You couldn't help but notice the man in the vintage Philadelphia Phillies jersey, No. 15, on Monday as the Golden Era Committee prepared to announce the results of its Hall of Fame vote. Mark Carfagno got as close to the stage as he could, b…

Upvote Share Tweet

On Baseball: Athletics Are Dealing; Phillies Wish They Were

nytimes.com

Dec 8

Oakland would rather make trades before its players lose value. Philadelphia, meanwhile, is eager to deal but has few players with much appeal.

Upvote Share Tweet

MLB.com

Dec 8

The Phillies have announced they plan to make significant changes to their aging and expensive roster before Spring Training 2015, but so far they have been quiet. General manager Ruben Amaro Jr. said at the Winter Meetings that he expects that to chang…

Upvote Share Tweet

Dodgers Trade Haren, Acquire Kendrick In Deals

Dec 11

Aaron Boone, Curt Schilling, Tim Kurkjian, Jim Bowden and Karl Ravech break down the Dodgers' improved defense with the acquisitions of SS Jimmy Rollins and 2B Howie Kendrick up the middle and the deal that sent Dee Gordon and Dan Haren to the Marlin

Phillies Deal Rollins To Dodgers

Dec 10

Tim Kurkjian discusses the Dodgers' acquisition of veteran shortstop Jimmy Rollins and why Rollins waived his no-trade clause to go to Los Angeles.

Phillies Looking To Move Ryan Howard

Nov 11

Buster Olney breaks down the Phillies' desire to trade first baseman Ryan Howard.

Bruno Bash: Puppy-Related Injuries & Castle Marathons

Oct 3

Tony Bruno joins Keith Olbermann to discuss a Lions TE injuring himself while trying to prevent his puppy from peeing inside the house, and several Twitter complaints directed at TNT after a Castle marathon was preempted to show an ALDS playoff game.