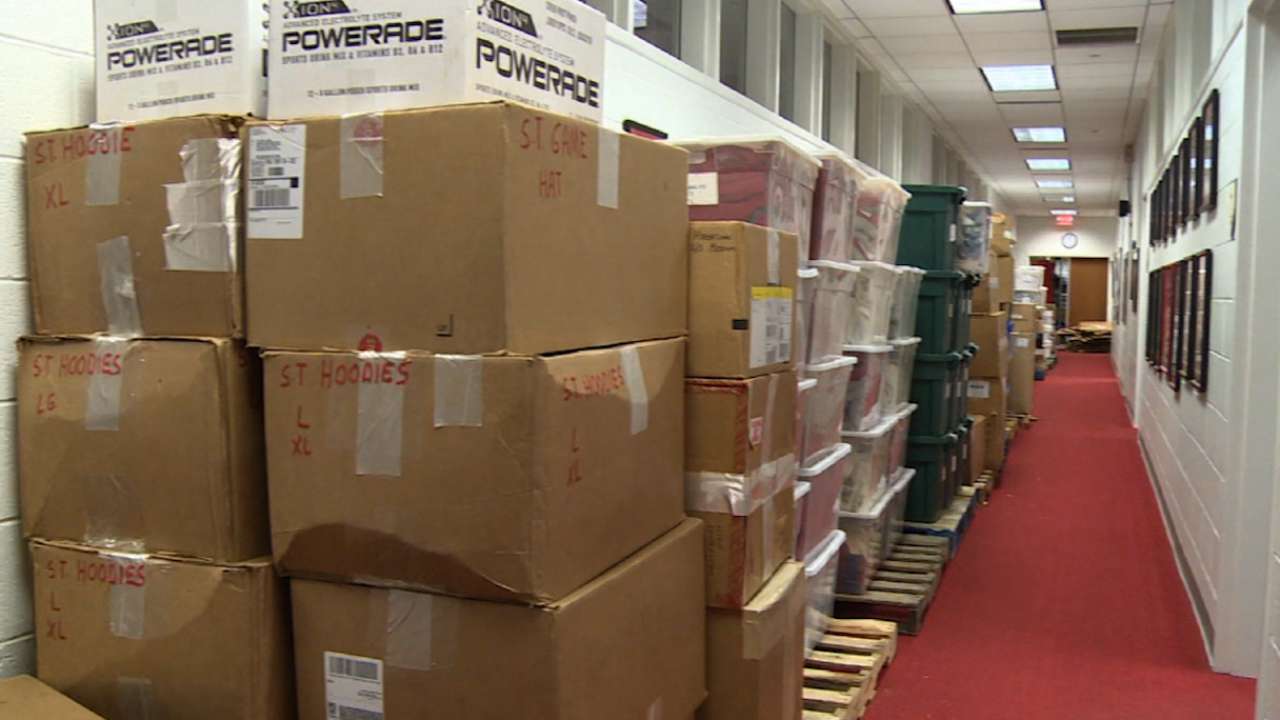 MLB.com
Updated 17 hours ago
The Phillies could pack their Spring Training truck blindfolded at this point. But they made things easier on themselves Friday morning, when they loaded the truck for its annual 1,058-mile trek from Citizens Bank Park to Bright House Field in Clearwate…
Share
Tweet
Ford: Phils' future on display in Fla.

philly.com

17 hours ago

The Phillies open spring training this week in Clearwater, Fla., for the 70th consecutive season. As long as the weather is warm and the Danish are still free in Lenny's, thousands of local fans will observe the annual rite with a journey south. Maybe t…

Share Tweet

Hopeful Phillies have plenty of new faces

MLB.com

Feb 11 (yesterday)

The Phillies are in the early stages of a massive rebuild, which means there will be plenty of new faces in camp. In the second part of a seven-part series previewing Phillies' Spring Training in Clearwater, Fla., MLB.com looks at a few of the most nota…

Share Tweet

Phils acquire Featherston from Halos for infield depth

MLB.com

Feb 10 (3 days ago)

The Phillies added some infield depth to their system on Wednesday by acquiring Taylor Featherston from the Angels for a player to be named or cash.

Share Tweet

Pete Mackanin's spring twist: Now he's manager

philly.com

Feb 9 (3 days ago)

It was a dark day for Pete Mackanin. The Phillies had just finished a disappointing season with a .500 record, ending a run of five straight National League East titles.

Share Tweet

yahoo.com

Feb 8 (5 days ago)

In our Homer History series, writers re-tell the stories of memorable home runs from their perspective. In this installment, Yahoo Sports NHL blogger Greg Wyshynski of Puck Daddy looks back on Joe Carter's World Series-winning homer against the Phillies…

Share Tweet

Sixers' Hinkie: Why rush The Process now?

philly.com

Feb 3

IMAGINE THIS: It is late October. The Eagles are in the midst of their first season under Doug Pederson. The Phillies are watching the baseball playoffs but showed some signs of hope during their sub-.500 season. And the Flyers are early in a promising …

Share Tweet

MLB.com

Feb 3

If Jesse Biddle achieves his big league dreams, it won't be with his hometown team. The Phillies on Wednesday traded Biddle to the Pirates for right-hander Yoervis Medina.

Share Tweet

Montgomery thinks Phillies have bright future

MLB.com

Feb 1

Phillies chairman David Montgomery figures he has been to nearly every Philadelphia Sportswriters Association dinner since 1972. On Monday night, the PSWA honored him.

Share Tweet

Biddle says he pitched through elbow pain

philly.com

Jan 31

Jesse Biddle had just finished getting a haircut at his favorite barber shop in Mount Airy on Friday afternoon when a two-word text message from Phillies assistant general manager Scott Proefrock popped up on his phone.

Share Tweet

yahoo.com

Jan 31

In our Homer History series, writers re-tell the stories of memorable home runs from their perspective. In this installment, Yahoo Sports college football writer Sam Cooper writes about one of the most improbable home runs of the Phillies 2008 World Ser…

Share Tweet

Google analyst Galdi joins Phillies' front office

MLB.com

Jan 28

The Phillies announced Thursday they had hired Andy Galdi as director of baseball research and development. Galdi, 30, spent the past three years at Google in Mountain View, Calif., where he served as a quantitative analyst for YouTube. He will oversee …

Share Tweet

Seeking signs of hope with Phillies

philly.com

Jan 27

Andy MacPhail, the Phillies president, is telling everyone to be patient. The team didn't become the worst in the major leagues in just one season, and it will take more than just that to turn things around. This makes perfect sense.

Share Tweet

MLB's No. 1 prospect? The case for Crawford

MLB.com

Jan 26

Leading up to Friday's release of the 2016 Top 100 Prospects list, MLBPipeline.com will state the case for five players who could arguably be considered baseball's No. 1 prospect. Todd Zolecki makes the case for Phillies shortstop J.P. Crawford.

Share Tweet

Powerful prospect Nick Williams gives Phillies some hope

philly.com

Jan 17

Growing up in Galveston, Texas, Nick Williams spent a lot of time in his backyard hitting golf balls without a golf club.

Share Tweet

yahoo.com

Jan 16

Ryne Sandberg is back where Cubs fans believe he belongs seven months after resigning as manager of the Philadelphia Phillies. The Cubs announced Friday that Sandberg is returning to the club as an ambassador. He participated in a Hall of Fame seminar o…

Share Tweet

Phils reportedly avoid arbitration with Hellickson

MLB.com

Jan 15

An arbitration hearing will not be among the many events Matt Klentak experiences during his first season as the Phillies' general manager. This possibility was averted on Friday morning, when the Phillies reached a one-year agreement with right-handed …

Share Tweet

Source: Phillies, Galvis avoid arbitration

MLB.com

Jan 13

The Phillies avoided salary arbitration with Freddy Galvis, signing the shortstop to a one-year, $2 million contract, according to a source. The club has not confirmed the deal.

Share Tweet

MacPhail: Phillies much better off already

philly.com

Jan 12

One hundred and 99 days ago, the Phillies introduced Andy MacPhail as their president-in-waiting, the successor to Hall of Fame executive Pat Gillick. MacPhail, a lifelong baseball man who had stepped away from the game for more than three years, sat do…

Share Tweet

philly.com MLB.com

Jan 7

IT'S A funny little paradox. A boss who urges even interns under his employ to address him by his first name is to receive an award named for a boss whose highest-level employees refuse to do so out of respect . . .

Share Tweet

Phillies invite top prospects to Spring Training

MLB.com

Jan 6

The Phillies will have their top four prospects in big league camp next month. The team announced on Wednesday that nine more players will be at Spring Training in Clearwater, Fla.

Share Tweet

Ryan Howard and Ryan Zimmerman have escalated their fight against Al Jazeera. They filed defamation lawsuits Tuesday in Federal District Court in Washington against the network and two reporters after a report linked the Phillies first baseman and Natio…

Share Tweet

Phillies Temporarily Shut Down Lee

Mar 8

Jerry Crasnick breaks down the latest on Cliff Lee, who has been temporarily shut down by the Phillies after feeling renewed discomfort in his pitching elbow.

A-Rod Singles In First At-Bat

Mar 4

Yankees DH Alex Rodriguez singled to left field in his first at-bat since he was suspended by the league for use of performance-enhancing drugs.

A-Rod Singles In Yankees' Loss

Mar 4

Alex Rodriguez went 1-for-2 with a walk in his first baseball game in nearly 18 months as the Phillies beat the Yankees 3-1.

Hamels Focused On Playing Baseball

Mar 3

Phillies pitcher Cole Hamels talks to Britt McHenry about dealing with trade talk and how the team is in transition.