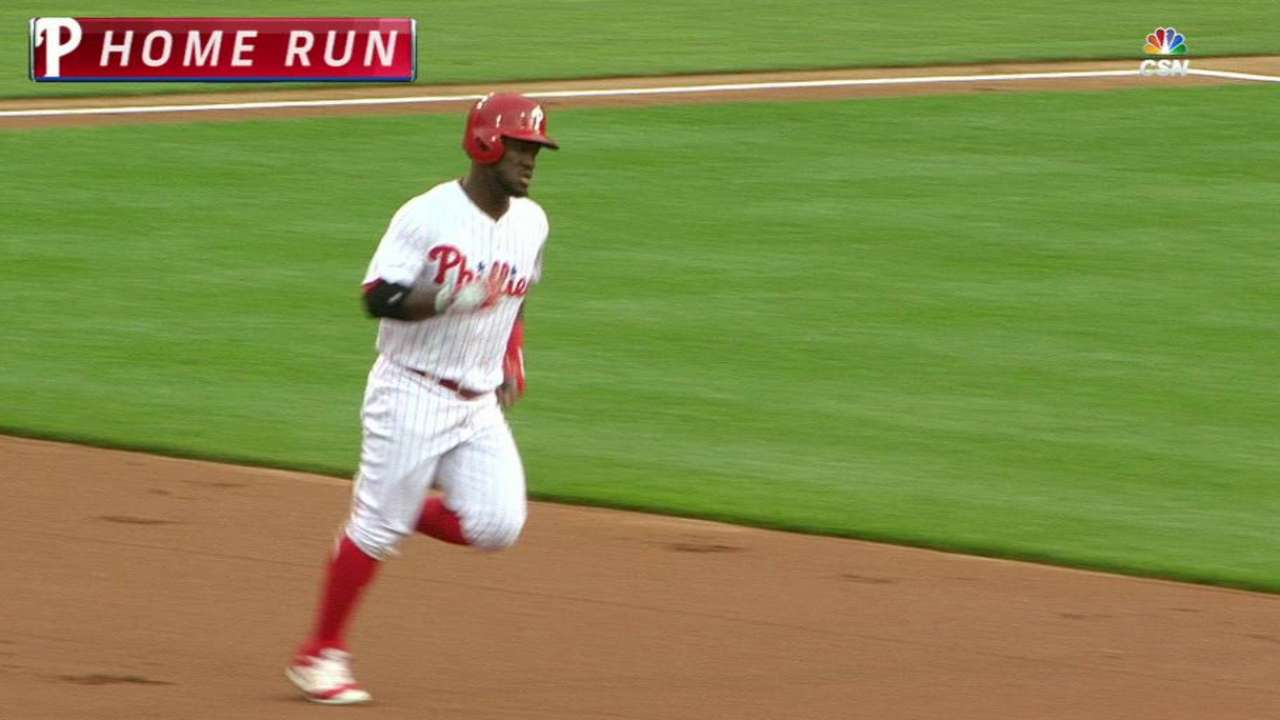 MLB.com
nytimes.com
Updated 5 hours ago
Odubel Herrera hit a solo homer and drove in two as the rebuilding Phillies beat the world champion Royals, 4-3, in the series opener at Citizens Bank Park on Friday night.
Share
Tweet
Brooky: Catching is a strength the Phillies can use to their advantage

philly.com

Jun 30 (yesterday)

The calendar flips to July on Friday, which means the countdown to baseball's trade deadline has begun. During Ruben Amaro's seven-year reign as Phillies general manager, it was almost always a fascinating time of year.

Share Tweet

Phillies Prospect Loses Eye In Freak Injury

deadspin.com

Jun 30 (yesterday)

Last Friday, Phillies minor-league pitcher Matt Imhof suffered a serious eye injury in an absolutely freakish accident. He was stretching using a rubber resistance band anchored to a wall when the metal base broke, and a piece struck him in the eye. Doc…

Share Tweet

Phils edge D-backs in 10 to seal sweep

MLB.com

Jun 29 (2 days ago)

Pinch-hitter Tyler Goeddel drove in the go-ahead run in the top of the 10th inning to lift the Phillies to a 9-8 win and a series sweep over the D-backs at Chase Field on Wednesday afternoon.

Share Tweet

nytimes.com MLB.com

Jun 29 (3 days ago)

Philadelphia manager Pete Mackanin sat at his desk with a dazed look on his face, not sure what to say after a wild game that included 32 hits, 17 runs, great plays and bizarre sequences.

Share Tweet

9th-inning rally lifts Phillies over D-backs

MLB.com

Jun 29 (3 days ago)

Andres Blanco knocked in a run and Ryan Howard took a walk with the bases loaded as the Phillies scored twice in the ninth inning to stun the D-backs, who lost pitcher Zack Greinke to a tight left oblique in the third inning.

Share Tweet

Phillies' pitchers already up to nine shutouts

MLB.com

Jun 28 (3 days ago)

On Monday, Phillies' pitchers combined to throw their Major-League leading ninth shutout of the season in the 8-0 victory against the D-backs at Chase Field.

Share Tweet

MLB.com nytimes.com

Jun 28 (4 days ago)

In his first start since coming off the disabled list, Vince Velasquez struck out seven over five scoreless innings as the Phillies topped the D-backs in the series opener at Chase Field.

Share Tweet

Giants walk off for NL-leading 49th victory

MLB.com

Jun 26 (5 days ago)

Conor Gillaspie's one-out double broke a ninth-inning tie Sunday to lift the San Francisco Giants to an 8-7 victory over the Philadelphia Phillies. The decision gave Giants manager Bruce Bochy his 800th career win, making him the franchise's fourth skip…

Share Tweet

nytimes.com MLB.com

Jun 26 (6 days ago)

Bruce Bochy's 800th victory as Giants manager was anything but typical.

Share Tweet

Giants rally for best 40-game stretch since '54

MLB.com

Jun 25

The Giants are riding their best 40-game stretch in 62 years. The Phillies have lost 10 of their last 11. Though the clubs appear to be heading in opposite directions, they crossed paths in extremely entertaining fashion Friday night at AT&T Park.

Share Tweet

Resurgent Peavy Leads Giants Past Phillies, 5-4

nytimes.com

Jun 25

Jake Peavy threw seven strong innings in another solid start, Brandon Belt hit a three-run double and Angel Pagan had three hits as the San Francisco Giants defeated the Philadelphia Phillies 5-4 on Friday night.

Share Tweet

Phils' 15-hit attack backs Eickhoff vs. Twins

A towering three-run homer in the eighth inning gave Freddy Galvis a career-high five RBIs, as the shortstop powered the Phillies to a 7-3 win over the Twins behind a solid Jerad Eickhoff in Thursday's series finale at Target Field, snapping a season-lo…

Share Tweet

Veteran advice helps spark Galvis, Phils' bats

Before Tuesday's series opener against the Twins at Target Field, the Phillies' hitters gathered with Phillies hitting coach Steve Henderson to discuss the week's pitching matchups.

Share Tweet

Plouffe day to day with mild right groin strain

Twins third baseman Trevor Plouffe exited in the sixth inning of Minnesota's series finale against the Phillies on Thursday afternoon at Target Field after appearing to injure his right leg on a groundout to second base.

Share Tweet

yahoo.com

Jun 23

A week ago, I wrote about the Philadelphia Phillies free-falling back to normal. At that point, on June 16, their June record was 4-10. Seven days later, their record is — you guessed it — 4-17. Those seven games haven't been against the most fearsome t…

Share Tweet

MLB.com nytimes.com

Jun 23

Max Kepler was in danger of being the goat after his two-run fielding error keyed a three-run rally that gave the Phillies a lead in the fifth, but he was instead the hero of a 6-5 Twins victory on Wednesday night after driving in the tying run, the go-…

Share Tweet

Suzuki Leads Twins' Surge With 6 RBIs in 14-10 Win vs Phils

nytimes.com

Jun 21

Kurt Suzuki had the single, the double and the home run. The triple was 90 feet away after his drive down the left-field line landed in the corner, and his Minnesota Twins teammates were playfully waving him to third base.

Share Tweet

MLB.com

Jun 21

No. 1 overall Draft pick Mickey Moniak was formally introduced Tuesday afternoon at Citizens Bank Park, donning his red hat and pinstripes for the first time.

Share Tweet

Phillies Temporarily Shut Down Lee

Mar 8

Jerry Crasnick breaks down the latest on Cliff Lee, who has been temporarily shut down by the Phillies after feeling renewed discomfort in his pitching elbow.

A-Rod Singles In First At-Bat

Mar 4

Yankees DH Alex Rodriguez singled to left field in his first at-bat since he was suspended by the league for use of performance-enhancing drugs.

A-Rod Singles In Yankees' Loss

Mar 4

Alex Rodriguez went 1-for-2 with a walk in his first baseball game in nearly 18 months as the Phillies beat the Yankees 3-1.

Hamels Focused On Playing Baseball

Mar 3

Phillies pitcher Cole Hamels talks to Britt McHenry about dealing with trade talk and how the team is in transition.