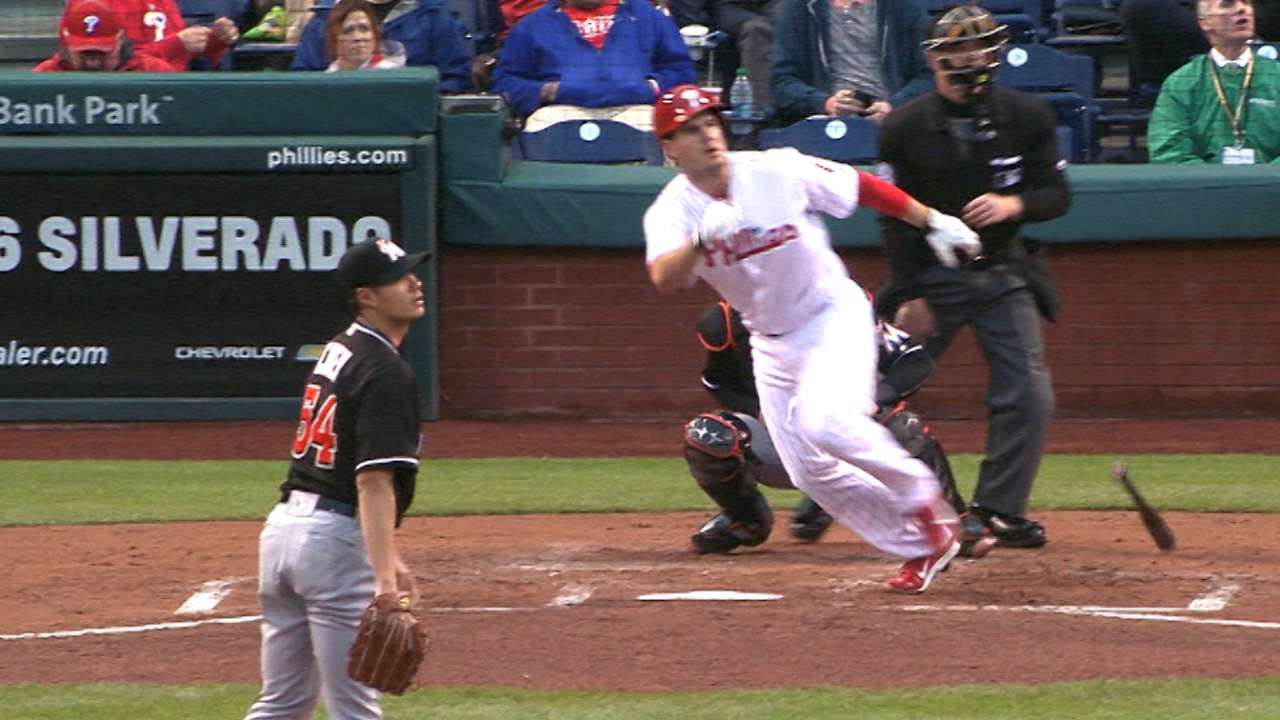 yahoo.com

Oct 18

Let's face it: jury duty, despite being a vital part of our justice system, isn't a lot of fun. But you know what would make it a lot more fun? The mascot of the Philadelphia Phillies, the fuzzy green Phillie Phanatic. This isn't a thought exercise — th…

Share Tweet

Members of '08World Series-Winning Phillies Reunite in NLDS

nytimes.com

Oct 7

Chase Utley sat in the Los Angeles Dodgers clubhouse and watched as Cole Hamels was chased from a game 1,000 miles away. Eight years ago might as well be an eternity.

Share Tweet

MLB.com

Oct 5

After striking out in his first three at-bats on Sept. 10, Bryce Harper launched a three-run homer, breaking a scoreless tie to lead the Nationals to a 3-0 victory over the Phillies. It was his first and only home run during the month of September, one …

Share Tweet

Murphy: Pitching some names to the Phillies

philly.com

Oct 4

DEVON TRAVIS. Trea Turner. Anthony Rizzo. Those probably aren't the names that would first catch the eye of a Phillies fan looking over this year's postseason rosters. The 10 teams left standing after Sunday offered no shortage of opportunities to reliv…

Share Tweet

philly.com yahoo.com

Oct 2

This moment, unlike all the unforgettable ones we witnessed during Ryan Howard's mighty career in a Phillies uniform, was planned. Choreography, however, could not diminish it because Howard's reaction to his career-ending tribute in Philadelphia was so…

Share Tweet

Phillies to part ways with hitting coach

MLB.com

Oct 2

The Phillies made one coaching change following Sunday's season finale at Citizens Bank Park; two sources told MLB.com that Steve Henderson will not return as hitting coach.

Share Tweet

Mets' Playoff Celebration Includes Completely Naked Guy

deadspin.com

Oct 1

The New York Mets clinched a playoff spot Saturday with their 5-3 win over the Philadelphia Phillies, bringing all the champagne-soaked locker room celebration that typically entails. Plus a glimpse of a player's totally naked ass, resplendent on live t…

Share Tweet

nytimes.com yahoo.com MLB.com

Oct 1

The New York Mets clinched a playoff spot Saturday, beating the Philadelphia Phillies 5-3 to secure the top National League wild card.

Share Tweet

nytimes.com

Oct 1

Their victory over the Phillies also ensured that they will host the wild-card game on Oct. 5 at Citi Field against the Cardinals or the Giants.

Share Tweet

Bruce, Gsellman Move Mets Closer to Playoff Spot, Beat Phils

nytimes.com

Sep 30

Jay Bruce and Robert Gsellman made scoreboard-watching irrelevant for the New York Mets.

Share Tweet

Ford: Goodbye to Ryan Howard, and a Phillies era for the ages

philly.com

Sep 30

The last receding wave of the longest ebbing tide will slip into the cold depths of history on Sunday when Ryan Howard walks off the field at Citizens Bank Park for the final time as a member of the Philadelphia Phillies.

Share Tweet

MLB.com nytimes.com

Sep 29

Dansby Swanson homered for the first time at Turner Field and Matt Kemp delivered a go-ahead, RBI double in the eighth inning, as the Braves extended their winning streak against the Phillies to seven games in Thursday night's 5-2 win.

Share Tweet

Klentak: Starting pitching best success story

MLB.com

Sep 29

Phillies general manager Matt Klentak marks his one-year anniversary with the organization late next month. He likes what he has seen in his first 11.

Share Tweet

Phillies Temporarily Shut Down Lee

Mar 8

Jerry Crasnick breaks down the latest on Cliff Lee, who has been temporarily shut down by the Phillies after feeling renewed discomfort in his pitching elbow.

A-Rod Singles In First At-Bat

Mar 4

Yankees DH Alex Rodriguez singled to left field in his first at-bat since he was suspended by the league for use of performance-enhancing drugs.

A-Rod Singles In Yankees' Loss

Mar 4

Alex Rodriguez went 1-for-2 with a walk in his first baseball game in nearly 18 months as the Phillies beat the Yankees 3-1.

Hamels Focused On Playing Baseball

Mar 3

Phillies pitcher Cole Hamels talks to Britt McHenry about dealing with trade talk and how the team is in transition.