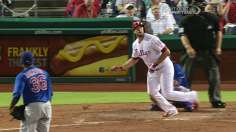 Updated Aug 6
Share
Tweet
Chase Utley tripled among his three hits and drove in two runs and Darin Ruf homered as the Phillies outslugged the visiting Cubs, 9-8, on Tuesday night at Citizens Bank Park. Right-hander Kyle Kendrick picked up the win.
Source:
MLB.com
Brown activated from disabled list, Nix designated

Updated Aug 6

Share Tweet

The Phillies on Tuesday afternoon activated Domonic Brown from the seven-day concussion disabled list and designated Laynce Nix for assignment.

Source:

MLB.com

Phillies' Ryan Howard should get the rest of the season off

Updated Aug 6

Share Tweet

Given his recent injury history, Ryan Howard needs rest of 2013 to finally get - and stay - healthy.

Source:

philly.com

Phillies Hold Off Cubs

Aug 6

The Cubs scored three runs in the top of the ninth but it wasn't enough as the Phillies held on for the 9-8 victory.