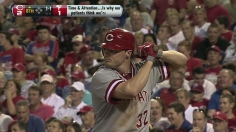 Phillies fans react to receiving Hunter Pence bobblehead three weeks late (Video)

yahoo.com

Aug 22, 2012

As expected, the Philadelphia Phillies went ahead with their scheduled Hunter Pence bobblehead night on Tuesday. And lest this semi-awkward situation pass unnoticed, our pal Enrico from The 700 Level positioned himself inside the Citizen Bank Park turns…

Share Tweet

Inside the Phillies: The Reds keep Cliff Lee winless at home in 2012

philly.com

Aug 22, 2012

So it's winter in Las Vegas, and you're looking to make a bet. Over-under on Cliff Lee's wins at home is five and wins overall is 10.

Share Tweet

Reds Hold Off Phillies

Aug 22

Reds win second straight against Phillies.