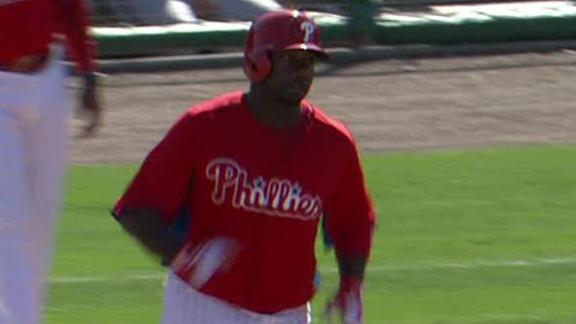 Injuries to Utley and Bynum take a toll on fans, too

CLEARWATER, Fla. - For a few minutes every day, a Major League Baseball team is a dance troupe. On Wednesday morning, a group of Phillies gathered in left field for the slow ballet of warm-ups and stretches that precedes batting practice.

Share Tweet

Inside the Phillies: For Braves, it's the year of the Uptons

LAKE BUENA VISTA, Fla. - The Atlanta Braves' offseason was fascinating from a Phillies perspective in that it could have been their own.

Share Tweet

Howard, Hamels Lead Phillies Past Braves

Feb 28

Ryan Howard homers and Cole Hamels strikes out five over three innings pitched in Phillies' 10-5 win over Braves.

Sports Columnists

Defense has carried Chicago Bulls as far as it can

Feb 28

Their stellar defense has carried the Bulls as far as it can.

Don Banks: New England Patriots 2013 Offseason Preview

Feb 28

SI.com is laying out offseason road maps for all 32 teams as they start their journey for the Lombardi Trophy -- two teams per day, from the teams that need the most work to contend in 2013 to the ones that are in pretty good shape. See them all.