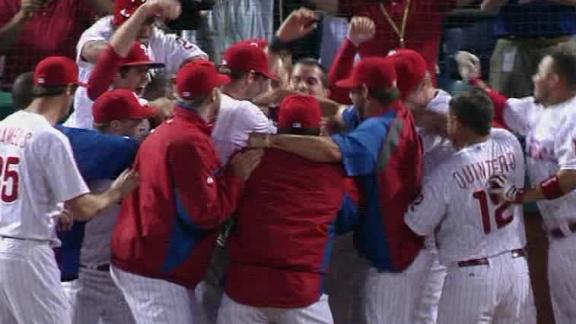 MLB.com

Jun 4, 2013

Marco Estrada is unlikely to make his next start because of a strained left hamstring suffered on Monday night. Estrada's next scheduled start would have been Saturday against the Phillies.

Upvote Share Tweet

When pitchers bat: A triple for Kyle Kendrick, two hits for Tommy Milone

yahoo.com

Jun 4, 2013

One of these days, when they take away the bats from pitchers forever and make the designated hitter universal in the major leagues, fans will no longer get to enjoy moments like these: Kyle Kendrick of the Phillies breathlessly running out his first ca…

Upvote Share Tweet

philly.com

Jun 4, 2013

Domonic Brown is giving Phillies fans something to cheer about, with his recent power barrage.

Upvote Share Tweet

SweetSpot TV: Undrafted Players

Jun 4

Eric Karabell and David Schoenfield take a look at some notable players who were not selected in this year's MLB Franchise Player Draft.

Mayberry's Walk-Off Grand Slam Lifts Phillies

Jun 4

John Mayberry Jr.'s grand slam in the 11th propelled the Phillies to a 7-3 win over the Marlins.

Sports Columnists

Peter King: Late Deacon Jones would have dominated any era; mail

Jun 4

You can't say many players from the '40s, '50s and '60s would have dominated today. Be competitive, sure. But dominated? Not many. Deacon Jones, though -- there was a guy who would have been one of the greats whenever he played.