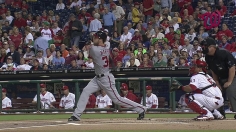 Updated Sep 26, 2012
Share
Tweet
The Nationals crushed three homers the first time through the lineup as John Lannan was able to exorcise his demons at Citizens Bank Park with an 8-4 victory against the Phillies on Wednesday night.
Source:
MLB.com
When he's ready, Utley will play third base

Updated Sep 26, 2012

Share Tweet

Charlie Manuel wouldn't say for sure that Chase Utley would play third base before season's end. But the Phillies' manager did say he would have no problem penciling Utley's name in the lineup card there if the five-time All-Star second baseman was read…

Source:

MLB.com

Updated Sep 26, 2012

Share Tweet

ROY HALLADAY does not have the benefit of the doubt written into his contract, but that never has stopped the Phillies from giving it to him. Pitching coach Rich Dubee said it best on Tuesday afternoon when asked why the club was looking to get its vete…

Source:

philly.com

Harper's Homer Helps Nats Inch Closer To Division Title

Sep 26

19-year-old Bryce Harper joins Tony Conigliaro as the only teenagers to reach 20 homers in major league history.

Harper Hits 20th Homer

Sep 26

Bryce Harper talks about the Nationals' impressive pitching staff and hitting his 20th homer of the season.