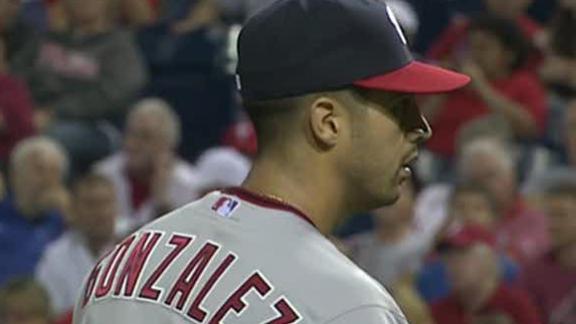 Nats' Gonzalez tops Phils for 21st win of year
Updated Sep 27, 2012
Share
Tweet
Gio Gonzalez became the first 21-game winner in the majors, Michael Morse hit two homers and the Washington Nationals beat the Philadelphia Phillies 7-3 Thursday night to move closer to an NL East title.
Source:
ESPN.com
Phil Sheridan: Phillies' future filled with questions

Updated Sep 27, 2012

Share Tweet

There was no mistaking the wistfulness in Charlie Manuel's voice. A few hours before Citizens Bank Park began its longest hibernation in a half-decade, the Phillies manager was talking about heady days when his championship lineup was coming together.

Source:

philly.com

Werth has no hard feelings about Philly

Updated Sep 27, 2012

Share Tweet

Jayson Werth hasn't made any more friends in Philadelphia this week. The Nationals' outfielder has been booed all season by the same fans who cheered him for during four years in Philadelphia, where he was an All-Star in 2009 and helped lead the Phillie…

Source:

MLB.com

Ruiz not slowed since returning from DL

Updated Sep 27, 2012

Share Tweet

An injured left foot derailed Carlos Ruiz's season in August, when the Phillies placed him on the disabled list.

Source:

MLB.com

As Playoff Dreams Drift Away, Phillies Fans Will Do Anything To Mask The Stench

Updated Sep 27, 2012

Share Tweet

With the Nationals and Braves storming to guaranteed playoff spots, it stands to figure that the teams would leave some division foes in the wake of their success. Sure, the Marlins and Mets found themselves buried with regularity this year, but for Phi…

Source:

deadspin.com

David Murphy: Manuel not sold yet on Ruf as everyday player

Updated Sep 27, 2012

Share Tweet

IT HAS BEEN SAID a time or two that baseball is a game of failure, so much so that a man can find himself conditioned to expect it. Take Charlie Manuel. On Wednesday afternoon, the Phillies manager sat on a dugout bench and shooed away questions about t…

Source:

philly.com

Updated Sep 27, 2012

Share Tweet

Bryce Harper hit his 20th homer, Ian Desmond and Kurt Suzuki also connected and the Nationals beat the Philadelphia Phillies 8-4 Wednesday night to move closer toward winning their first division title since moving to Washington.

Source:

ESPN.com

Gonzalez Picks Up 21st Win Of The Season

Sep 27

Michael Morse homers twice in Nationals' win.

Sports Columnists

Biggest NFL games of Week 4 -- John Clayton's First & 10

Sep 27

Roger Goodell's influence will be felt when the struggling Saints and Packers meet on Sunday, writes John Clayton.

Don Banks: Saviors now, regular refs will be scrutinized more than ever in…

Sep 27

When the NFL's regular crews of referees mercifully get back to work, starting Thursday night in Baltimore, let's hope they're ready for their close-up. Because this is going to be the closest close-up the league's game officials have ever experienced.