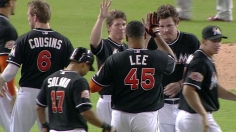 Carlos Lee hit a walk-off single in the ninth inning to score Bryan Petersen from second and give the Marlins a 2-1 win against the Phillies, snapping a seven-game losing streak.
Upvote
Share
Tweet
Marlins eliminate Phillies from playoff contention

CNNSI.com

Updated Sep 28, 2012

Marlins eliminate Phillies from playoff contention

Upvote Share Tweet

Stanton returns day earlier than expected

Giancarlo Stanton, who has been dealing with a sore left intercostal muscle, was back in the lineup for the first time since Sept. 16 and batting cleanup against the Phillies when the Marlins opened their final homestand of the season on Friday night.

Upvote Share Tweet

Marlins Eliminate Phillies From Playoff Contention

Sep 28

Carlos Lee's walk-off single lifted the Marlins past the Phillies, and eliminated Philadelphia from playoff contention.

Sports Columnists

Peter King: Seahawks defense playing bigger than reputation

Sep 28

Defensive end Chris Clemons has much in common with his peers on the Seattle defense: They're good, they're unknown, and they don't care.

John Clayton's Last Call

Sep 28

The Texans and Falcons appear to be the class of their respective conferences, writes John Clayton.