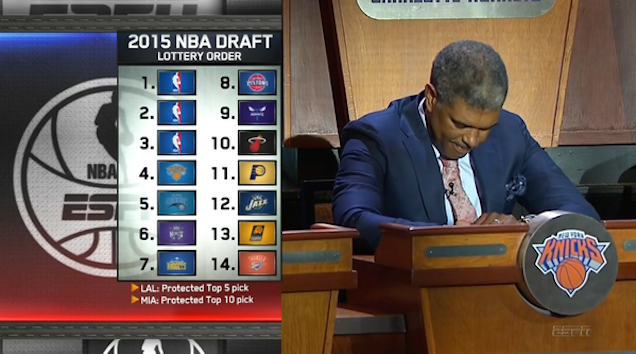 philly.com
deadspin.com
Updated May 19 (2 days ago)
NEW YORK - The 76ers were hit neither by lightning nor a sledge hammer on Tuesday night during the NBA draft lottery. They didn't get lucky enough to have the Ping-Pong balls deliver them one or two more first-round picks, but they weren't unlucky, eith…
Share
Tweet
philly.com

12 hours ago

The ESPN cameras turned to Nerlens Noel on Tuesday night at the Midtown Hilton in Manhattan, and he flashed that toothy smile of his, lowered his high-topped head, and opened his suit jacket, marking maybe the first time that a blazer's lining has broke…

Share Tweet

76ers Win Right To Trade Somebody For Two Second-Rounders In 2017

deadspin.com

May 19 (2 days ago)

Well, it was worth it. At long last, it was worth it. The two forfeited seasons, the lottery picks spent on bum legs, the young players traded for assets, the assets traded for lesser assets, the draft lottery letting the Heat and Lakers keep their pick…

Share Tweet

philly.com

May 16 (6 days ago)

New film, though offering a one-sided view of the former Sixers superstar, does present some revealing things about his life.

Share Tweet

yahoo.com

May 12

The Philadelphia 76ers are in the midst of an organizational overhaul and roster rebuild aimed at turning a long-middling franchise into a title contender. (A lot of people don't like the way they're going about it; you've probably heard about this once…

Share Tweet

Sixers Unveil New Logos

deadspin.com

May 12

The 76ers are undergoing a full rebranding, soon to include the revealing of new uniforms. Which is a shame, because they've got some of the NBA's best jerseys. But it's understandable, because if The Great Tanking Of 2013-20?? goes according to plan, n…

Share Tweet

D'Angelo Russell a tantalizing possibility for 76ers

philly.com

Apr 27

As he pored over game film and prepared his Penn State players for their second game against D'Angelo Russell and Ohio State last season, Pat Chambers devised what he believed to be a sound and smart game plan. Chambers grew up in Newtown Square and coa…

Share Tweet

For Sixers assistant Lange, it all began in South Jersey

philly.com

Apr 26

Everybody starts somewhere. For Billy Lange and many other prominent members of the South Jersey basketball community, it all began at St. Rose of Lima school in Haddon Heights - in the little gym on cold winter nights, on the outdoor court on Third Ave…

Share Tweet

philly.com

Apr 22

Tim Duncan of the San Antonio Spurs turns 39 on Saturday, and the aging process for the best player on the best team of his generation has been gradually catching up with him. Coach Gregg Popovich says he believes Duncan will come back for another seaso…

Share Tweet

Sixers' Jerami Grant a potential X-factor

philly.com

Apr 22

Head coach Brett Brown says the 6-8 forward 'knows he's going to be a good player.'

Share Tweet

Inside the Sixers: A third season of tanking may be too much to ask

philly.com

Apr 18

Having witnessed an embarrassing, 63-loss season in 2013-14 and a 64-setback campaign this season, 76ers fans have suffered greatly. For the most part, they supported the Tank I and Tank II seasons while others dubbed the Sixers a laughingstock.

Share Tweet

philly.com

Apr 17

The coach should be rewarded for buying into management's build-for-future approach.

Share Tweet

Brett Brown hints at growing impatience with Sixers' rebuild

philly.com

Apr 17

Coach didn't outright express his displeasure with team's lack of talent, but he seems to indicate he wants more.

Share Tweet

philly.com

Apr 16

The Sixers are gaining an edge in analytics and sports science, and now just need four top-20 players, Harris says.

Share Tweet

Heat And Sixers Both Really, Really Need To Lose To Each Other Tonight

deadspin.com

Apr 15

There is a very special game being played tonight, the final night of the NBA regular season, with so much more at stake than just a boring old postseason berth. The Heat and 76ers will meet, each seeking the same draft pick, each needing desperately to…

Share Tweet

yahoo.com

Apr 14

Charles Barkley has always been a man of substantial appetites. Some 30 years ago, well before a Hall of Fame playing career that would make him one of the most famous athletes in the world and one of the most sought-after voices in sports media, the so…

Share Tweet

yahoo.com

Apr 13

Yes, it was against the Philadelphia 76ers, and yes, the Sixers were playing without their best player in Nerlens Noel, but the Chicago Bulls looked great on Saturday evening. Not only did the team win to keep pace in the race for the third seed, but De…

Share Tweet

Sixers' Robert Covington has come a long way

philly.com

Apr 11

CHICAGO - The story of Robert Covington's unlikely success is best illustrated by his being cut from the McArthur Middle School team in the fifth, sixth, and eighth grades. He probably would have also been released in the seventh grade had his parents n…

Share Tweet

yahoo.com

Apr 10

Sports Illustrated just a pretty great feature story by Chris Ballard — as if Chris Ballard writes anything other than great feature stories — on Los Angeles Clippers swingman Matt Barnes, who has spent the better part of the last dozen years developing…

Share Tweet

Noel's Sixers fate: Wait and see

philly.com

Apr 10

In these dreary seasons that hopefully precede something better for the 76ers, management has been careful to give the fans something to dream on each year. It is their version of the Chinese calendar, but instead of the Year of the Ram or the Year of t…

Share Tweet

Sixers' rebuild could have a place for Smith, Robinson

philly.com

Apr 10

Ish Smith, Thomas Robinson show some skills that could be valuable for the Sixers next season.

Share Tweet

Awful Sixers literally limping to finish line

philly.com

Apr 8

The 76ers entered the merciful final week of their season Wednesday night against the Washington Wizards, a team so disinterested in the outcome that star guard John Wall was given the night off to rest up for more important nights to come.

Share Tweet

Iverson The Exec?

Mar 20

Skip Bayless and Stephen A. Smith discuss whether Allen Iverson would make a good NBA executive.

Noel Guides 76ers Past Knicks

Mar 20

Nerlens Noel's double-double of 23 points and 14 rebounds carried the 76ers to a 97-81 win over the Knicks.

76ers Stun Pistons

Mar 18

The 76ers topped the Pistons 94-83 to snap their two-game losing streak.

Celtics Win Fifth Straight

Mar 16

Tyler Zeller and Avery Bradley combined for 46 points in the Celtics' 108-89 win over the 76ers.