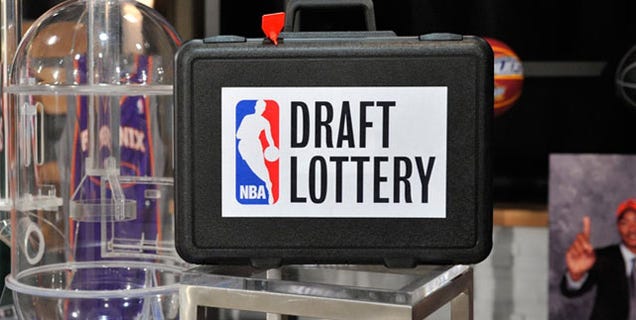 NBA Shockingly Votes Against Anti-Tanking Measures
deadspin.com
Updated 11 hours ago
Today's vote on a proposal to re-weight the NBA draft lottery to discourage tanking was expected to pass with near-universal support. Instead, it fell hard, receiving only 17 of the 23 necessary votes for adoption. The 76ers' Tankapalooza is back on!Rea…
Upvote
Share
Tweet
NBA owners vote down changes to lottery system

nba.com

7 hours ago

One of the biggest issues on the agenda when the NBA's owners arrived in New York for the board of governors meetings was thwarting the tanking strategy employed most brazenly by the Philadelphia 76ers.

Upvote Share Tweet

Sixers' lack of quality players reflected in ESPN rankings

philly.com

Oct 21 (yesterday)

At No. 79, Michael Carter-Williams is the highest-rated Sixer in ESPN's annual rankings of the NBA players.

Upvote Share Tweet

Inside the Sixers: Task is to stay together through tough times

philly.com

Oct 18 (4 days ago)

The 76ers are about to embark on another dreaded season of 60-plus losses. They'll be heckled on the road and play in front of sparse crowds at home.

Upvote Share Tweet

Arthur Embiid, the younger brother of Philadelphia 76ers rookie center Joel Embiid, died Thursday in Africa.

Upvote Share Tweet

Nerlens Noel Jumps Passing Lane, Gets Steal, Leads Break For Easy Layup

dimemag.com

Oct 15

Players so tall aren't supposed to move like Nerlens Noel. The Philadelphia 76ers' prized rookie showed off his supreme blend of quickness, speed, and coordination against the New York Knicks last night as he jumped a passing lane, corralled the steal, …

Upvote Share Tweet

Jesus, Have You Looked At The 76ers' Roster?

deadspin.com

Oct 15

Just look at this roster. Look at it. Read more...

Upvote Share Tweet

Report: Sixers Tried To Trade Michael Carter-Williams During Draft

dimemag.com

Oct 14

Michael Carter-Williams won the 2013 NBA Rookie of the Year award in pretty decisive fashion. Part of this was the dearth of talent in the 2013 NBA Draft, and part of it was Williams' stellar rookie campaign for a dreadful Sixers team. So it's with mild…

Upvote Share Tweet

Inside the Sixers: Rebuilding is fine, if it works

philly.com

Oct 11

It's apparent that a lot of 76ers fans are content with rebuilding. Many are pleased that general manager Sam Hinkie has a plan to turn this struggling franchise into an annual contender. He's chosen to sacrifice wins to get a better draft pick for the …

Upvote Share Tweet

philly.com

Oct 9

Eagles' Chip Kelly wants to win now, while Sixers' Same Hinkie takes a long-term approach.

Upvote Share Tweet

yahoo.com

Oct 9

Your browser does not support iframes. As one of the public faces of the Philadelphia 76ers, chief executive officer Scott O'Neil has had to take his fair share of lumps for both the sins of the franchise's past and the league-incensing, perhaps rule-ch…

Upvote Share Tweet

yahoo.com

Oct 7

It's been — excuse me: iiiiiit's been — a couple of months since we emphasized the importance of keeping an eye on the Twitter account of Philadelphia 76ers rookie big man Joel Embiid. While there hasn't been nearly as much open campaigning for celebrit…

Upvote Share Tweet

76ers trio of lottery picks key to future success

nba.com

Oct 3

Brett Brown's best call of the offseason had the Philadelphia 76ers reaching for their passports instead of the playbook.

Upvote Share Tweet

Richardson hopes to contribute with Sixers, one way or another

philly.com

Oct 1

Injury has kept Jason Richardson off the floor, but, as long as he's here, aging veteran still wants to help Sixers get better.

Upvote Share Tweet

dimemag.com nba.com

Sep 30

This isn't exactly the portrait of a guy known for his sarcastic, gregarious social media persona. Smile, Joel Embiid! You're wearing a Santa hat, holding a burlap sack, and a tiny fir in late September! 'Tis the season! Okay, perhaps that's overkill. W…

Upvote Share Tweet

philly.com yahoo.com

Sep 29

The big chill Monday inside the Wells Fargo Center was caused by the building's ice hockey configuration. The cold reality was provided by the return of the 76ers, the city's professional basketball franchise that wants you and its roster of NBA neophyt…

Upvote Share Tweet

BDL's 2014-15 NBA Season Previews: Philadelphia 76ers

yahoo.com

Sep 29

We're just two years removed from the Philadelphia 76ers nearly knocking off the Boston Celtics for a shot at the Miami Heat in the 2012 Eastern Conference finals, and not a single player remains from that roster. Gone is every pick predating Michael Ca…

Upvote Share Tweet

The Cleveland Cavaliers have acquired Philadelphia's 2015 second round pick (protected) in exchange for guard Keith Bogans and the Cavs 2018 second round pick in a trade with the 76ers, General Manager David Griffin announced today from Cleveland Clinic…

Upvote Share Tweet

Rehabbing Carter-Williams unsure of return

nba.com

Sep 27

Philadelphia 76ers guard Michael Carter-Williams is unsure when he'll return to play following offseason shoulder surgery.

Upvote Share Tweet

Joel Embiid Returns To Twitter, Offers Take On Celebrity Photo Scandal

dimemag.com

Sep 25

Joel Embiid's eight-day Twitter hiatus is over. His reign atop the NBA's social media throne, though, is anything but. Instead of continuing to propagate his fictional romantic escapades, the Philadelphia 76ers rookie took to the web and offered his tho…

Upvote Share Tweet

Joel Embiid Posts Instagram "Photo" Of Rihanna Cheering Him On At Kansas

dimemag.com

Sep 18

We chronicled Joel Embiid's (successful?) courtship of Rihanna all summer long. The Philadelphia 76ers big man turned to the pop superstar after striking out with Kim Kardashian, getting her to follow him on Twitter at the very least – and depending on …

Upvote Share Tweet

Nerlens Noel Runs Rocky Balboa's Trail Through Philadelphia (UPDATE)

dimemag.com

Sep 12

Nerlens Noel has yet to suit up for the Philadelphia 76ers, but has already begun endearing himself to one of the league's most cantankerous fan bases. In an effort to promote his goal of establishing a charity 5K going forward, Noel ran – or jogged, mo…

Upvote Share Tweet

dimemag.com deadspin.com

Sep 8

Incoming Sixers rookie Joel Embiid has become something of a darling on Twitter, courting celebrity crushes AND NBA free agents while providing impromptu news fodder to those of us who can get a little stir crazy in the offseason. But now he's using Twi…

Upvote Share Tweet

Plumlee Leads Nets Past 76ers

Oct 20

Mason Plumlee scored 20 points and grabbed 17 rebounds in the Nets' 99-88 win over the 76ers.

Carmelo Leads Knicks Past 76ers

Oct 14

Carmelo Anthony scored a game-high 17 points in the Knicks' 84-77 win over the 76ers.

The Worst Division In The NBA

Oct 10

Henry Abbott and Jordan Brenner preview the Atlantic Division, likely the worst in the NBA.

Sixers' Buzzer-Beating Heave

Oct 8

The 76ers' Casper Ware buries a three-quarters court buzzer-beater from 3/4 court in the third quarter against the Hornets.