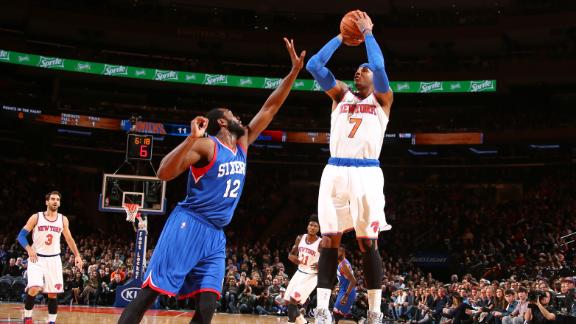 nydailynews.com
nba.com
ESPN.com
Updated Nov 23 (yesterday)
Maybe what Pat Riley really meant to say is "there is winning and there is misery . . . and there is the Knicks playing the Sixers on a Saturday night in November."
Upvote
Share
Tweet
Eric Bledsoe Says He Was Tipped Before Game About Nerlens Noel's Hard Foul

dimemag.com

Nov 22 (yesterday)

Last night Nerlens Noel dropped Eric Bledsoe to the hardwood not more than 30 seconds into the Suns-76ers game in Philadelphia. This came after Bledsoe had said his alum, Kentucky, could beat the 0-12 Sixers in a seven-game series. It was an embarrassin…

Upvote Share Tweet

Inside the Sixers: No set date on Sixers' turnaround

philly.com

Nov 22 (yesterday)

NEW YORK - One of the biggest questions surrounding the 76ers is, when will the team's turnaround begin. The truth is, no one knows. Sixers general manager Sam Hinkie doesn't know. Nor does managing partner Josh Harris, CEO Scott O'Neil, or coach Brett …

Upvote Share Tweet

deadspin.com dimemag.com

Nov 21 (3 days ago)

The tanking-ass Sixers are gross and bad , and this fact has not gone unnoticed by Sixers guard K.J. McDaniels's mom. Recently, she took to Twitter to let people know that she does not appreciate the Sixers' bullshit.Read more...

Upvote Share Tweet

Culture of corrosion in the Sixers' organization

philly.com

Nov 21 (3 days ago)

Can Brett Brown hold his few quality piece together during another losing season?

Upvote Share Tweet

philly.com dimemag.com

Nov 21 (3 days ago)

Suns' Eric Bledsoe said Kentucky could beat Sixers in a 7-game series, and given Sixers' state, matchup might be close.

Upvote Share Tweet

Sad Sixers Make Sad Pizza Deal Even Sadder

deadspin.com

Nov 20 (4 days ago)

In October, Papa John's announced one of those standard promotions they run where if the Sixers win a game, fans get 50 percent off their pizza. They've wisely changed that threshold to "if the Sixers score 90 points, even in a loss."Read more...

Upvote Share Tweet

Nick Young And Jordan Hill Briefly Make Being A Laker Seem Fun

deadspin.com

Nov 20 (4 days ago)

Outside of the Philadelphia 76ers , there is no more depressing (although we find them more darkly hilarious) team in the NBA than the Los Angeles Lakers. That might be changing with the return of Nick Young, though, who has helped the Lakers to two str…

Upvote Share Tweet

Sixers stuck in no-win situation

philly.com

Nov 19 (4 days ago)

The real problem with circling games on the calendar for a team desperately trying to find a win is that the other guy is always circling the same game. If the Boston Celtics looked like a team that might be beatable as the 76ers prepared for Wednesday …

Upvote Share Tweet

The Philadelphia 76ers Are A Godless Abomination

deadspin.com

Nov 18 (5 days ago)

You almost certainly missed it over the weekend, but the Philadelphia 76ers made a big addition to their roster, scooping up free-agent forward Robert Covington. If you've never heard of Robert Covington, that's because he's an undrafted second-year pla…

Upvote Share Tweet

deadspin.com

Nov 18 (6 days ago)

Here's a chart by our friend Ed Kupfer, who does analytics for the Houston Rockets, showing the distribution by percent of every NBA team's offensive and defensive field goals. If you take a second blink through the information overload, it's a shorthan…

Upvote Share Tweet

Inside the Sixers: Plan for the future creates hardships in the present

philly.com

Nov 15

HOUSTON - After nine games, after two humiliating drubbings, after zero victories, the 76ers are battered and beaten. Michael Carter-Williams talks about the team's desire to continue to fight. Coach Brett Brown, who had a successful career as an assist…

Upvote Share Tweet

Harden's late shot lifts Rockets past 76ers

ESPN.com

Nov 14

James Harden scored 35 points, including an off-balance layup with 9 seconds left, to lead the Houston Rockets to an 88-87 victory over the winless Philadelphia 76ers on Friday night.

Upvote Share Tweet

The sun came up, the earth kept spinning on its axis, the 76ers had another game to play the night after a 53-point loss that was the worst for the franchise in more than 20 years.

Upvote Share Tweet

Michael Carter-Williams Starts With A Jam, Then Gets Into Spat With Coach

dimemag.com

Nov 14

Michael Carter-Williams made his return last night for a Sixers team that had dropped their first seven games of the season. His presence didn't do much to affect the woeful team from Philly, though, and MCW even got into it with coach Brett Brown after…

Upvote Share Tweet

yahoo.com dimemag.com philly.com

Nov 14

The NBA world has seen many arguments about tanking in recent years, and they don't look like they'll be going away any time soon. As franchises continue to chase high draft picks and owners debate the lottery's structure, there have been many discussio…

Upvote Share Tweet

Michael Carter-Williams, Professed Non-Tanker, Tanks

deadspin.com

Nov 13

The 76ers are a sorry excuse for a professional sports franchise. Last season they had the second worst record in the league. During the draft this offseason they had two top-12 picks, and chose to take a guy that has a season-long injury and a guy that…

Upvote Share Tweet

Joakim Noah On Studying Raptors-Sixers Game: "I Wouldn't Watch That S***"

dimemag.com

Nov 13

Apparently there are lengths to which Joakim Noah is unwilling to go to get an edge on his opponent. After Chicago Bulls teammate Pau Gasol studied film of a recent game between the Philadelphia 76ers and Toronto Raptors to prepare for their team's Thur…

Upvote Share Tweet

yahoo.com

Nov 10

The Toronto Raptors aren't counting on James Johnson for offense. They brought him back to Canada this summer because they needed a big, tough, physical and versatile perimeter defender who could match up with the Joe Johnsons of the world after the Bro…

Upvote Share Tweet

Watch K.J. McDaniels Rise To Spike Greivis Vasquez's Layup High Into The Stands

dimemag.com

Nov 10

Philadelphia 76ers rookie wing K.J. McDaniels blocked four shots in his team's loss to DeMar DeRozan and the Toronto Raptors yesterday, pushing season-long average to an awesome 1.7 swats per game. And though the Clemson product had already provided mul…

Upvote Share Tweet

Ridiculously-Dressed Drake Pleased By Monster James Johnson Dunk

deadspin.com

Nov 9

The Raptors are blowing out the 76ers tonight, mostly because they are playing the NBA franchise from Philadelphia. James Johnson is getting in some garbage minutes, and his monster jam brought a certain Canadian dad to his feet. Wait—that's no dad!—tha…

Upvote Share Tweet

Knicks Snap Slide, Send 76ers To 0-13

Nov 22

The Knicks ended a two-game slide with a 91-83 win over the 76ers.

76ers Coach On Who Would Win Vs. Kentucky

Nov 21

Suns guard Eric Bledsoe says Kentucky would wax the 76ers. 76ers coach Brett Brown is please his team gets to face Bledsoe on the court tonight.

No, Kentucky Would Not Beat the Sixers

Nov 20

Ethan Sherwood Strauss has the facts.

Sixers Lose 11th Straight

Nov 19

Brandon Bass led the Celtics with 23 points off the bench in Boston's 101-90 victory over still-winless Philadelphia.