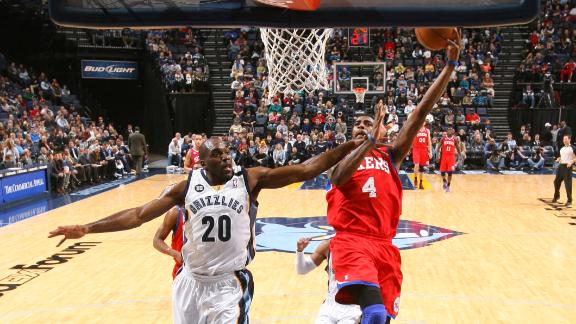 Sixers reject Grizzlies, cut short road skid
ESPN.com
Updated Dec 26, 2012
Dorell Wright scored 28 points and Spencer Hawes had 20, season-highs for both, and the Philadelphia 76ers snapped a six-game road losing streak with a 99-89 victory over the Memphis Grizzlies on Wednesday night.
Upvote
Share
Tweet
Rudy Gay, the Memphis Grizzlies' leading scorer, was not with the team for Wednesday night's game against the Philadelphia 76ers.

Upvote Share Tweet
Sixers Down Grizzlies In Memphis

Dec 26

Dorell Wright scored 28 points to help the 76ers hand the Grizzlies their third home loss of the season.