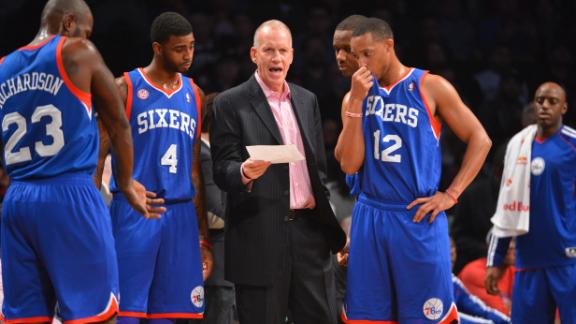 ESPN.com
philly.com
Updated Feb 27, 2013
Philadelphia 76ers coach Doug Collins was highly critical of his team's effort Tuesday and openly questioned his players' preparation following a loss to the lowly Orlando Magic.
Share
Tweet
Doug Collins Has Hit A Wall In Philadelphia, Like We All Knew He Would

deadspin.com

Feb 27, 2013

It's getting harder and harder to remember that the Philadelphia 76ers, who just polished off a six-game losing streak and sit in the dregs if the Eastern Conference at 22-33, were full of hope coming into this season. It was less than a year ago that a…

Share Tweet

philly.com grantland.com

Feb 27, 2013

THE DISCONNECT is astounding. As Tuesday night's game began and the players shook hands around the midcourt circle, the Sixers' Doug Collins, an old-school coach, saw three of his new-school players without a lick of sweat on their brows.

Share Tweet

Warriors & Pacers Brawl Spills Into The Stands; LeBron Goes Absolutely Crazy

dimemag.com

Feb 27, 2013

It wasn't exactly reaching Malice at the Palace levels, but the brawl that spilled into the stands last night during Indiana's 108-97 win over the Warriors will certainly result in some special spankings from the league office. And you're never gonn

Share Tweet

The Luck Makers

Feb 27

Joakim Noah, and young players with qualities that make them more valuable over time.

Collins Rips 76ers After Loss To Magic

Feb 27

Stephen A Smith and Skip Bayless discuss Doug Collins' postgame comments following the 76ers' sixth straight loss.

Sports Columnists

Lee Jenkins: Could humility be delaying Derrick Rose's comeback?

Feb 27

At the 2008 Final Four in San Antonio, Derrick Rose was asked if he would enter the upcoming NBA draft, a reasonable question considering Pat Riley was among the many executives who had come to the Alamadome with the sole purpose of scouting him. Instea…

Ian Thomsen: LaMarcus Aldridge finally emerging as leader in Portland

Feb 27

LaMarcus Aldridge was bracing himself for the issues that have beset his Trail Blazers recently.