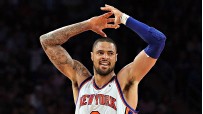 The NBA's 10 Most Underachieving Teams

dimemag.com

Jan 10, 2014

There's a clear difference in a team that's attempting to tank and a team that is flat out bad. There are teams that are constructed to be bad. Take the Philadelphia 76ers for example. The roster consists of players like Elliot Williams, Lorenzo Brown, …

Share Tweet

CNNSI.com

Jan 10, 2014

Why can't Carmelo Anthony carry the Knicks by himself? He's been put in an unfortunate position.

Share Tweet

philly.com

Jan 10, 2014

Team owner Josh Harris' empire that also includes the Devils and the Prudential Center join sponsorship deal.

Share Tweet

Pistons Push Past 76ers

Jan 10

Josh Smith's double-double lifted the Pistons past the 76ers 114-104.