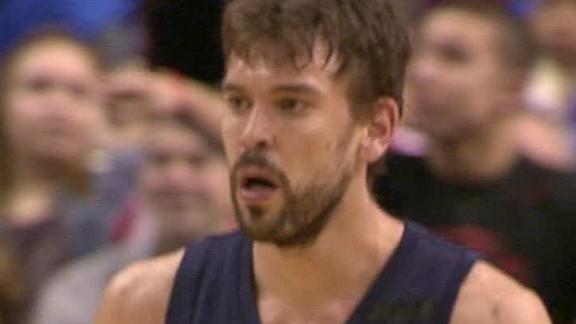 Updated Jan 28
Share
Tweet
The last time Rudy Gay posted up Evan Turner, the Sixers appointed nerd damn near ripped Gay's arm out of his socket. That was back in 2011, and since then, Gay, Zach Randolph and the Grizz can't go a week without someone pointing out that their marri
Sources:
dimemag.com
ESPN.com
Updated Jan 28

Share Tweet

Grizzlies rally from 17-point deficit to knock off Sixers

Source:

CNNSI.com

Updated Jan 28

Share Tweet

DRIBBLE. DRIBBLE. Bump. Turn. Swish. Jrue Holiday protested. "That's a foul, 'Blue.' You chicken-winged me," said Holiday. Aaron McKie snickered, retrieved the ball from under the rim, walked back to the top of the key and resumed the game of …

Source:

philly.com

Andrew Bynum closing in on debut with 76ers

Updated Jan 28

Share Tweet

The world is a better place after a win, and the 76ers practice court was definitely a happier place Sunday morning as the team high-fived and chest-bumped through a spirited scrimmage at the end of a brief session.

Source:

philly.com

Grizzlies Claw Past 76ers, 103-100

Jan 28

Grizzlies come back to top 76ers.

Sports Columnists

Rudy Gay subject of active trade discussions between Toronto Raptors, Memp…

Jan 28

The Memphis Grizzlies continue to field calls from teams interested in Rudy Gay and are engaged in active trade discussions with the Toronto Raptors, sources with knowledge of the talks told ESPN.com.