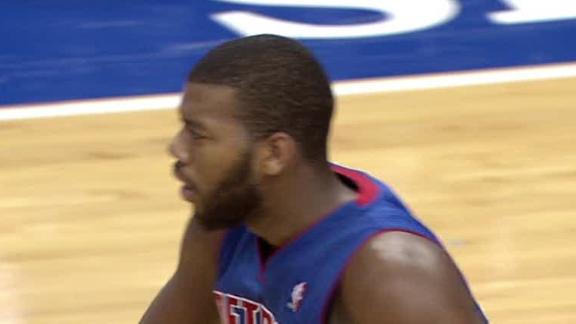 Updated Nov 14, 2012
Share
Tweet
Greg Monroe had 19 points, 18 rebounds and six assists to help the Detroit Pistons beat the Philadelphia 76ers 94-76 on Wednesday night for their first win of the season.
See an NBA game for $0.10 … seriously 10 cents

Updated Nov 14, 2012

Share Tweet

Interested in hosting a party for you and 16 of your friends at a Philadelphia 76ers game? If you've got $6.80 lying around, you're in luck, because a block of 17 tickets for Wednesday night's game against the Detroit Pistons was on sale for $0.40 a tic…

Source:

yahoo.com

The 10 Most Interesting Story Lines Of The NBA Season

Updated Nov 14, 2012

Share Tweet

Yes, we know the season is still young. There are a lot of games left to be played in what should be a great year, but still, it seems there'll be a surprise for us waiting around every corner. This season has already given us some unexpected gut-punche

Source:

dimemag.com

Updated Nov 14, 2012

Share Tweet

The other players on the 76ers say they don't really miss center Andrew Bynum yet, not in a basketball sense, because that would be like missing the suit you never wore.

Source:

philly.com

Carmelo Has a Mini Meltdown; The Spurs Torture the Lakers; Deron Williams & Kyrie Irving Put On A Show

Updated Nov 14, 2012

Share Tweet

Pau Gasol, we hope you surround yourself with protection tonight. You might turn up along the rocks in the Pacific Ocean tomorrow morning, courtesy of a crazed Kobe Bryant. Down two on the last possession last night against the Spurs, Gasol couldn't fin

Source:

dimemag.com

Pistons Cruise Past 76ers For First Win

Nov 14

Greg Monroe's 19 points and 18 rebounds lead Pistons to 94-76 win over 76ers.