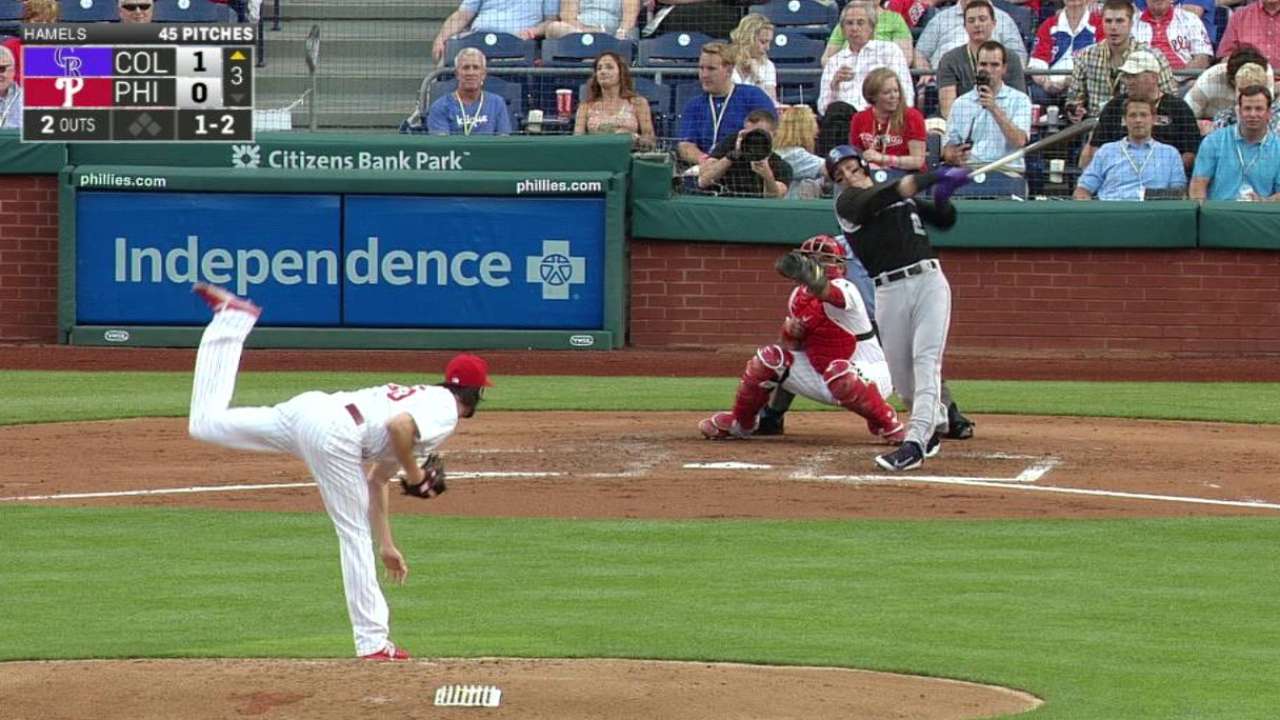 MLB.com
nytimes.com
Updated 2 hours ago
Rockies right-handed pitcher Chad Bettis took a perfect game into the seventh and no-hitter into the eighth as the Rockies defeated the Phillies, 4-1, at Citizens Bank Park.
Share
Tweet
profootballtalk.com

1 hour ago

Free-agent guard Chris Chester had lined up visits with the Falcons and Eagles. And he won't be taking those visits. Via Vaughn McClure of ESPN.com, Chester has signed with the Falcons. It's a one-year, $2.8 million contract. Washington released Chester…

Share Tweet

Eagles find themselves with a bounty of inside linebackers

philly.com

3 hours ago

After being hurt last season by injuries and a lack of depthy, Chip Kelly has addressed the problem by adding several players.

Share Tweet

philly.com profootballtalk.com

5 hours ago

Chip Kelly doesn't like wasting time. Whatever else we know about the Eagles coach as the preparations for his third NFL season begin, we know that much.

Share Tweet

Can the Eagles find a way to use Sproles more often?

philly.com

6 hours ago

Darren Sproles' longest rush and reception of 2015 came in the first and second games of the season, respectively. In Week 4, he fielded a deep punt against the 49ers and scooted 82 yards for a touchdown.

Share Tweet

profootballtalk.com philly.com

8 hours ago

Ten months ago, Kiko Alonso suffered a torn ACL that cost him the entire 2014 season with the Bills. In the time since then, Alonso has been traded to the Eagles — and has healed so fully that he surprises himself with how good he feels. "I honestly did…

Share Tweet

profootballtalk.com philly.com

9 hours ago

The roster turnover of the Eagles (and the opinions about the reasons for it) have been a major topic of the NFL offseason and another member of the team has weighed in with his opinion. Center Jason Kelce didn't cite race, egos or anything other than t…

Share Tweet

yahoo.com profootballtalk.com

12 hours ago

Byron Maxwell was one of the most sought-after defensive backs in free agency and landed with the Philadelphia Eagles on a lucrative, six-year, $63 million deal after four years with the Seattle Seahawks. Not only is Maxwell looking to provide a big boo…

Share Tweet

ESPN.com philly.com

15 hours ago

Chip Kelly: Eagles QB competition wide open between Sam Bradford, Mark Sanchez

Share Tweet

profootballtalk.com

19 hours ago

Being two years out of the league, Tim Tebow's not about to take any opportunity for granted. So even if he's a bit of a curiosity, and no better than third on the Eagles' depth chart, he's still all smiles. "I think sometimes when things are taken away…

Share Tweet

NFL Cold Hard Facts

May 28

Cold Hard Facts looks at the quarterback situation for the Eagles and Jets and what will happen with Adrian Peterson's contract.

How are the Eagles' pieces coming together?

May 28

ESPN Eagles reporter Phil Sheridan discusses how the new parts acquired during Philadelphia's busy offseason are coming together on the field.

Bradford: Offense fits my game

May 28

Eagles quarterback Sam Bradford discusses the Eagles' offense, and QB Tim Tebow feels great to be back on the field playing football.

Chip Kelly not worried about perception

May 28

Ryan Clark and Mark Brunell discuss Chip Kelly's news conference, including the insinuation that race played a role in the Eagles' offseason moves.