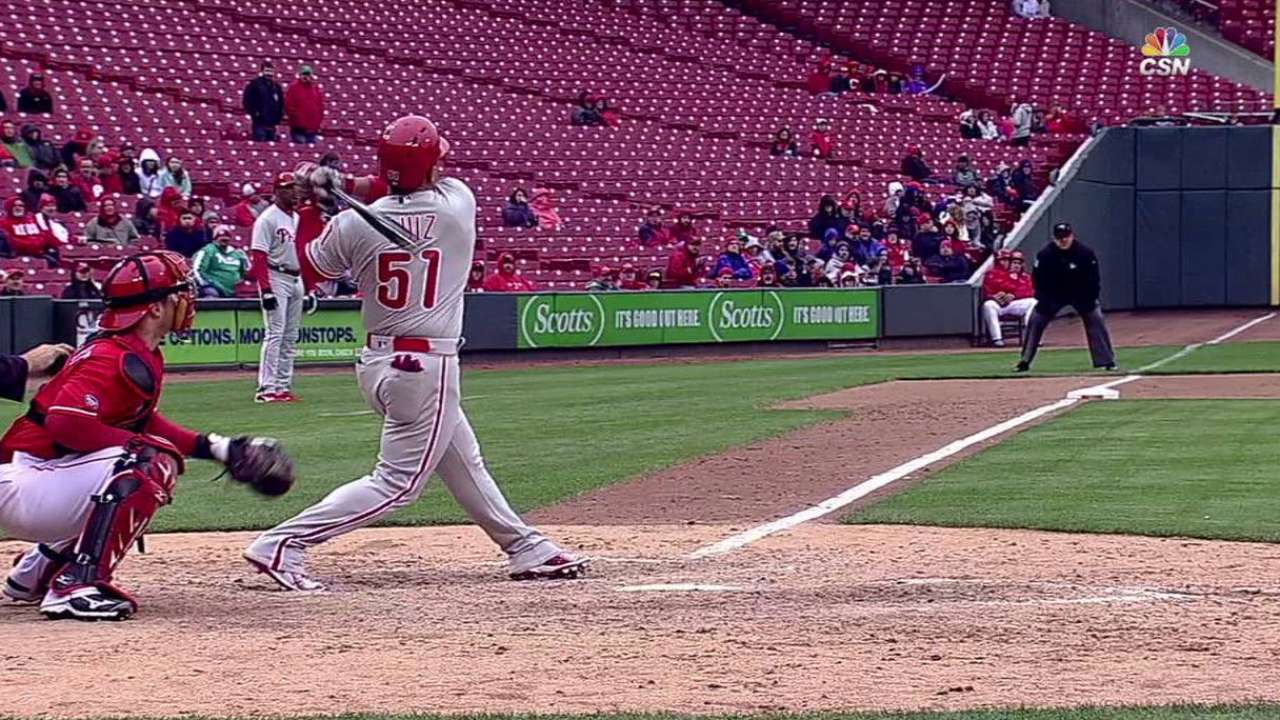 philly.com
MLB.com
nytimes.com
deadspin.com
yahoo.com
ESPN.com
Updated 2 hours ago
THIS ONE might be the toughest. It's strange to think about. We've sat through how many of these already? The centerfielder, the shortstop, the second baseman, the World Series MVP. Could it really be that the eight-hole hitter was the one to burrow fur…
Share
Tweet
philly.com profootballtalk.com

4 hours ago

When Dorial Green-Beckham landed at Philadelphia International Airport last week, he was greeted by Eagles employees Quintin Mikell and Dom DiSandro.

Share Tweet

Bowen: Barner gaining ground in Eagles' backfield

philly.com

7 hours ago

WHEN KENJON Barner got to the NFL as a sixth-round draft choice of Carolina in 2013, he found the attributes that made him a star at Oregon weren't going to earn him a long pro career.

Share Tweet

thehockeynews.com

9 hours ago

It was the most obvious choice, but there was also a pretty good reason for it. Team Canada named Sidney Crosby captain of the upcoming World Cup of Hockey squad, with Jonathan Toews and Shea Weber earning 'A's on their sweaters as alternate captains. S…

Share Tweet

profootballtalk.com yahoo.com

19 hours ago

Nutritional supplements are practically unavoidable in an NFL locker room. But as he waits for his B sample to be tested which could trigger a 10-game suspension for a PED policy violation, Eagles tackle Lane Johnson said he's done with them. According …

Share Tweet

Joseph, Hernandez Homer as Phillies Beat White Sox 5-3

nytimes.com

Aug 24 (yesterday)

Battered in back-to-back games, the Phillies came out swinging this time.

Share Tweet

Hayes: Phillies' Galvis growing by leaps and grounders

'FIVE RIGHT at me. Five to the hole. Five in the shift. Then five backhand, going forward. Then five more straight."

Share Tweet

What's the NFC East without some drama, and Washington cornerback Josh Norman stirred the pot about Eagles quarterback Sam Bradford in an ESPN the Magazine article. Norman suggested Bradford is not a top 20 quarterback, and said he "can't wait to p…

Share Tweet

Carroll making most of his chances as Eagles cornerback

The most important player (arguably) on the Eagles defense didn't earn his starting spot until two weeks ago. He spent almost all of the offseason rehabbing a broken ankle and wasn't 100 percent back until three weeks ago.

Share Tweet

Domo: Smallwood could give Eagles' run game a boost

WE HAVE reached that fun point in the preseason where fans and the media, underwhelmed by what they've seen from the hometown team in training camp and the first two exhibition games, start going all Peggy Lee (is that all there is?) on us.

Share Tweet

Jordan Matthews vows to play in season opener

profootballtalk.com

Aug 24 (yesterday)

Eagles wide receiver Jordan Matthews has been out for almost three weeks and hasn't played in the preseason, but Matthews has vowed to return for his team's Sept. 11 season opener for the Browns. "I promise," he said. Matthews suffered a bone bruise on …

Share Tweet

Wisniewski is out to dislodge Seumalo at left guard

The Eagles offensive line is changing again. For the third consecutive preseason game the Eagles will start a different quintet because rookie left guard Isaac Seumalo strained his pectoral muscle and will miss Saturday's game against the Indianapolis C…

Share Tweet

Down Goes Brown: Five teams that have had a quiet offseason, and what it means for 2016-17

thehockeynews.com

Aug 24 (yesterday)

An NHL offseason can be a funny thing. For some teams, it represents an opportunity to blow everything up real good, hitting the reset button entirely or at the very least radically changing direction. For others, it's a chance to double down on what's …

Share Tweet

yahoo.com

Aug 24 (yesterday)

In 1991, the Philadelphia Eagles drafted Miami (Fla.) quarterback Craig Erickson in the fifth round. Erickson had injured his knee in a Hula Bowl practice and slipped in the draft so he decided to sit out all season and try the draft again. The Tampa Ba…

Share Tweet

Earlier this month, former Eagles quarterback Tim Tebow announced that he would be pursuing a career in professional baseball — and the Phillies, it seems, are listening.

Share Tweet

Ford: Will Roseman's risks result in Eagles rewards?

When Howie Roseman emerged from his year in solitary, he could have come blinking back into the light in either of two ways - as a cautious general manager looking for stability in an unstable profession or as a once-burned gambler no longer afraid of f…

Share Tweet

MLB.com

Aug 24 (2 days ago)

Carlos Rodon went from May 23 to Aug. 11 without a victory, but factoring in his 6 2/3-inning shutout performance during a 9-1 trouncing of the Phillies on Tuesday night at U.S. Cellular Field, the White Sox hurler has gone four straight starts without …

Share Tweet

Stephen A. takes on Chip Kelly

Jul 29

While Stephen A. Smith is in favor of the Eagles shutting up about Chip Kelly, Smith tears into Kelly for "stinking at his job" and getting fired only to land another NFL coaching job paying $6 million.

No reason for Eagles to rush Wentz

Jul 24

Adam Caplan breaks down how the Eagles are bringing along rookie QB Carson Wentz and why they are smart for taking this approach.

E:60: Randall Cunningham coaches daughter to the Olympics

Jul 21

A generation ago, Randall Cunningham electrified the NFL with his show-stopping athletic talents. Now he's headed to the Olympic Games as the coach of one of Team USA's best hopes for gold in the women's high jump -- his 18-year-old daughter Vashti

Doug Pederson has a QB plan, but how will it play out?

Jul 20

Doug Pederson said Sam Bradford will start the season as the No. 1 QB, but the team acquired Chase Daniel and Carson Wentz too. ESPN Eagles reporter Phil Sheridan says that Pederson may have a plan, but executing it is another matter entirely.