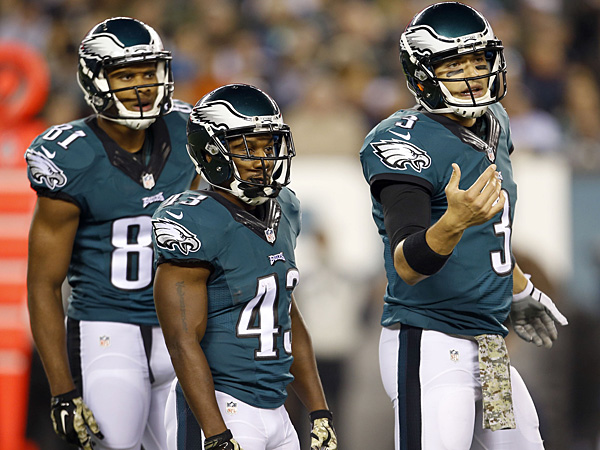 Scouting the Eagles and Titans
philly.com
Updated 2 hours ago
When the Eagles run The Eagles averaged 2.7 yards per carry in their last two games, both against teams ranked among the worst in the NFL in rushing defense. They can try to break that against the Titans' 31st-ranked rush defense, which allowed Steelers…
Upvote
Share
Tweet
NHL.com

3 hours ago

PHILADELPHIA - Brayden Schenn, Mark Streit, Wayne Simmonds and Braydon Coburn all scored for the Philadelphia Flyers, who broke a season-worst, four-game losing streak with a 4-2 victory over the Columbus Blue Jackets on Saturday night. Jakub...

Upvote Share Tweet

Jose Calderon is making his season debut Saturday for the New York Knicks after missing the first 13 games with a strained right calf.

Upvote Share Tweet

Eric Bledsoe Says He Was Tipped Before Game About Nerlens Noel's Hard Foul

dimemag.com

6 hours ago

Last night Nerlens Noel dropped Eric Bledsoe to the hardwood not more than 30 seconds into the Suns-76ers game in Philadelphia. This came after Bledsoe had said his alum, Kentucky, could beat the 0-12 Sixers in a seven-game series. It was an embarrassin…

Upvote Share Tweet

Inside the Sixers: No set date on Sixers' turnaround

philly.com

6 hours ago

NEW YORK - One of the biggest questions surrounding the 76ers is, when will the team's turnaround begin. The truth is, no one knows. Sixers general manager Sam Hinkie doesn't know. Nor does managing partner Josh Harris, CEO Scott O'Neil, or coach Brett …

Upvote Share Tweet

Miracle on Manchester to a silent Maple Leaf Square, the five greatest NHL comebacks

thehockeynews.com

11 hours ago

In the Swedish third league on Wednesday, one of the most incredible comebacks in hockey history happened. Down 3-0 in the third period, IFK Arboga scored with just under 12 minutes left in the third period. Then they scored again 20 seconds later. And …

Upvote Share Tweet

philly.com

Nov 22 (yesterday)

After switching from defensive end to linebacker, rookie Marcus Smith II is still learning his new position.

Upvote Share Tweet

Eagles guard Gardner building case to start

Andrew Gardner was a member of the Texans for three years, and in just 10 games for the Eagles this season he has already played five times more than he did in Houston.

Upvote Share Tweet

Inside the Flyers: Giroux's leadership is by example

There is a theory floating around that the Flyers are off to a poor start because Claude Giroux is not a good captain.

Upvote Share Tweet

philly.com ESPN.com

Nov 21 (yesterday)

Mark Sanchez's first day as a 28-year-old started in the afterglow of his first win as the Eagles' starting quarterback. He threw two touchdowns and did not turn the ball over in a Monday Night Football rout of Carolina, provoking interest in Sanchez th…

Upvote Share Tweet

Bounty Bowl legacy recalled 25 years later

Just days before the Eagles' 1989 Thanksgiving Day game in Dallas, as he dressed in Veterans Stadium's dank locker room, Mike Reichenbach wondered why Buddy Ryan was huddling with a backup linebacker, Jesse Small.

Upvote Share Tweet

Chip Kelly doesn't believe in trap games

ESPN.com

Nov 21 (yesterday)

PHILADELPHIA -- The Philadelphia Eagles play the Tennessee Titans, AFC South strangers with a 2-8 record, on Sunday at Lincoln Financial Field. About 96 hours after that game ends, the ball will be kicked off for the Eagles' Thanksgiving Day matchup wit…

Upvote Share Tweet

deadspin.com dimemag.com

Nov 21 (yesterday)

The tanking-ass Sixers are gross and bad , and this fact has not gone unnoticed by Sixers guard K.J. McDaniels's mom. Recently, she took to Twitter to let people know that she does not appreciate the Sixers' bullshit.Read more...

Upvote Share Tweet

ESPN.com

Nov 21 (yesterday)

When: 1 p.m. ET, Sunday Where: Lincoln Financial Field, Philadelphia TV: CBS The Philadelphia Eagles are bouncing back from a 53-20 trouncing in Green Bay last week. They need to regain their sense of confidence as they enter the part of their schedule …

Upvote Share Tweet

Can Eagles get Ertz, Sproles involved more?

Zach Ertz played 64.2 percent of the Eagles' offensive snaps in their first four games. The second-year tight end has played 40.9 percent of the snaps in the last six.

Upvote Share Tweet

'Legion' line gets its due, but Eric Lindros issues not forgotten on night he and John LeClair enter Flyers' Hall.

Upvote Share Tweet

Culture of corrosion in the Sixers' organization

Can Brett Brown hold his few quality piece together during another losing season?

Upvote Share Tweet

Suns' Eric Bledsoe said Kentucky could beat Sixers in a 7-game series, and given Sixers' state, matchup might be close.

Upvote Share Tweet

Sanchez should get Birds back on track with win, & cover, over Titans

Under Chip Kelly, Eagles are stellar against teams at or below .500, and that should continue against Tennessee.

Upvote Share Tweet

Eagles rookies don't measure up

Unlike the previous 2 years, the 2014 draft class hasn't made a significant impact.

Upvote Share Tweet

Matt Tobin completed the concussion protocol, but Andrew Gardner is likely to start at right guard in his place.

Upvote Share Tweet

Birds' sack pack could have field day

Titans QB Zach Mettenberger is a pure pocket passer, and the Eagles hope to collapse that pocket.

Upvote Share Tweet

NHL.com

Nov 21 (yesterday)

PHILADELPHIA - Jason Zucker scored with 45.4 seconds left to lift the Minnesota Wild to a 3-2 victory over the Philadelphia Flyers on Thursday night. Nino Niederreiter had a goal and an assist, and Marco Scandella also scored for the Wild, wh...

Upvote Share Tweet

MLB.com

Nov 21 (2 days ago)

Some folks in baseball still consider the Phillies to be the favorites to sign Cuban outfielder Yasmany Tomas. But are they?

Upvote Share Tweet

Knicks Snap Slide, Send 76ers To 0-13

Nov 22

The Knicks ended a two-game slide with a 91-83 win over the 76ers.

'Playbook': Tennessee Titans vs. Philadelphia Eagles

Nov 21

The "Playbook" crew breaks down the Week 12 matchup between the Tennessee Titans and Philadelphia Eagles.

76ers Coach On Who Would Win Vs. Kentucky

Nov 21

Suns guard Eric Bledsoe says Kentucky would wax the 76ers. 76ers coach Brett Brown is please his team gets to face Bledsoe on the court tonight.

Elevated Plays Of The Week

Nov 21

Check out some of the best goals, hits and saves from this week in the NHL.