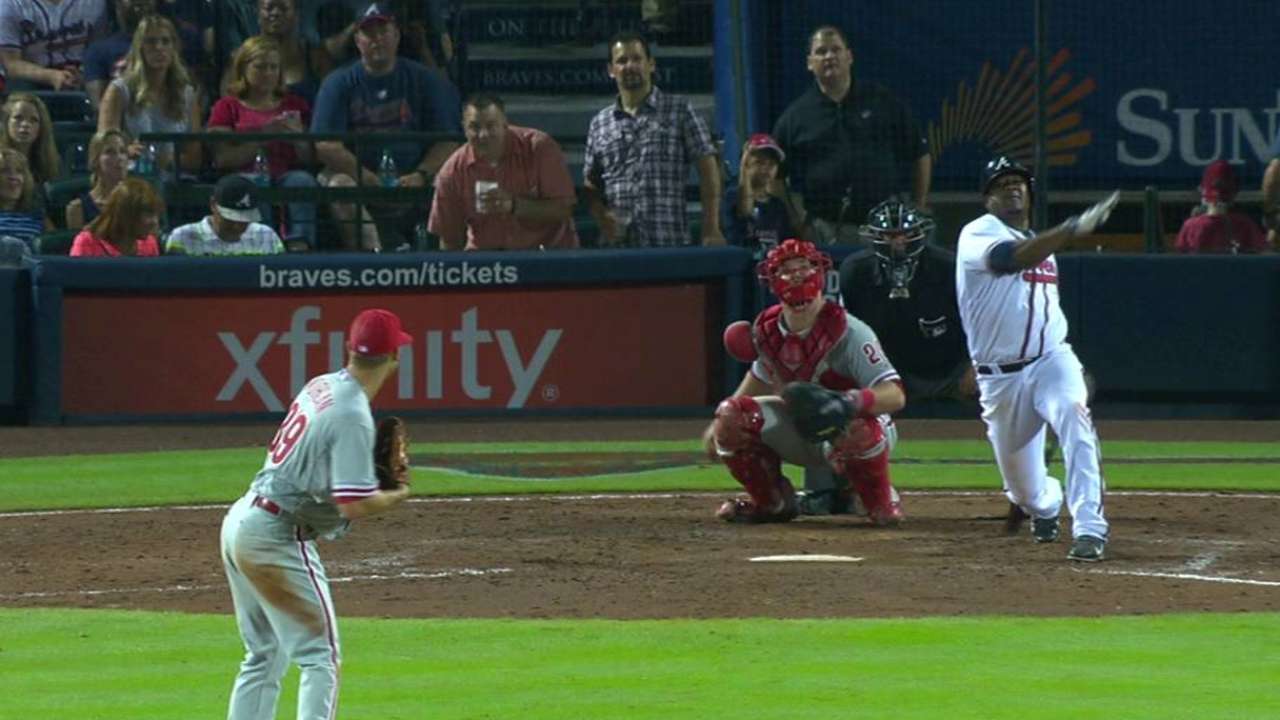 NHL.com

5 hours ago

The Philadelphia Flyers announced that they have signed 2015 First-Round draft pick, defenseman Ivan Provorov, to an entry-level contract, according to general manager Ron Hextall. The 6'0", 201'lb defenseman was selected seventh overall in the...

Share Tweet

Johnston and Ertz share dedication to their crafts

philly.com

9 hours ago

Players, even the best ones, have to adjust if they want to stay on the field. Eagles tight end Zach Ertz, already becoming a young star in the NFL, knew he had to become a better blocker if he wished to be the all-around player that teams leave in the …

Share Tweet

Brodziak goes to the Blues, Flyers net LaBarbera as backup

thehockeynews.com

11 hours ago

It seems like it's been a while since a major signing has happened, but the St. Louis Blues and Philadelphia Flyers have done admirably to fill holes in their lineup with some depth signings. The Blues announced early Friday morning that they have signe…

Share Tweet

Eagles QB coach Ryan Day: "Sky's the limit" for Sam Bradford

profootballtalk.com

14 hours ago

Eagles quarterbacks coach Ryan Day and head coach Chip Kelly go back a long way. Day played quarterback when Kelly was the offensive coordinator at New Hampshire and then joined the coaching staff, which gave him a close view of Kelly's evolution as an …

Share Tweet

Zach Ertz: Eagles' goal is 16-0

profootballtalk.com

14 hours ago

Eagles tight end Zach Ertz isn't spouting cliches about taking it one game at a time when asked what he expects from the coming season. Asked on NFL Network about his goals for 2015, Ertz said that he and his teammates are looking to win every game. "We…

Share Tweet

Study pegs Eagles as healthiest team last two years, Giants unhealthiest

profootballtalk.com

17 hours ago

Maybe the smoothies work. And maybe Tom Coughlin should try one. The folks at Bleeding Green Nation have passed along a chart that suggests the Eagles are the healthiest team in the NFL over the last two seasons, while the Giants have been the most unhe…

Share Tweet

Predictably, In Just 24 Hours, The Kings' Plans Have Gone Awry

deadspin.com

23 hours ago

Yesterday the Sacramento Kings made a bad trade . For the privilege of giving away two marginally useful players and thus opening up an additional $13 million in salary cap space, they had to trade to the 76ers last season's first-round draft pick, a to…

Share Tweet

The good, bad and ugly about the Phillies at halfway mark

There's a little good, plenty of bad, and some potentially ugly with this poor Phillies team.

Share Tweet

Sixers creating reasons for optimism

The one-sided traded for Nik Stauskas, following the drafting of Jahlil Okafor, has the rebuilding team on the right path.

Share Tweet

Phillies are worse than anyone could have imagined

Well on their way to 100 losses, the Phillies are bad from top to bottom.

Share Tweet

Lind's RBI Single in 11th Lifts Brewers Over Phillies 8-7

nytimes.com

Jul 2 (yesterday)

Adam Lind hit a tiebreaking RBI single in the 11th inning to help the Milwaukee Brewers beat the Philadelphia Phillies 8-7 on Thursday night to complete a four-game sweep.

Share Tweet

Here's Nerlens Noel dunking 'on' a small child at a summer camp

yahoo.com

Jul 2 (yesterday)

After a frantic start to the NBA's 2015 free agency period, you might need a bit of a breather — a bit of a palate cleanser, a little something to decompress as we want for the next round of big honkin' deals to come down. To that end, allow me to prese…

Share Tweet

Report: Flyers, Voracek to begin contract discussions soon

thehockeynews.com

Jul 2 (yesterday)

As of Wednesday, Jakub Voracek officially has one year remaining on his contract with Philadelphia, but according to a report, Flyers GM Ron Hextall is ready to talk extension with the 25-year-old right winger. According to The Philadelphia Inquirer's S…

Share Tweet

Report: Rams not interested in Evan Mathis

profootballtalk.com

Jul 2 (yesterday)

Guard Evan Mathis remains unsigned after his release from the Eagles last month and it doesn't look like he'll wind up in St. Louis for the 2015 season. Jason Cole of Bleacher Report reports that the Rams are not interested in signing Mathis. Per Cole, …

Share Tweet

NFC East Q&A: Did the Eagles close the QB gap with Sam Bradford?

ESPN.com

Jul 2 (yesterday)

NFC East Q&A: Did the Eagles close the QB gap with Sam Bradford?

Share Tweet

Report: Kings deal Stauskas, Thompson, Landry to 76ers

nba.com

Jul 2 (yesterday)

The Sacramento Kings have agreed to send Nik Stauskas, Jason Thompson and Carl Landry to the Philadelphia 76ers as part of a salary-shedding move to pursue free agents, a person with knowledge of the trade told The Associated Press on Wednesday night.

Share Tweet

I Think The 76ers Just Fleeced The Kings

deadspin.com

Jul 2 (2 days ago)

The 76ers are approximately $40 million under next season's salary cap, but they aren't chasing LeBron James, LaMarcus Aldridge, or any other big name free agents. Instead, they're making themselves available to teams looking to shed salary, trying to p…

Share Tweet

Flyers GM Ron Hextall needs to make more deft moves

philly.com

Jul 2 (2 days ago)

GM has made some good first moves, but there is still plenty of fat he needs to trim from the current roster.

Share Tweet

Justin Tuck talks DeSean Jackson

Jul 1

Raiders DE Justin Tuck reacts to Redskins WR DeSean Jackson's comments that the Eagles engaged in a "smear campaign" against him after his release.

DeSean Jackson still unhappy with Eagles release

Jul 1

ESPN Redskins reporter John Keim discusses DeSean Jackson's comment about how the Eagles handled his release in 2014.

Moffitt signs one-year deal with Eagles

Jun 29

Mark Brunell discusses the challenges guard John Moffitt faces in attempting to revive his career in Philadelphia.

Out of bounds for punter to take shots at rival?

Jun 29

Damien Woody and Mark Brunell react to Giants punter Steve Weatherford's comments about Eagles coach Chip Kelly and quarterbacks Sam Bradford, Tim Tebow and Mark Sanchez.