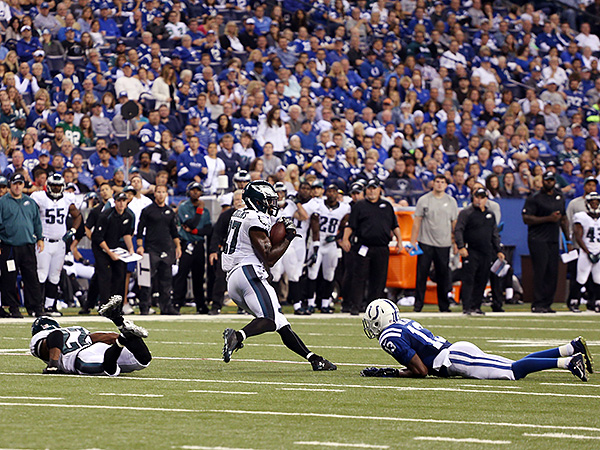 philly.com
profootballtalk.com
ESPN.com
yahoo.com
Updated 1 hour ago
After Darren Sproles bounced between Indianapolis Colts defenders for a 19-yard touchdown run in the Eagles' 30-27 win on Monday, LeSean McCoy greeted Sproles with a choreographed handshake. McCoy appeared genuinely excited for his teammate - and gratef…
Upvote
Share
Tweet
Jenkins makes Boykin and Eagles secondary better

philly.com

1 hour ago

Later, some 11 hours after the Eagles had completed their 30-27 victory Monday night over the Colts, after he and Malcolm Jenkins had been at the center of the play that had swung everything in the Eagles' direction, Brandon Boykin took to Twitter to se…

Upvote Share Tweet

Tony Gwynn Jr. will start and bat leadoff tonight in San Diego

yahoo.com

2 hours ago

One of the loudest ovations Tuesday night at Petco Park will surely go to a member of the visiting team. Philadelphia Phillies manager Ryne Sandberg ensured that when he inserted the son of San Diego's most beloved athlete into his lineup. Tony Gwynn Jr…

Upvote Share Tweet

Kelly: 'Trying to win every football game'

ESPN.com

4 hours ago

PHILADELPHIA -- For a team that leads the NFL in offensive yards and points scored, the Philadelphia Eagles certainly have a lot of players dissatisfied with their performances after two games. Quarterback Nick Foles and running back LeSean McCoy expres…

Upvote Share Tweet

philly.com

7 hours ago

Eagles coach Chip Kelly said Tuesday that inside linebacker Mychal Kendricks is getting an MRI on his injured right calf. He also said having Darren Sproles won't overshadow LeSean McCoy, but the idea is to win games, not rushing titles.

Upvote Share Tweet

yahoo.com

7 hours ago

We got your Spider 2 Y Banana right here! On Monday night's ESPN broadcast, a dispatch from sideline reporter Lisa Salters revealed a closeup of Philadelphia Eagles head coach Chip Kelly's much-revered, dark and mysterious play-calling sheet. Nor surpri…

Upvote Share Tweet

philly.com

10 hours ago

Mychal Kendricks still asks the question that few, if any, of his Eagles teammates have an answer to five months after DeSean Jackson was released.

Upvote Share Tweet

NHL.com

11 hours ago

NEW YORK – Accomplished NHL executive Bill Daly and former player, coach, current Flyers executive Paul Holmgren have been named recipients of the 2014 Lester Patrick Trophy for outstanding service to hockey in the United States. The award, one...

Upvote Share Tweet

More first-half scoring at top of Eagles' list

ESPN.com

12 hours ago

Rallying from double-digit deficits at halftime in consecutive games is sure impressive. The Philadelphia Eagles would rather not have to keep coming from behind. One week after erasing a 17-0 deficit at halftime to defeat the Jacksonville Jaguars 34-17…

Upvote Share Tweet

Chuck Pagano: It "sure looked like" a penalty on key interception

profootballtalk.com

14 hours ago

The Colts faced a third-and-9 from the Eagles' 22-yard line with just over five minutes left on Monday night, which seemed to leave them with at least a chance to kick a field goal and go up 30-20. They never got that chance. Andrew Luck's pass to T.Y. …

Upvote Share Tweet

nytimes.com philly.com ESPN.com

17 hours ago

Philadelphia made all the right calls Monday night.

Upvote Share Tweet

philly.com

19 hours ago

INDIANAPOLIS - The Eagles walked the tightrope again on Monday night and made it across one more time. They promise not to turn this into a habit.

Upvote Share Tweet

Prime time has had some prime moments in Eagles history

philly.com

20 hours ago

Some standout moments in the Eagles' long history of prime-time games.

Upvote Share Tweet

Cashner Lifts Padres Past Phillies, 1-0

nytimes.com

21 hours ago

Andrew Cashner pitched a two-hitter for his third career shutout and the San Diego Padres scored on Cody Asche's fielding error in the second inning Monday night to beat the Philadelphia Phillies 1-0.

Upvote Share Tweet

The Real McCoy

Sep 16

LeSean "Shady" McCoy is the NFL's best cutback runner. E:60 goes all access with McCoy off the field, and as Lisa Salters reports, he's changing direction there too.

Philadelphia Eagles game-winning drive

Sep 16

Tied at 27-27 with 1:56 remaining in regulation, the Philadelphia Eagles moved down the field in three plays to set up the game-winning field goal.

Week 2: Nick Foles highlights

Sep 16

With another second-half comeback victory, Nick Foles led the Eagles against the Indianapolis Colts on Monday Night Football with 331 passing yards.

Philadelphia Eagles postgame press conference

Sep 16

Philadelphia Eagles head coach Chip Kelly and quarterback Nick Foles react to the team's comeback win over the Indianapolis Colts in Week 2.