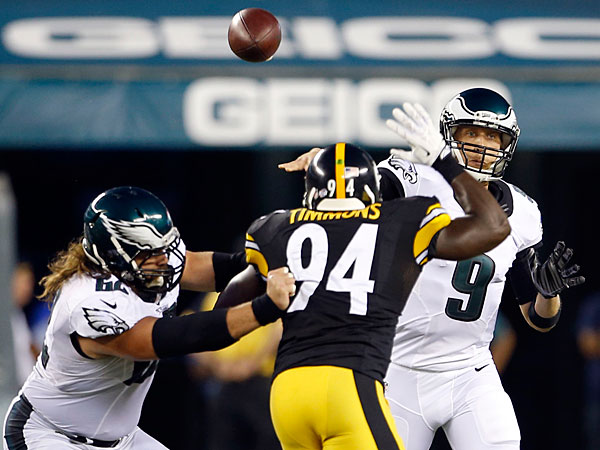 philly.com
nytimes.com
Updated 1 hour ago
The Eagles beat the Steelers in a preseason game at Lincoln Financial Field on Thursday, August 21, 2014.
Upvote
Share
Tweet
dimemag.com nba.com ESPN.com

1 hour ago

According to Jerry Zgoda of the Minneapolis Star-Tribune a three-team trade will be completed on Saturday sending Kevin Love to Cleveland in exchange for the No. 1 pick in the 2014 NBA Draft, Andrew Wiggins, the No. 1 pick in the 2013 Draft, Anthony Ben…

Upvote Share Tweet

profootballtalk.com philly.com

4 hours ago

When Eagles wide receiver Jeremy Maclin went down in the second quarter last night, it was natural to jump to the conclusion. With Maclin coming off a torn ACL, and going down without contact and clutching the same knee, even Eagles coach Chip Kelly "th…

Upvote Share Tweet

Should Phillies keep Ryan Howard?

philly.com

9 hours ago

It's clear that Ryan Howard or Domonic Brown needs to go to create playing time for Darin Ruf.

Upvote Share Tweet

philly.com

9 hours ago

After struggling against the Bears and the Patriots, Eagles pass rush looks good against Ben Roethlisberger and the Steelers.

Upvote Share Tweet

ESPN.com philly.com profootballtalk.com yahoo.com

10 hours ago

Eagles All-Pro running back LeSean McCoy left Thursday night's 31-21 preseason win in the first quarter with a right thumb injury.

Upvote Share Tweet

profootballtalk.com ESPN.com

12 hours ago

On the same day they were cited for marijuana possession, Steelers tailbacks Le'Veon Bell and LeGarrette Blount both played into the fourth quarter of Pittsburgh's 31-21 preseason loss at Philadelphia. Bell (nine rushes, 23 yards) and Blount (seven rush…

Upvote Share Tweet

Foles, offense in form as Eagles top Steelers

ESPN.com

12 hours ago

Back at home, Nick Foles and the Philadelphia Eagles got back on track. Foles threw one touchdown pass and led the starting offense to three first-half scores in a 31-21 victory over the Pittsburgh Steelers on Thursday night.

Upvote Share Tweet

yahoo.com

13 hours ago

It's understandable if you're reading this Friday morning, having seen Nick Foles' stat line from Thursday's preseason game against the Pittsburgh Steelers, and want to throw your shoe at me (or your laptop, with me in mind). It's true: Foles completed …

Upvote Share Tweet

Jason Worilds leaves with knee injury

profootballtalk.com

14 hours ago

Steelers outside linebacker Jason Worilds has been ruled out for the remainder of Thursday's preseason game at Philadelphia with a right knee injury, the club said. Worilds was credited with a sack of Eagles quarterback Mark Sanchez early in the third q…

Upvote Share Tweet

Ranking The NBA's Biggest Offseason Losers

dimemag.com

16 hours ago

Anytime you have winners you're bound to have some people that lose. This year's summer is no exception: there were plenty of teams and players who "lost" this past offseason. After counting down this summer's "winners," it's only right that we give an …

Upvote Share Tweet

Chris Polk out for Eagles on Thursday night; Lance Moore expected to sit for Steelers

profootballtalk.com

17 hours ago

The Eagles and Steelers will be several players short on Thursday night in Philadelphia. Eagles cornerback Brandon Boykin (hamstring), wide receiver Josh Huff (shoulder), linebacker Jake Knott (hamstring), tailback Chris Polk (hamstring), wide receiver …

Upvote Share Tweet

Pierre Thomas expects to do "more pass protection and route running"

profootballtalk.com

Aug 21 (yesterday)

The Saints traded Darren Sproles to the Eagles this offseason and saw Lance Moore sign with the Steelers as a free agent in a pair of moves that eliminated two players that caught 108 passes between them in 2013. Running back Pierre Thomas expects at le…

Upvote Share Tweet

Importance of the third preseason game

philly.com

Aug 21 (yesterday)

In the last truly meaningful game of the preseason,, the Eagles' starters will get valuable reps tonight.

Upvote Share Tweet

Chase Utley literally tosses his bat at pitch, gets RBI single

yahoo.com

Aug 21 (yesterday)

If it seems like Philadelphia Phillies second baseman Chase Utley is losing his grip this week, it's because he actually has lost his grip this week. Twice. First, during Monday's game against the Seattle Mariners, Utley lost his bat after fouling a pit…

Upvote Share Tweet

Philadelphia Eagles wide receiver Jeremy Maclin: 'My knee feels fine'

Aug 22

Philadelphia Eagles wide receiver Jeremy Maclin gives an update on the health of his knee after experiencing a close call vs. the Pittsburgh Steelers.

Pittsburgh Steelers vs. Philadelphia Eagles preseason highlights

Aug 22

LeSean McCoy and the Philadelphia Eagles look dynamic as they defeat the Pittsburgh Steelers 31-21 in Week 3 of preseason action.

Philadelphia Eagles fly by the Pittsburgh Steelers

Aug 22

After defeating the Pittsburgh Steelers in their latest preseason game, the "NFL Total Access" crew discusses the positives of the Philadelphia Eagles' performance.

McCoy, Eagles Top Steelers

Aug 21

LeSean McCoy combined for 50 yards and a touchdown in the Eagles' 31-21 win over the Steelers.