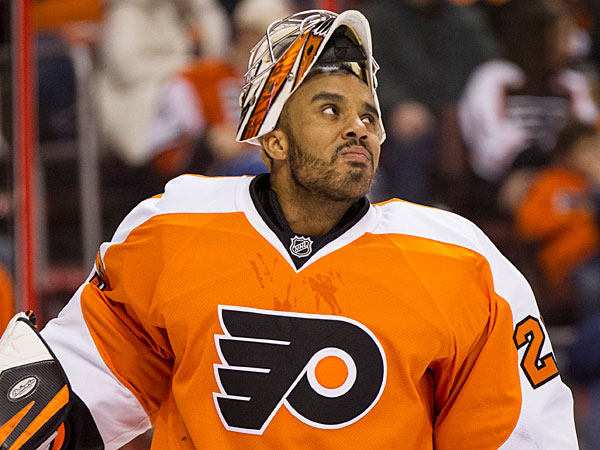 philly.com
nydailynews.com
thehockeynews.com
NHL.com
ESPN.com
yahoo.com
Updated 4 hours ago
With Steve Mason hurt, backup goalie Ray Emery will start in Game 1 of the playoffs against the Rangers.
Upvote
Share
Tweet
Phillies' Giles striking, but not ready for prime time

philly.com

5 hours ago

The righthander is turning heads at Reading, but need works before he can offer relief to Phillies' bullpen.

Upvote Share Tweet

Phils fall short despite Lee's complete-game effort

MLB.com

8 hours ago

The Phillies were unable to hand Cliff Lee any run support as they fell, 1-0, Wednesday on a night in which both starters went the distance. Lee struck out 13 batters, but surrendered a home run.

Upvote Share Tweet

MLB.com nytimes.com

8 hours ago

Julio Teheran was masterful in the Braves' 1-0 victory over the Phillies on Wednesday night, tossing a complete game. Evan Gattis went 4-for-4 and provided the game's only run with a homer.

Upvote Share Tweet

Kempski's Corner: Can the Eagles get Dion Jordan?

philly.com

13 hours ago

In this episode of Kempski's Corner, Philly.com's Pat Gallen & Jimmy Kempski discuss why the Eagles failed to complete a deal with the Dolphins for Dion Jordan & if they can still get one done.

Upvote Share Tweet

philly.com

15 hours ago

DeSean Jackson, now with the Washington Redskins after being cut by the Eagles last month, owes his former agent Drew Rosenhaus over $500,000 in unpaid loans and agent fees, according to the NFL Players Association.

Upvote Share Tweet

Rain postpones Braves' game in Philadelphia

MLB.com

Apr 15 (yesterday)

With rain already falling on Citizens Bank Park and an even worse forecast for later in the night, the Braves' game against the Phillies on Tuesday was postponed. Instead of playing two games on Wednesday, the game will be made up as part of a four-game…

Upvote Share Tweet

VOORHEES, N.J. - Steve Mason kept the Philadelphia Flyers afloat when they struggled early in the season. Now they may start the playoffs without their No. 1 goalie. Mason practiced for 15 minutes before leaving the ice Tuesday, three days af...

Upvote Share Tweet

Tank job, Season 1, is nearly complete

philly.com

Apr 15 (yesterday)

The home schedule came to a merciful close for the 76ers on Monday night, and it ended, fittingly enough, against another team that has struggled through a season dedicated to the future rather than the present.

Upvote Share Tweet

ESPN writer thinks Kelly's ego was behind DeSean's release

philly.com

Apr 15 (yesterday)

Is Chip Kelly's ego the real deciding factor behind DeSean Jackson's release from the Eagles? ESPN.com's Jeffri Chadiha seems to think so.

Upvote Share Tweet

It's a jam-packed edition of PFT on NBCSN

profootballtalk.com

Apr 15 (yesterday)

Tuesday's Pro Football Talk on NBCSN will cover only 30 minutes. In that time, we'll cover nearly as much ground as we do in a full hour. Georgia Tech linebacker Jerry Attaochu joins the program by phone, we'll get you up to speed on the latest NFL news…

Upvote Share Tweet

nytimes.com philly.com

Apr 15 (yesterday)

Rain gave a pair of depleted bullpens a little boost.

Upvote Share Tweet

Dennis Hickey: This is a big offseason for Dion Jordan

profootballtalk.com

Apr 15 (yesterday)

There was a report last week that the Eagles were interested in making a trade for Dolphins defensive end Dion Jordan a year after the Dolphins moved up in the first round to take Jordan with the third overall pick. Nothing happened, obviously, but it w…

Upvote Share Tweet

Signings roundup: Gostisbehere agrees with Flyers

The Philadelphia Flyers on Tuesday signed defenseman Shayne Gostisbehere to an entry-level contract. Terms were not disclosed. Gostisbehere, 20, is coming off winning an NCAA championship with Union College. In the championship game against the...

Upvote Share Tweet

thehockeynews.com ESPN.com yahoo.com

Apr 15 (yesterday)

Unless the Philadelphia Flyers sign another defenseman for more than $5 million this summer, Andrew MacDonald will be the second-highest paid blueliner on their roster next season. MacDonald's freshly signed six-year, $30 million extension with the Flye…

Upvote Share Tweet

ESPN.com

Apr 15 (yesterday)

Malcolm Jenkins only echoed what others have said about Washington Redskins quarterback Robert Griffin III. And the new Philadelphia Eagles safety didn't question Griffin's game, but, rather his ability to stay healthy. At this point, it's a fair topic.…

Upvote Share Tweet

yahoo.com

Apr 15 (yesterday)

Your browser does not support iframes.As the Eagles cut DeSean Jackson, many rumors flew around about why the team would cut a receiver coming off a big season in the prime of his career. During most of that time, even after Washington signed Jackson, i…

Upvote Share Tweet

VOORHEES, N.J. -- The Philadelphia Flyers took care of their defense for the short term and long term Tuesday. Veteran defenseman Andrew MacDonald signed a six-year contract extension, and 2012 third-round pick Shayne Gostisbehere signed an ent...

Upvote Share Tweet

ESPN.com

Apr 15 (yesterday)

A.J. Burnett has been diagnosed with a hernia but has decided to continue to pitch and will make his scheduled start for the Philadelphia Phillies on Wednesday.

Upvote Share Tweet

Braves Blank Phillies

Apr 16

Julio Teheran held the Phillies to three hits and struck out four in the Braves' 1-0 win.

Mastering Tanking

Apr 16

Tom Penn breaks down how the 76ers were able to "tank" so well this season.

SweetSpot TV: Pitching Through Pain

Apr 15

Eric Karabell and David Schoenfield discuss Phillies pitcher A.J. Burnett deciding to put off surgery on a hernia.

MLB Daily Download: Tuesday

Apr 15

Prim Siripipat recaps Monday night's action from around the league: The Pirates and Reds combined for 10 home runs, Albert Pujols inched closer to 500, and instant replay resulted in a run in Texas.