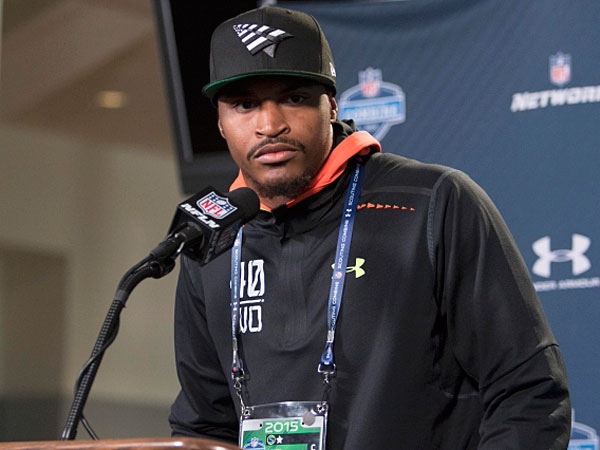 Jaelen Strong's Philly roots run deep
philly.com
Updated 14 hours ago
The Arizona State receiver might be available for the Eagles in the first round.
Share
Tweet
PFT Live: Cris Collinsworth, Peter King, Eagles talk with Tim McManus

profootballtalk.com

31 minutes ago

The draft is just three days away and PFT Live will be your daily spot for everything you need to know until the names start coming off the board. On Monday's show, Mike Florio will welcome Cris Collinsworth of Football Night in America to the show and …

Share Tweet

Check Out What The Eagles 2015 Draft Hats Look Like

eaglesgab.com

1 hour ago

When the players in attendance at this week's NFL Draft hear their name called, they'll come up to the stage sporting a snazzy draft hat that they'll be given for their new team. Here's what the Philadelphia Eagles version of this year's draft hat will …

Share Tweet

Eagles' draft needs: Cornerback

philly.com

14 hours ago

Third in a series focusing on positions of needfor the Eagles in the run-up to the NFL draft.

Share Tweet

For Ray Didinger, Tommy McDonald a hero with write stuff

philly.com

15 hours ago

Didinger has written a play about his lifetime friendship with Eagles Hall of Famer Tommy McDonald.

Share Tweet

Eagles could choose from among several offensive linemen at No. 20

philly.com

15 hours ago

The first draft pick Chip Kelly made as the Eagles head coach was an offensive lineman, Lane Johnson. He has not picked an offensive lineman since.

Share Tweet

In Eagles' draft strategy, players must fit their system

philly.com

16 hours ago

After the Eagles traded LeSean McCoy last month, owner Jeffrey Lurie said the team preferred a one-cut runner for its offensive scheme.

Share Tweet

Coach Peter DeBoer deserves a look from Flyers

philly.com

18 hours ago

The most underrated candidate to become the Flyers' next head coach has never had an NHL team finish better than third in its division, has coached in the postseason once over his seven years in the league, and was fired on the day after Christmas.

Share Tweet

Howard Homers Again, Leads Philadelphia Past Braves, 5-4

nytimes.com

19 hours ago

Ryan Howard hit his second homer in two games, helping the Philadelphia Phillies beat the Atlanta Braves 5-4 on Sunday.

Share Tweet

This is interesting. It turns out Atlanta Braves defensive wizard Andrelton Simmons — that's his title, not his position — isn't the only shortstop capable of making breathtaking plays. His counterpart with the Philadelphia Phillies, Freddy Galvis, can …

Share Tweet

Eagles still not showing real commitment to Bradford

profootballtalk.com

Apr 26 (yesterday)

After the Eagles surprisingly traded for quarterback Sam Bradford in March, coach Chip Kelly insisted that Bradford wasn't a stepping stone toward getting up the board to reunite with Marcus Mariota. Since then, the Eagles have done nothing to take that…

Share Tweet

If Chip Kelly likes Dion Jordan, now is the time to get him

profootballtalk.com

Apr 26 (yesterday)

In the 2013 NFL draft, the Dolphins loved Dion Jordan, and thought the Eagles loved him, too. Now the Dolphins would love to get rid of Jordan, and would love to have the Eagles be the ones to take him off their hands. Jordan played for Eagles coach Chi…

Share Tweet

For Sixers assistant Lange, it all began in South Jersey

philly.com

Apr 26 (yesterday)

Everybody starts somewhere. For Billy Lange and many other prominent members of the South Jersey basketball community, it all began at St. Rose of Lima school in Haddon Heights - in the little gym on cold winter nights, on the outdoor court on Third Ave…

Share Tweet

DeSean Jackson gets a reality show

profootballtalk.com

Apr 25 (yesterday)

There's something about former Eagles receivers and reality TV. Joining Terrell Owens and Hank Baskett, DeSean Jackson will be appearing on television in a capacity other than playing football. Via Clinton Yates of the Washington Post, Jackson will appe…

Share Tweet

Simmons Homer Leads Rally in Braves' 5-2 Win Over Phillies

nytimes.com

Apr 25 (yesterday)

Andrelton Simmons led off the seventh inning with a homer, sparking a rally that helped the Atlanta Braves beat the Philadelphia Phillies 5-2 on Saturday night.

Share Tweet

Inside the Phillies: Despite Phils' struggles, no rush to bring up Franco

philly.com

Apr 25 (yesterday)

It took all of two dismal weeks of this baseball season in Philadelphia for last summer's favorite question to resurface: When will the Phillies promote Maikel Franco?

Share Tweet

Even if the Phillies eventually improve, no guarantee fans will return

philly.com

Apr 25 (yesterday)

John Weber saw something more than nearly 30,000 empty blue seats when he surveyed Citizens Bank Park during the Phillies' tedious, 9-1 loss to the Miami Marlins on Thursday afternoon. The man in charge of ballpark ticket sales also saw the past, and it…

Share Tweet

yahoo.com MLB.com nytimes.com

Apr 25 (2 days ago)

The previously red hot Atlanta Braves were cooled off in New York to begin the week. Now it would appear they're frozen after dropping their weekend series opener 1-0 to the Philadelphia Phillies. The fact the game ended 1-0 is painful enough for Atlant…

Share Tweet

philly.com

Apr 25 (2 days ago)

Chip Kelly probably never would have drafted Brandon Graham. He's barely 6 feet tall. He's stocky. He has short arms for an edge rusher. And yet, when the Eagles were looking to replace Trent Cole this offseason, they re-signed Graham even though he's n…

Share Tweet

philly.com profootballtalk.com

Apr 24 (3 days ago)

The Eagles rescinded their restricted free agent tender to running back Chris Polk on Friday, according to a source close to the situation. The move allows the three-year veteran to sign with any other club and ends his Eagles career.

Share Tweet

Connecticut's Jones could be a draft target for Eagles

philly.com

Apr 24 (3 days ago)

There's a picture on Twitter of a shirtless Byron Jones at Connecticut's pro day, and he's surrounded by the Eagles' brain trust of evaluators.

Share Tweet

Jets safety Jaiquawn Jarrett signs RFA tender

profootballtalk.com

Apr 24 (3 days ago)

A former second-round pick of the Eagles who's rebuilt his career with the Jets has officially re-signed with New York. Safety Jaiquawn Jarrett, a restricted free agent, inked his one-year tender with the Jets on Friday, the club said. The 25-year-old J…

Share Tweet

profootballtalk.com

Apr 24 (3 days ago)

Given that we haven't heard much from the Eagles since the signing of Tim Tebow, a press conference with vice president of player personnel Ed Marynowitz was a first chance to explore their deepest feelings on the matter. Or to, you know, chum the water…

Share Tweet

Ways Tim Tebow can score for the Eagles

Apr 23

John Clayton says Chip Kelly is taking a long-shot signing Tim Tebow but shows there are ways Tebow can score for the Eagles.

Mariota not worried about what others think of him

Apr 22

Michael Smith and Jemele Hill talk with former Oregon quarterback Marcus Mariota on his critics, what he plans to eat during the NFL draft and his favorite Subway sub.

Would you bet on Tebow making Eagles' roster?

Apr 22

Skip Bayless and Stephen A. Smith discuss whether QB Tim Tebow will make the Eagles' roster.

Will Eagles improve over last two years?

Apr 22

Brian Dawkins, Mark Schlereth and Adam Schefter break down the Philadelphia Eagles' schedule to see if they can improve on the 10 wins from the past two seasons.

Sports Columnists

Rivers Trade Dead? Draft Intrigue Starts at No. 2

Apr 27

Three days before the 2015 draft, one thing is clear: The drama starts with the second pick. With Tampa Bay very likely to take quarterback Jameis Winston number one, Tennessee is in command with quarterback Marcus Mariota the likely target if anyone wa…

Mario Hezonja of FC Barcelona to declare for the NBA draft

Apr 23

FC Barcelona wing Mario Hezonja will declare for the 2015 NBA draft, his agent Arn Tellem told ESPN.com.

James Blackmon Jr. to return to Indiana Hoosiers, bypass NBA draft

Apr 23

Indiana Hoosiers freshman James Blackmon Jr. will return to school instead of entering the NBA draft.