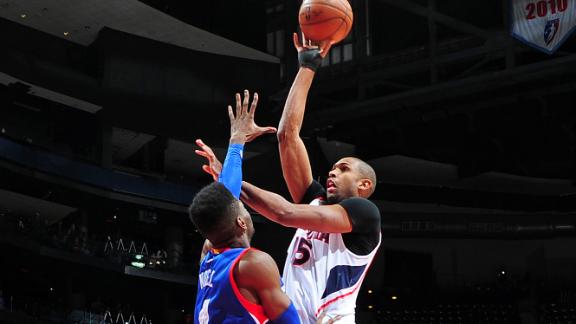 Al Horford scored 23 points, including a tying basket after Philadelphia took its first lead late in the game, and the Hawks recovered after squandering a 21-point lead to beat the 76ers 91-85 on Saturday night.
Upvote
Share
Tweet
philly.com

15 hours ago

As Philadelphia's scarred football fans will again be reminded on Sunday, the Eagles have won none of the LXIX Super Bowls.

Upvote Share Tweet

Mason stops 30 shots, Del Zotto scores in Flyers' 1-0 win over Maple Leafs

NHL.com

15 hours ago

PHILADELPHIA - Steve Mason stopped all 30 shots and Michael Del Zotto scored to help the Philadelphia Flyers beat Toronto 1-0 on Saturday night and send the Maple Leafs to their ninth straight loss. Mason had his second shutout of the season ...

Upvote Share Tweet

Inside the Sixers: Bailing on Noel would be unwise

philly.com

20 hours ago

ATLANTA - Be honest. Some of you think that the 76ers would be better off trading Nerlens Noel. Your comments on social media after - and during - the games in which he struggles prove it.

Upvote Share Tweet

Five most expensive healthy scratches this season

thehockeynews.com

Jan 31 (yesterday)

There's no shortage of ill-advised contracts in the NHL. Most teams have at least one player earning more money than his contributions warrant. But while it's disappointing to watch a $4-million player toil on the fourth line or third defensive pair, th…

Upvote Share Tweet

10 years later, recalling Eagles' last Super Bowl appearance

philly.com

Jan 30 (yesterday)

PHOENIX - Rodney Harrison remembers watching the Eagles hooping and hollering before Super Bowl XXXIX and thinking that the first-timers would be gassed in the Jacksonville, Fla., humidity by the fourth quarter.

Upvote Share Tweet

Can the Eagles' Roseman and Marynowitz coexist?

philly.com

Jan 30 (yesterday)

When Ryan Grigson left the Eagles in 2012 to become general manager of the Indianapolis Colts, his departure created a hole at the top of the Eagles scouting department that general manager Howie Roseman opted not to fill.

Upvote Share Tweet

ESPN.com

Jan 30 (yesterday)

PHILADELPHIA -- There are two ways to look at this one. When Tony Dungy compares Oregon quarterback Marcus Mariota to Green Bay's Aaron Rodgers, you might think, "Great! Rodgers was taken 24th in the 2005 NFL draft! The Eagles can get Mariota at No. 20 …

Upvote Share Tweet

ESPN.com

Jan 30 (yesterday)

PHILADELPHIA – There seems to be a lot of handwringing about the Philadelphia Eagles' salary cap and its possible impact on the team's 2015 roster. As Aaron Rodgers would say, "Relax." It is possible that Chip Kelly will decideJeremy Maclin is not worth…

Upvote Share Tweet

Chip gets his (young) man

philly.com

Jan 30 (2 days ago)

Ed Marynowitz is 30, has almost as little NFL experience as Chip Kelly, but now is the Eagles' player personnel chief.

Upvote Share Tweet

Eagles/Super Bowl chat with Zach Berman

philly.com

Jan 30 (3 days ago)

Join the Inquirer's Zach Berman for his Eagles/Super Bowl chat, starting today at noon.

Upvote Share Tweet

Hawks Win 19th Straight

Jan 31

Al Horford scored 23 points in the Hawks' 91-85 win over the 76ers.

Carter-Williams' Triple-Double Fuels 76ers

Jan 30

Michael Carter-Williams' triple-double of 17 points, 10 rebounds and 10 assists lifted the 76ers to a 103-94 win over the Wolves.

LeSean McCoy Makes Day For Two Kids

Jan 30

Eagles running back LeSean McCoy made two young fan's as they got to meet their hero live on 'Sportscenter' in Scottsdale, Arizona.

Carter-Williams Leads Sixers Past Pistons

Jan 28

Michael Carter-Williams had 14 points, 10 assists and nine rebounds in Philadelphia's 89-69 win over Detroit.