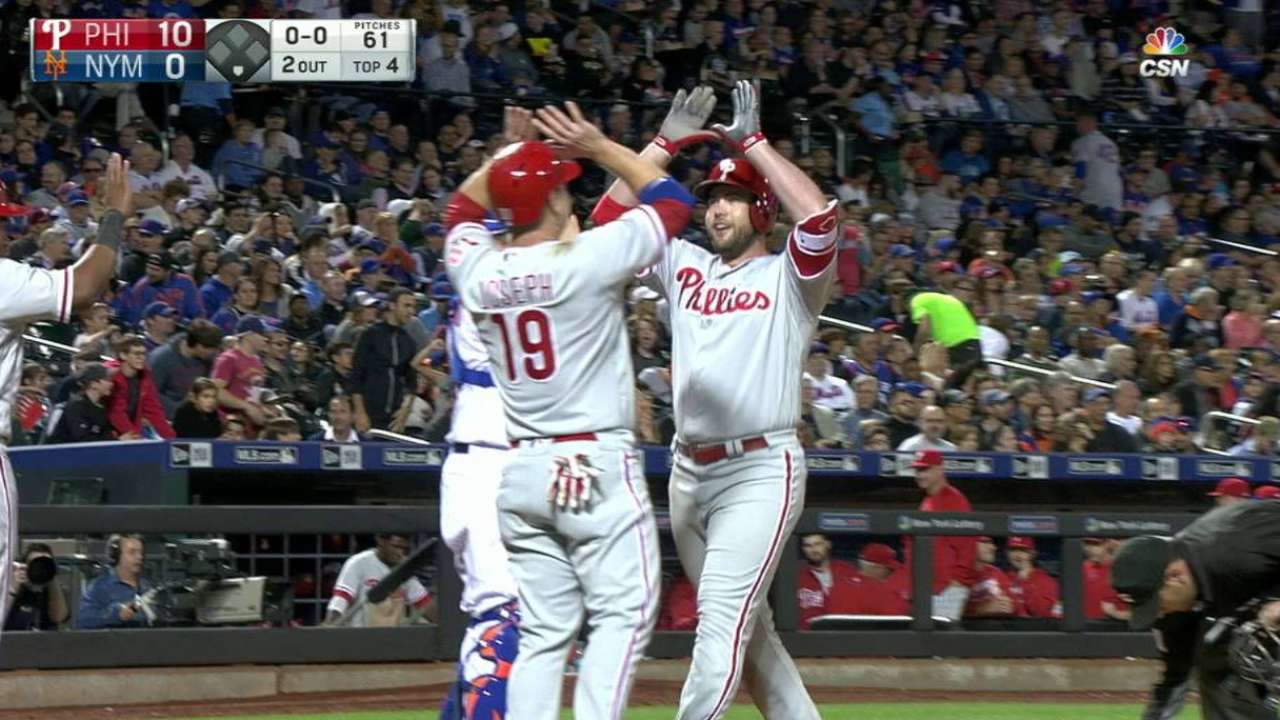 MLB.com
Updated 4 hours ago
While Noah Syndergaard spent his Saturday recuperating from a case of strep throat, spot starter Sean Gilmartin allowed five runs to a Phillies club that has shown plenty of life this weekend as they held on for a 10-8 win over the Mets on Saturday at C…
Share
Tweet
nytimes.com

4 hours ago

The Mets fell behind by 10 runs early and finished just short of what would have been the largest comeback victory in team history, losing 10-8 to the Philadelphia Phillies on Saturday night.

Share Tweet

Keystone Konfrontation: Unbeaten Steelers at Unbeaten Eagles

nytimes.com

17 hours ago

Here come the unbeaten Steelers from Western Pennsylvania, crossing the Keystone State to meet the unbeaten Eagles.

Share Tweet

philly.com

Sep 24 (yesterday)

Carson Wentz has created a frenzy in Philadelphia, but it will continue only if he can stay on the field. Wentz's throws and decisions won't prompt any squirming, but the same can't be said about the hits he has taken.

Share Tweet

nytimes.com

Sep 23 (yesterday)

In another marathon game, the Mets thumped the Phillies, but the loss of Syndergaard to illness was a blow to their chase for a wild-card berth.

Share Tweet

Gomez still Phils' closer, but will get break

MLB.com

Sep 23 (yesterday)

Jeanmar Gomez will remain the Phillies' closer through the end of the season, but he will not pitch during the next few save situations.

Share Tweet

When the Eagles have the ball Carson Wentz has gone two games without turning the ball over, but that will be more difficult against a Steelers defense with four takeaways this season. The turnover margin will be important to monitor, because the Steele…

Share Tweet

eaglesgab.com profootballtalk.com

Sep 23 (yesterday)

Doug Pederson said Friday that tight end Zach Ertz and corner Leodis McKelvin will miss this Sunday's game against the Steelers but should be ready to go when the Eagles return from their ensuing bye week, Les Bowen of the Philadelphia Daily News report…

Share Tweet

Eagles' Trey Burton gets chance to showcase his skills

Eagles tight end Trey Burton had three career catches entering Monday night before almost doubling that total in the team's 29-14 win over the Chicago Bears.

Share Tweet

Ford: What if the Eagles are really good?

All right, fine. What if? This voice of reason stuff can wear you out. Always bringing an umbrella if there is a distant cloud in the sky. Sticking your hand in the post office mail slot to make sure the envelope fell through. Stepping carefully over th…

Share Tweet

yahoo.com

Sep 23 (yesterday)

Carson Wentz is one of the biggest stories in the NFL through two weeks (AP) Carson Wentz is one of the best stories of the young NFL season. The Philadelphia Eagles rookie quarterback is playing like a veteran. He's so advanced that it's not surprising…

Share Tweet

The Sixers' New Reception Desk Is An Awesome Homage To Wilt Chamberlain

dimemag.com

Sep 23 (yesterday)

The reception desk is made of the wood from the basketball court of Wilt Chamberlain's 100-point game. #Sixers pic.twitter.com/voupqeYa5V — Jessica Camerato (@JCameratoCSN) September 23, 2016 There are several things that are new with regards to the Phi…

Share Tweet

Carson Wentz, the latest great hope of Philadelphia Eagles fans, might never have landed here if a North Dakota hand surgeon hadn't inserted a variable pitch screw in the quarterback's right wrist last October.

Share Tweet

nytimes.com

Sep 23 (2 days ago)

Jose Reyes had played 1,613 major league games without ever tying a game in the ninth inning with a home run.

Share Tweet

Stephen A. takes on Chip Kelly

Jul 29

While Stephen A. Smith is in favor of the Eagles shutting up about Chip Kelly, Smith tears into Kelly for "stinking at his job" and getting fired only to land another NFL coaching job paying $6 million.

No reason for Eagles to rush Wentz

Jul 24

Adam Caplan breaks down how the Eagles are bringing along rookie QB Carson Wentz and why they are smart for taking this approach.

E:60: Randall Cunningham coaches daughter to the Olympics

Jul 21

A generation ago, Randall Cunningham electrified the NFL with his show-stopping athletic talents. Now he's headed to the Olympic Games as the coach of one of Team USA's best hopes for gold in the women's high jump -- his 18-year-old daughter Vashti

Doug Pederson has a QB plan, but how will it play out?

Jul 20

Doug Pederson said Sam Bradford will start the season as the No. 1 QB, but the team acquired Chase Daniel and Carson Wentz too. ESPN Eagles reporter Phil Sheridan says that Pederson may have a plan, but executing it is another matter entirely.