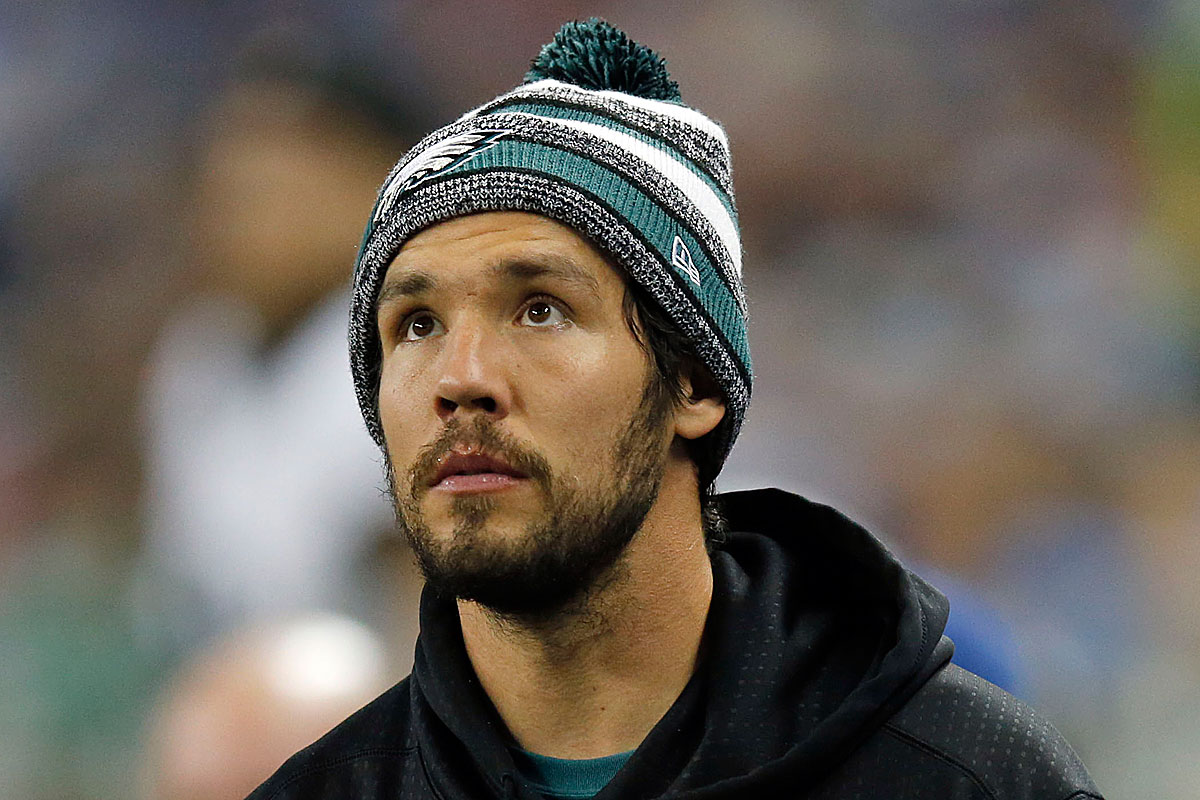 philly.com
Updated 5 hours ago
The quarterback is returning from a concussion and an injury to his left, nonthrowing, shoulder.
Share
Tweet
philly.com yahoo.com

5 hours ago

The beleaguered coach denies speaking to anyone from Southern Cal about its coaching job.

Share Tweet

Jahlil Okafor Lays Bare One Of The Flaws With The Process

deadspin.com

6 hours ago

Nothing good ever happens after midnight. Nothing good ever happens after midnight. Nothing good ever happens after midnight. The saying isn't actually true—many of the best things happen after midnight, in fact—but it's a mantra Jahlil Okafor would've …

Share Tweet

Can Eagles pull off a miracle?

philly.com

7 hours ago

Former Flyer Brian Boucher reminds the Birds that strange things happen in sports.

Share Tweet

philly.com

10 hours ago

When the 76ers were preparing for the 1995 draft, head coach and general manager John Lucas invited college stars to St. Joseph's University for private workouts, and there they found a skinny, young player against whom they were matched one-on-one.

Share Tweet

76ers' Okafor cited for excessive speed on bridge

nba.com

10 hours ago

Officials have confirmed that Philadelphia 76ers center Jahlil Okafor was recently cited in New Jersey for driving at "an excessive rate of speed" and reckless driving on a major area bridge.

Share Tweet

philly.com ESPN.com

10 hours ago

The Eagles signed offensive lineman Barrett Jones off the Chicago Bears practice squad and released veteran Julian Vandervelde.

Share Tweet

EIHL's Braehead Clan don amazing kilt themed uniforms (Photos)

yahoo.com

11 hours ago

The Braehead Clan's recent contest against the Fife Flyers was more than just a game. It was a fashion statement by Braehead. Braehead wore a kilt pattern in honor of St. Andrew's day – a Nov. 30 holiday in honor of Scotland's patron saint. Above is a p…

Share Tweet

philly.com profootballtalk.com

13 hours ago

Eagles coach Chip Kelly told reporters Monday he did not meet with USC officials before the school hired Clay Helton, contrary to a report. Kelly said he is not interviewing for college jobs and wants to coach the Eagles.

Share Tweet

An N.F.C. East Team Will Make the Playoffs, but Which One?

nytimes.com

15 hours ago

The Giants (5-6), the Redskins (5-6), the Eagles (4-7) and the Cowboys (3-8) have done little to distinguish themselves in the N.F.L. this season.

Share Tweet

Joni Pitkanen making unexpected comeback bid in Finland

yahoo.com

16 hours ago

Hybrid icing. Where would Joni Pitkänen be today if there had been no-touch or hybrid icing in April 2013? Probably still in the NHL, where mobile scoring defensemen are indeed a coveted commodity. Instead, the former Carolina Hurricanes and Philadelphi…

Share Tweet

Eagles' challenge is avoiding second defensive collapse

ESPN.com

23 hours ago

Eagles' challenge is avoiding second defensive collapse

Share Tweet

philly.com

Nov 30 (yesterday)

The Colts quarterback threw for 315 yards against the Bucs Sunday and is 4-0 in starts this season.

Share Tweet

Sixers coach needs management's help

Jahlil Okafor's reported missteps have made Brett Brown's job even more daunting, as he alone is addressing it.

Share Tweet

Eagles' fatal flaw: time of possession

Thanks partly to Chip Kelly's up-tempo offense, the Eagles' defense is on the field too much and is wearing down.

Share Tweet

nydailynews.com

Nov 29 (yesterday)

Life as an NBA rookie has gone better than expected for the Knicks international man of intrigue Kristaps Porzingis.

Share Tweet

philly.com ESPN.com

Nov 29 (yesterday)

The sky is not falling on the Eagles. It has crashed upon them, and the force of the blow from three straight repulsive losses has launched Chip Kelly into a hellish existence in which it is not a stretch to consider his team among the worst in the NFL.

Share Tweet

From the instant in early October that some punk on an Old City street flashed a gun in the face of Jahlil Okafor, the 76ers and Okafor himself have been on a losing streak that would put the team's record-breaking 27-game slog to shame.

Share Tweet

Howie Roseman could be on the rise again in Philly

profootballtalk.com

Nov 29 (yesterday)

After Eagles coach Chip Kelly put together a second straight 10-win season, Kelly made a run at G.M. Howie Roseman. It was bizarre and it was ugly and it ultimately was painted as a win-win by Eagles owner Jeffrey Lurie. Now that Kelly could be closing …

Share Tweet

Chip Kelly refutes report he met with USC

Nov 30

ESPN Eagles reporter Phil Sheridan breaks down the latest rumors surrounding Chip Kelly and where the coach will be in 2016.

Has Chip Kelly lost the team?

Nov 29

Wendi Nix and Keyshawn Johnson talk about Chip Kelly's failed off-season decisions and if he has lost the locker room.

Too soon to assume Kelly out as Eagles coach?

Nov 27

ESPN NFL Insider Field Yates breaks down why it's too soon to project Chip Kelly not being the Eagles coach next season even, though Kelly's offseason personnel decisions haven't panned out.

Eagles have quit on Chip Kelly

Nov 27

First Take's Stephen A. Smith and Skip Bayless both agree that the Eagles' players no longer have a desire to play for coach Chip Kelly, and that after this season he will be out as coach of Philadelphia.