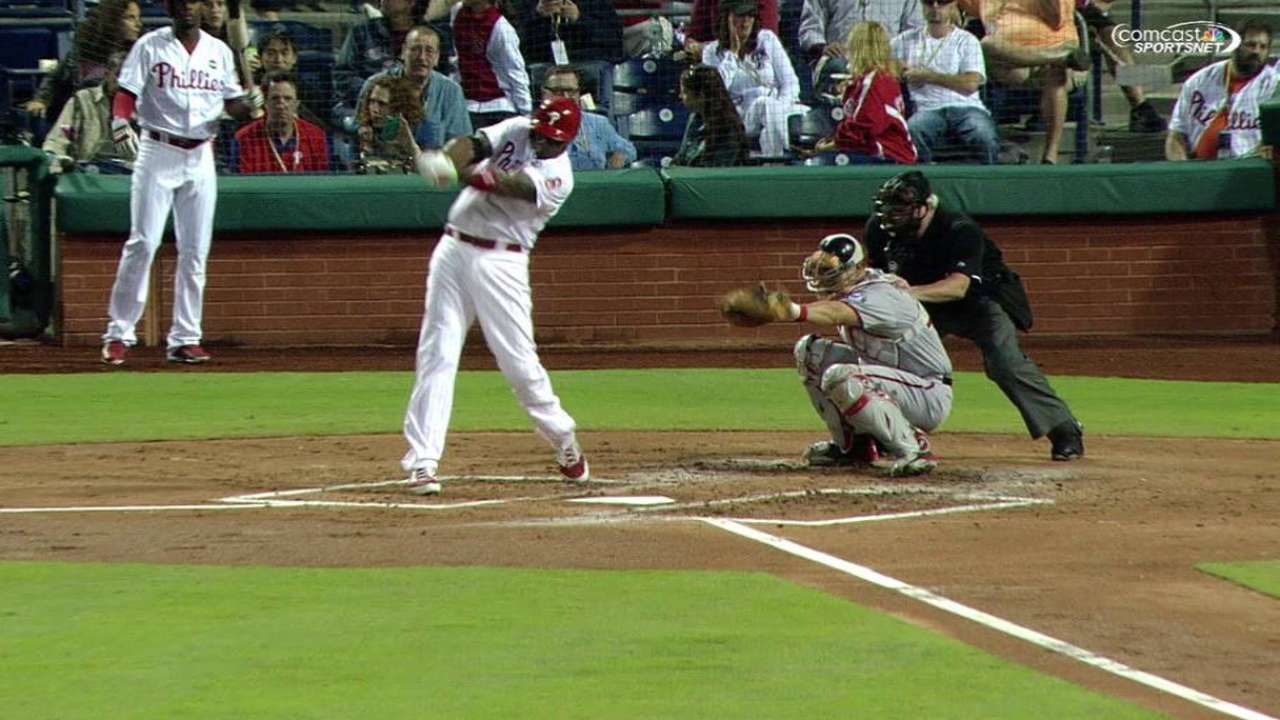 Gordon Reaches 200 Hits as Marlins Beat Phillies 7-6

nytimes.com

10 hours ago

Christian Yelich had a career-high five hits, Marcell Ozuna drove in the go-ahead run in the ninth inning and Dee Gordon got his 200th hit of the season as the Miami Marlins rallied for a 7-6 victory over the Philadelphia Phillies in Game 1 of a doubleh…

Share Tweet

Eagles credit innovative drill for improved secondary play

philly.com

14 hours ago

It's called the ladder drill, but there isn't any climbing involved. In fact, the point of Cory Undlin's drill for the Eagles' defensive backs is for them to keep their feet on the ground. They start out with each foot in the middle of two ladder square…

Share Tweet

NFL fines Demario Davis for slamming Darren Sproles

profootballtalk.com

17 hours ago

Jets linebacker Demario Davis cost his team 15 yards for slamming Eagles running back Darren Sproles on Sunday, and he cost himself some money as well. The NFL fined Davis $8,681 for the pro wrestling-style move, via Dom Consentino of NJ.com. Jets coach…

Share Tweet

Rumor Roundup: Hurricanes, Flyers and Devils buzz

thehockeynews.com

20 hours ago

As the upcoming NHL season draws near, the Carolina Hurricanes and captain Eric Staal have yet to reach an agreement on a long-term contract extension. Staal, 31, is eligible next summer for unrestricted free agency. If he tests the market in July, ther…

Share Tweet

Roundup: Capitals score late, top Bruins in shootout

NHL.com

Oct 2 (yesterday)

Alex Ovechkin had the tying goal with 2:34 remaining in the third period, and T.J. Oshie and Evgeny Kuznetsov scored in the shootout to give the Washington Capitals a 2-1 preseason win against the Boston Bruins at Verizon Center on Friday. The ...

Share Tweet

Eagles brace for a potent Redskins ground attack

In this passing age of the NFL the Washington Redskins like to pound teams on the ground and this year they have a two-headed monster, plus a capable receiving threat out of the backfield that has enjoyed some early season success.

Share Tweet

When the Eagles have the ball The Eagles' running game showed signs of life in Week 3 for the first time this season. It came with DeMarco Murray out of the lineup. Murray is questionable for Sunday with a hamstring injury. After rushing for 108 yards l…

Share Tweet

Irving Fryar, the first overall pick in the 1984 NFL draft who went on to be a five-time Pro Bowler for the Patriots, Dolphins and Eagles, is heading to prison. Fryar was sentenced today to five years for mortgage fraud. He and his mother were convicted…

Share Tweet

Eagles need more production from receiving corps

Jordan Matthews has spent only 16 months in the NFL, so he's still trying to develop a veteran's intuition. Matthews trusts those who possess it, though, which is why the second-year wide receiver was encouraged by Darren Sproles' assessment of the Eagl…

Share Tweet

Phillies should embrace a full youth movement in 2016

It's time to discard the oldsters and let the kids learn how to play together and gel.

Share Tweet

MacPhail continues family's baseball tradition with Phillies

Three-plus years of travel and books couldn't sever a lifetime's bonds, so last June, lured by the Humpty Dumpty challenge of reassembling the Phillies, Andy MacPhail came back to the family business.

Share Tweet

Utes' 4-0 start due in part to last year's squad, says rookie's former position coach.

Share Tweet

philly.com ESPN.com

Oct 2 (yesterday)

The storm that changed the Eagles' playoff course a year ago built for two miserable weeks, before finally settling over FedEx Field in mid-December for a dousing that blew their chances out to sea for good.

Share Tweet

nytimes.com MLB.com

Oct 2 (yesterday)

The game between the Philadelphia Phillies and Miami Marlins scheduled for Friday has been postponed due to rain and will be made up as part of a single-admission doubleheader on Saturday.

Share Tweet

Eagles coach Chip Kelly said this week that he expected left tackle Jason Peters to play on Sunday, but the team left a little reason to pay attention to the release of the inactive lists when they turned in their final injury report of the week. Peters…

Share Tweet

Washington-Philadelphia game to be played as scheduled

Hurricane Joaquin has turned away from the East Coast of the United States. So the Eagles are going to go ahead and travel to FedEx Field. The NFL has confirmed there will be no change to Sunday's Washington-Philadelphia game. "Our primary concern as it…

Share Tweet

This offseason, wide receiver DeSean Jackson complained about a "smear campaign" run by the Eagles when they released him in 2014 but he won't have a chance to take out his frustrations against them in Sunday's game. Jackson has been ruled out for Week …

Share Tweet

yahoo.com

Oct 2 (yesterday)

The NBA offseason has brought many changes to rosters, coaching staffs and the list of championship contenders. As we draw closer to opening night, it's time to move our focus from the potential impact of each offseason event and onto the broader issues…

Share Tweet

Bad kicking is a league-wide issue

Oct 2

ESPN's John Clayton discusses why kickers have struggled this season.

Eagles will come back to earth against Redskins

Oct 2

Skip Bayless and Stephen A. Smith do not believe the Eagles will win for the second week in a row against the Redskins.

What you need to know for Week 4

Oct 1

NFL Insider Dan Graziano delivers a quick NFL Week 4 preview.

Teams prepare for possibility of Hurricane Joaquin

Oct 1

Prim Siripipat gives the latest news regarding the potential impact of Hurricane Joaquin on this weekend's games.