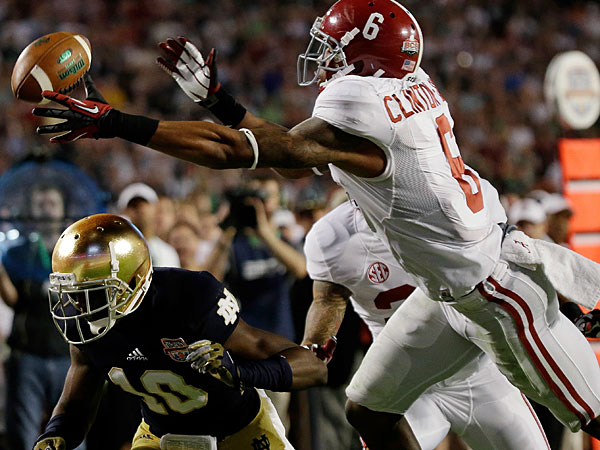 philly.com
Updated 2 hours ago
According to Aaron Wilson of The National Football Post, Alabama safety Ha Ha Clinton-Dix met with the Eagles.
Upvote
Share
Tweet
ESPN.com profootballtalk.com

3 hours ago

An interesting battle took place Tuesday on Twitter. New York Giants cornerback Walter Thurmond claimed that he is the best slot cornerback in the NFL, according to a report on Pro Football Talk. Philadelphia Eagles cornerback Brandon Boykin took except…

Upvote Share Tweet

thehockeynews.com philly.com deadspin.com yahoo.com

3 hours ago

The first round of the 2014 NHL playoffs hasn't ended, but we've already seen a little bit of everything, including high-scoring games, low-scoring games, dirty hits and a series sweep. But the post-season is always more fun when fans have an old-fashio…

Upvote Share Tweet

CNNSI.com

4 hours ago

This story appears in the Sports Illustrated Presents commemorative issue Wrigley: Celebrating 100 Years Of The Friendly Confines. Copies can also be purchased through the Sports Illustrated magazine app on the iPad, Kindle Fire, Google Play and Nook Ta…

Upvote Share Tweet

MLB.com ESPN.com nytimes.com

10 hours ago

The breaks finally fell the Phillies' way on Tuesday night at Dodger Stadium, as a two-base error on Carlos Ruiz's fly ball to left field preceded Domonic Brown's game-winning double in the 10th inning, giving Philadelphia its third straight victory.

Upvote Share Tweet

philly.com

11 hours ago

All 256 games will be revealed including the dates and time of Eagles games.

Upvote Share Tweet

philly.com nydailynews.com CNNSI.com ESPN.com

11 hours ago

The Flyers weren't wrong to start Ray Emery last night, but Steve Mason needs to reclaim his job Friday.

Upvote Share Tweet

Philadelphia 76ers owner Josh Harris calls 63-loss season a "huge success"

yahoo.com

16 hours ago

A decent number of NBA teams enter the regular season with little expectation of winning enough games to qualify for the postseason, but few have ever done so quite as brazenly as the 2013-14 Philadelphia 76ers. The Sixers came into this season with a r…

Upvote Share Tweet

profootballtalk.com

23 hours ago

Washington owner Daniel Snyder, who rarely says much to the media, has chimed in on the unexpected acquisition of former Eagles receiver DeSean Jackson. "That's going to be exciting — and not just the two games against Philly," Snyder said Tuesday, via …

Upvote Share Tweet

It took Craig Berube 13 years to get revenge on Jeremy Roenick

yahoo.com

23 hours ago

Philadelphia Flyers head coach Craig Berube accumulated nearly 3,200 penalty minutes during an NHL career that last 1,052 games. He earned all that time in the penalty box protecting each and everyone of his teammates. So, in 1990, when Berube saw his g…

Upvote Share Tweet

O'Hara's Savage moving up NFL draft charts

philly.com

23 hours ago

When Tom Savage was an unheralded quarterback prospect in February trying to boost his stock after bouncing between three college programs, the Cardinal O'Hara alum relayed advice offered to him by Eagles quarterback Nick Foles.

Upvote Share Tweet

Kempski's Corner: Pass rushers Eagles could target in NFL Draft

In today's Kempski's Corner, Philly.com's Jimmy Kempski and Pat Gallen discuss potential players the Eagles can draft as they look for pass rushing help and who fits best into their 3-4 defense.

Upvote Share Tweet

DeSean Jackson expects "something special" when playing the Eagles

profootballtalk.com

Apr 22 (yesterday)

Washington wide receiver DeSean Jackson will circle two dates on his calendar when the NFL releases this year's schedule. Jackson told Arsenio Hall that he's eager to play the Eagles, who cut him for reasons Jackson still doesn't fully understand. "Oh y…

Upvote Share Tweet

Expect dramatic changes in Sixers roster

This year's NBA draft is sure to affect who will stay and who will go.

Upvote Share Tweet

Eagles open offseason conditioning program

Other than Evan Mathis' Twitter hijinks about whether he'd attend, nothing eventful is reported out of Eagles' workouts.

Upvote Share Tweet

Mayock: Eagles need to focus on defense in first round

Despite Eagles' loss of impact wideout DeSean Jackson, NFL expert Mike Mayock thinks defense is still their primary need.

Upvote Share Tweet

ESPN.com nytimes.com

Apr 22 (yesterday)

Cliff Lee scattered four hits over eight innings, struck out 10 and retired 21 of his last 22 batters to lead the Philadelphia Phillies to a 7-0 victory over the Los Angeles Dodgers on Monday night.

Upvote Share Tweet

MLB Daily Download: Wednesday

Apr 23

Cary Chow recaps Tuesday night's action from around the league, including some long-ball action from various players, none of whom could overshadow Albert Pujols' memorable night.

SweetSpot TV: Rapid Fire

Apr 22

Eric Karabell and David Schoenfield go around the league with a game of rapid fire.

Rangers Roll Flyers

Apr 22

The Rangers beat the Flyers 4-1 to take a 2-1 series lead.

MLB Daily Download: Monday

Apr 21

Antonietta Collins recaps Sunday's action from around the league, including a brawl in Pittsburgh and an emotional night at Fenway.