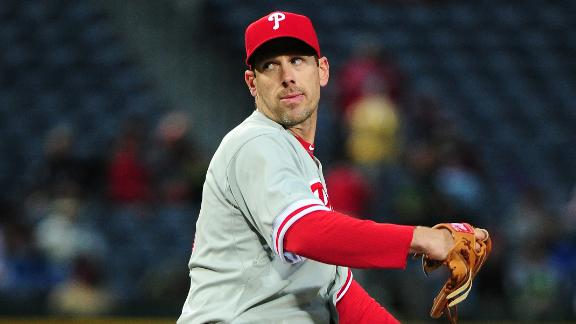 Lee pitches 8 scoreless as Phils get first win
ESPN.com
Updated Apr 4, 2013
Cliff Lee allowed two hits in eight scoreless innings and the Philadelphia Phillies scored twice in the second inning to win their first game of the season with a 2-0 victory over the Atlanta Braves on Thursday night.
Share
Tweet
Chip Kelly's already stepped up the tempo in Philly

Offseason workouts got underway for the Eagles this week and Eagles players are already seeing how the presence of Chip Kelly will change things. Kelly's Oregon teams were always known for doing things at a faster pace than others and moving to the NFL

Share Tweet

Jrue Holiday Made Two Shots Last Night. Here's A Video Of The Other 22 He Missed.

deadspin.com

Apr 4, 2013

The 76ers went into last night's game at the Bobcats with a three-game winning streak. Mathematically, Philly is still in contention for a play-hahahaha, let's cut the crap. The Sixers lost, and Jrue Holiday might still be missing shots somewhere, even

Share Tweet

Keeping Score: Statistical Look at the 76ers' Drop-Off

nytimes.com

Apr 4, 2013

Four of Philadelphia's top six players last season, as determined by a statistic called win shares, were no longer with the team by the end of the summer.

Share Tweet

ESPN.com

Apr 4, 2013

Mel Kiper Jr.'s latest mock draft is out, and it goes two rounds deep, which means we can talk Redskins too. Which is nice. Here's the rundown of Mel's picks for the NFC East, along with my analysis. (Not his. You have to pay to read his.) Philadelphia …

Share Tweet

Philly overrated as a sports town?

It's a common belief in Philadelphia that local fans are the most passionate in the country, especially because of crazed Eagles fans.

Share Tweet

Oregon linebacker Dion Jordan is spending time with college head coach Chip Kelly and the Eagles on Thursday and then he'll be heading on to another visit later on Thursday. As you'd imagine, he won't be moving too far for his next meeting. Manish M

Share Tweet

Arm with a clean bill of heart health, Utah defensive tackle Star Lotulelei will be traveling to a city known for a product that has clogged an artery or two. According to Reuben Frank of CSNPhilly.com, Lotulelei will be visiting the Eagles at some poin…

Share Tweet

ESPN.com philly.com

Apr 4, 2013

During this first week of their offseason program, the Philadelphia Eagles have made a few players available to the media, and one of the players who spoke Wednesday was quarterback Nick Foles. The gist of Foles' message was that he considers himself a …

Share Tweet

Phillies once-dominant ace Roy Halladay shelled in 2013 debut, has to figure out what adjustments to make.

Share Tweet

Inside the Phillies: Braves' lineup impresses Phillies' Manuel

ATLANTA - Justin Upton had not yet hit his second home run in as many games, an opposite-field shot that showed off the 25-year-old outfielder's remarkable strength.

Share Tweet

A second former Eagles defensive tackle is joining the New York Giants. According to profootball.com, the Giants have signed Mike Patterson, who will join Cullen Jenkins on the Giants defensive line in 2013.

Share Tweet

Cold Hard Facts

Apr 4

Cris Carter gives his take on Michael Vick, Nick Foles, Matt Barkley and Geno Smith.

Ansah, Smith Move Up In Mock Draft

Apr 4

Mel Kiper Jr. discusses the rise of Ezekiel Ansah and Geno Smith in his latest NFL mock draft.

Lee, Phillies Avoid Sweep

Apr 4

Cliff Lee struck out eight batters over eight innings to lead the Phillies past the Braves 2-0.

McShay Mock Draft

Apr 4

Todd McShay discusses his latest NFL mock draft.