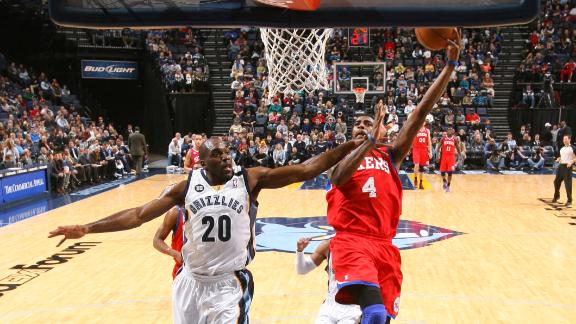 philly.com CNNSI.com ESPN.com profootballtalk.com

Dec 26, 2012

Nick Foles wore his practice jersey on Wednesday, so badly wanting one more chance to play for the Eagles this season. But the rookie is sidelined with a hairline fracture in his throwing hand and is on injured reserve, not even a member of the 53-man r…

Share Tweet

Rudy Gay, the Memphis Grizzlies' leading scorer, was not with the team for Wednesday night's game against the Philadelphia 76ers.

Share Tweet

deadspin.com

Dec 26, 2012

Before the 2011 season, the Eagles brought in Jim Washburn and then Jason Babin-who's only ever thrived in Washburn's 4-3. It worked well for a year, when Babin recorded a team-record 18 sacks. Like everything else defensive-related in Philly this year

Share Tweet

ESPN.com philly.com

Dec 26, 2012

There has, for some time now, been a school of thought that the Philadelphia Eagles might not completely part ways with Andy Reid once his time as their head coach was done. The idea would be to replace him as coach but move him into a front-office role…

Share Tweet

Mike Dougherty shot video of his final game in Philadelphia on his usual perch atop Lincoln Financial Field at the 50-yard-line. All 22 players were captured in his lens. He could see the skyline on one side and the Delaware River on the other. He was j…

Share Tweet

Giants hope for 'stranger things'

TOM COUGHLIN looked at the four-rung ladder that the 8-7 Giants must climb on Sunday to get into the playoffs, the first step being a win over the Eagles followed by three other favorable results in the NFC East and North. "Stranger things have hap…

Share Tweet

Countdown Daily AccuScore: PHI-NYG

Dec 26

Cary Chow goes inside the numbers for the Eagles-Giants

Countdown Daily Prediction: Eagles-Giants

Dec 26

The NFL Live crew makes their picks for Philadelphia at the New York Giants

Can The Eagles Beat The Giants?

Dec 26

Chris Mannix, Cedric Ceballos and Christian Fauria discuss the Eagles' chances of beating the Giants on Sunday.

Sixers Down Grizzlies In Memphis

Dec 26

Dorell Wright scored 28 points to help the 76ers hand the Grizzlies their third home loss of the season.