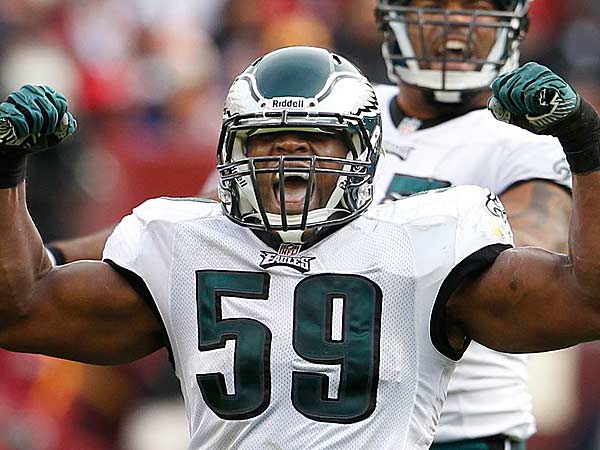 Eagles linebackers may need to adapt
Updated Feb 12
Share
Tweet
Here is the seventh in a series of looks at the Eagles roster:
Source:
philly.com
Get into spring training mood with Phillies workout set to steel drums (Video)

Updated Feb 12

Share Tweet

Your browser does not support iframes. As The 700 Level points out, the best part of this video might be the glimpse we get of Carlos Ruiz wearing a "Fake Tough" T-shirt, which references the Cole Hamels diatribe Nationals GM Mike Rizzo made l…

Source:

yahoo.com

Updated Feb 12

Share Tweet

During Monday's edition of Pro Football Talk on NBC Sports Network, we pointed out that the new contract signed by Eagles quarterback Mike Vick could provide the template for a contract that could be offered to Raiders quarterback Carson Palmer. It also

Sources:

profootballtalk.com philly.com

Course Correction: After posting their worst record in the Rex Ryan …

Updated Feb 12

Share Tweet

After posting their worst record in the Rex Ryan era, the Jets appear in need of an overhaul. Andrew Perloff examines what needs to be done and if the Jets are willing to do it.

Source:

CNNSI.com

Updated Feb 12

Share Tweet

New coach Chip Kelly faces a tricky rebuilding task with the Philadelphia Eagles as he incorporates his up-temp attack into the NFL.

Source:

CNNSI.com

How about some non-Vick Eagles stuff?

Updated Feb 12

Share Tweet

Right? Michael Vick has dominated the news coverage of the Philadelphia Eagles over the past 24 hours, and for good reason, but there's a lot more going on with the Eagles than the quarterback situation. There's the defense, to name one incredibly signi…

Source:

ESPN.com

Position battles hold some answers for Phillies

Updated Feb 12

Share Tweet

Phillies pitchers and catchers hold their first official workout Wednesday at Carpenter Complex in Clearwater, Fla., and the club hopes to start answering some of the lingering questions from the offseason.

Source:

MLB.com

Updated Feb 12

Share Tweet

It might walk like a duck and talk like a duck, but the Eagles new head coach refuses to call it a duck. When Chip Kelly introduced his coaching staff yesterday, the biggest crowd flocked to defensive coordinator Billy Davis, who was asked the fairly ba…

Source:

profootballtalk.com

Expect Phillies' Roy Halladay to be strikingly optimistic

Updated Feb 12

Share Tweet

CLEARWATER, Fla. - Wednesday, the most important man on the Phillies' roster will sit behind a microphone and answer questions for the first time since the regular season ended 5 months ago. He will be asked about his shoulder, about his latissimus dors…

Source:

philly.com

Last Night on 'Blake Griffin Dunks on Your Life ...'

Updated Feb 12

Share Tweet

The life and death of Spencer Hawes! Blake Griffin (sorta) switched hands in midair against the Sixers last night. According to the announcers, the cr...

Source:

grantland.com

NFL32OT: Cowboys Aim To Keep Romo

Feb 12

Episode 267: Kevin Connors and Chris Mortensen discuss the Cowboys aim of signing Tony Romo to a long-term deal. Packers Greg Jennings breaks down what he looks for in a quarterback. The NFL32 crew discuss Michael Vick fitting in Chip Kelly's offense

State of the Franchise

Feb 12

Willie McGinest and Heath Evans break down the state of the Dallas Cowboys, Chicago Bears, Philadelphia Eagles and the Pittsburgh Steelers.

Sports Columnists

Kobe Bryant says chastising fan on Twitter was 'right thing to do'

Feb 13

Kobe Bryant welcomes challenges, which explains why he chastised a fan on Twitter for using a homophobic slur. "It's the right thing to do," Bryant told ESPN.com. "I couldn't help myself. I saw it, I was like, 'I can't help myself. I have to respond.'"

Don Banks: Philadelphia Eagles 2013 Offseason Preview

Feb 12

SI.com is laying out offseason road maps for all 32 teams as they start their journey for the Lombardi Trophy -- two teams per day, from the teams that need the most work to contend in 2013 to the ones that are in pretty good shape. See them all.