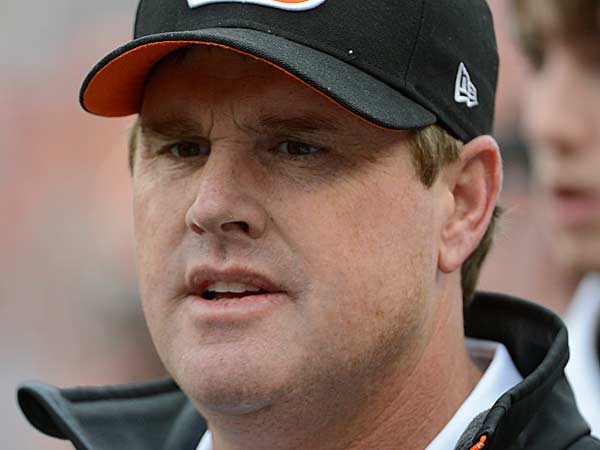 profootballtalk.com
CNNSI.com
philly.com
yahoo.com
Updated Jan 7, 2013
Largely ignored for the first week of the 2013 hiring cycle, former Raiders and Buccaneers coach Jon Gruden seems to be doing his damnedest to create a market where none apparently exists. Via John Clark of NBC10 in Philly, former in-booth partner Ron J…
Share
Tweet
Andrew Bynum says his knees are better and he still plans on playing this season for the Philadelphia 76ers.

Share Tweet

profootballtalk.com

Jan 7, 2013

Two head-coaching jobs have been filled, and five (for now) remain vacant.  Two of the teams still looking have caused some grumbling in NFL circles over the width of their nets. Per a league source, some teams believe the Bears and Eagles are employing…

Share Tweet

philly.com CNNSI.com ESPN.com

Jan 7, 2013

Formally introduced as the Chiefs new head coach, only one week after the Eagles fired him, Andy Reid said he had no regrets after 14 years in Philadelphia. "I don't. I can leave Philadelphia saying that I gave it my all," Reid said on Monday …

Share Tweet

Jrue Holiday Should Be A NBA All-Star This Season

dimemag.com

Jan 7, 2013

Jrue Holiday's All-Star consideration has never been much of one in his first three seasons in the NBA. At 19, he was still figuring out his style while turning the ball over more frequently than he handled it. As his obvious talent has become more appa

Share Tweet

Rooney Rule a 'ruse' for Eagles, others?

The firings and hirings of NFL head coaches this month seems likely to result in fewer minorities in charge along the sidelines.

Share Tweet

Amaro: Smaller-scale deals 'essential' for Phillies

MLB.com

Jan 7, 2013

The Phillies have four fresh faces headed to Clearwater, Fla., for Spring Training next month. They still hope to find a fifth.

Share Tweet

See A Coach You Like? Hope He Loses

Monday update on the Eagles' coaching search: have to think Denver offensive coordinator Mike McCoy and Seattle defensive coordinator Gus Bradley look like the top candidates now.

Share Tweet

philly.com ESPN.com

Jan 7, 2013

So where do the Eagles turn? They could always expand their search to include more candidates, but pay attention to these three names in particular.

Share Tweet

BALTIMORE - Indianapolis Colts head coach Chuck Pagano said offensive coordinator Bruce Arians was doing "fine" and was expected to be released from the hospital Monday after Arians missed Sunday's 24-9 playoff loss to the Baltimore Ravens at …

Share Tweet

Chiefs Introduce Andy Reid

Jan 7

Andy Reid comments on his time in Philadelphia and what he feels he can do for the Chiefs.