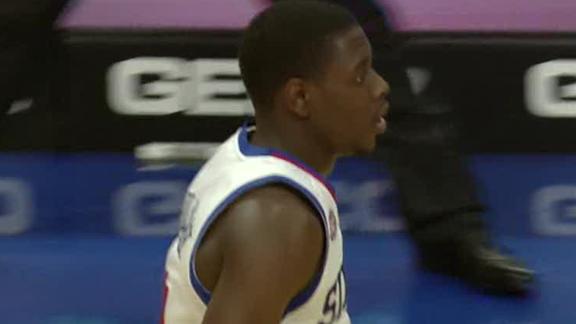 76ers erase 19-point deficit, top Raptors in OT
ESPN.com
Updated Jan 18, 2013
Jrue Holiday had a career-high tying 33 points and 14 assists, including all 12 of Philadelphia's points in overtime, and the 76ers overcame a 19-point second-half deficit to defeat the Toronto Raptors 108-101 on Friday night.
Share
Tweet
philly.com profootballtalk.com

Jan 18, 2013

The Eagles released Todd Bowles from his contract to allow the defensive coordinator to interview with other teams, an NFL source said. There were several reports on Friday that Bowles was expected to get the defensive coordinator job with the Cardinals…

Share Tweet

profootballtalk.com deadspin.com ESPN.com philly.com

Jan 18, 2013

On the second day of his employment as coach of the Eagles, Chip Kelly addressed the first challenge he'll face from a personnel standpoint. Per a source with knowledge of the situation, Kelly and Vick met on Friday.  However, there has been no resolut

Share Tweet

profootballtalk.com

Jan 18, 2013

On Friday, a feud suddenly emerged between Eagles owner Jeffrey Lurie and former Eagles president (and current Browns CEO) Joe Banner.  Lurie believes Banner has been criticizing Eagles G.M. Howie Roseman, and Banner denies it. The strangest aspect of t…

Share Tweet

nytimes.com

Jan 18, 2013

Eight N.F.L. teams hired coaches in the past few weeks. Not a single hire was African-American.

Share Tweet

Vince Young Is Just Another Bored College Student Again

deadspin.com

Jan 18, 2013

Cam Newton's decision to re-enroll at Auburn has been a quiet storyline this week, but Newton's not the only national-title-winning QB again giving school the old college try. Vince Young is back in the classroom at the University of Texas, and he more …

Share Tweet

The Philadelphia Phillies have agreed with left-hander Antonio Bastardo on a $1.4 million, one-year contract, avoiding arbitration.

Share Tweet

Clips stay on top; Nuggets continue their ascent

Three teams out West have set themselves apart. But don't forget about Andre Iguodala and the Nuggets. Close to unbeatable at home, Denver is one of this week's biggest risers.

Share Tweet

Working across the country from his more celebrated brother, John Harbaugh has made the Ravens one of the most consistent winners in the NFL, writes Peter King.

Share Tweet

On Roseman, Kelly and 'collaboration'

ESPN.com

Jan 18, 2013

By all accounts, the guy who kept pushing and ultimately sealed the deal on getting Chip Kelly to coach the Philadelphia Eagles was GM Howie Roseman, whose triumph was a critical step in getting the fan base to trust his ability to run the team. Eagles …

Share Tweet

Eagles' search comes up roses for Howie

philly.com

Jan 18, 2013

VILLAGE IDIOT on Monday, dressed up for the big press conference on Thursday; welcome to Howie Roseman's world. It is a strange place in which the Eagles' general manager lives, in which all of them live, including new coach Chip Kelly. It is a world in…

Share Tweet

All That Glitters: A closing 9-0 Miami run sealed a 99-90 win over L…

A closing 9-0 Miami run sealed a 99-90 win over L.A. The Lakers fought hard, but LeBron James may have just ignited another championship run for the Heat, writes Lee Jenkins.

Share Tweet

Lee Jenkins: Once a Finals preview, Heat-Lakers now just a LeBron showcase

LOS ANGELES -- Outside of fame, riches and backlit banners, there is no motivator in sports quite like the threat of everlasting ignominy. It is the specter that hangs over each of the so-called super teams, the realization that if they fail, reputation…

Share Tweet

76ers Come Back To Top Raptors In OT

Jan 18

76ers erase 19-point deficit to beat Raptors in OT.