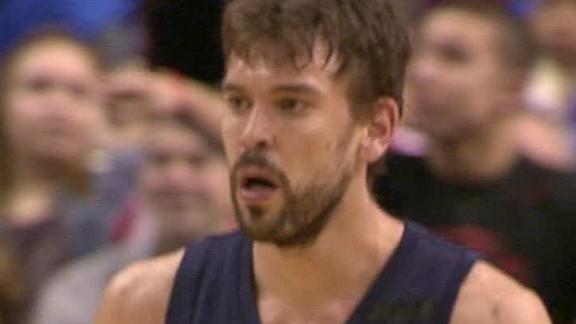 dimemag.com
ESPN.com
Updated Jan 28, 2013
The last time Rudy Gay posted up Evan Turner, the Sixers appointed nerd damn near ripped Gay's arm out of his socket. That was back in 2011, and since then, Gay, Zach Randolph and the Grizz can't go a week without someone pointing out that their marri
Share
Tweet
The Eagles have longer than three days after the Super Bowl to decide if they want to keep Michael Vick without having to pay a guaranteed $3 million.

Share Tweet

MLB.com

Jan 28, 2013

Cole Hamels gave a few Phillies fans a moment of panic earlier this month when word spread he suffered from a sore left shoulder late last season, but Hamels said it was a non-issue when asked about it Tuesday.

Share Tweet

Eagles running back LeSean McCoy has made headlines for his Twitter use before, but there's a big difference between trash talking with Giants defensive end Osi Umenyiora and what happened between him and the mother of his son over the weekend. McCoy lo

Share Tweet

CNNSI.com

Jan 28, 2013

Grizzlies rally from 17-point deficit to knock off Sixers

Share Tweet

PHILADELPHIA (AP) -- Looking to fortify their bullpen, the Philadelphia Phillies turned to a familiar face.

Share Tweet

Although the New Orleans Saints and Philadelphia Eagles have defensive coordinator openings and ex-Bears coach Lovie Smith would be a respectable choice for either job, Smith's plans for 2013 reportedly don't involve coaching in the NFL. Per ESPN's

Share Tweet

Phils sign Betancourt to Minors deal with camp invite

MLB.com

Jan 28, 2013

The Phillies announced on Monday that they have signed infielder Yuniesky Betancourt to a Minor League contract. The deal includes an invitation to big league camp in Clearwater, Fla.

Share Tweet

profootballtalk.com philly.com

Jan 28, 2013

We shared earlier that the Eagles' search for a defensive coordinator included a couple of coaches who have a pretty big game coming up on Sunday, but they aren't limiting their search to members of the Ravens and 49ers coaching staffs. Adam Schefter

Share Tweet

The Eagles open Super Bowl week without a defensive coordinator and it doesn't look like they'll hire one until after the big game. 49ers defensive backs coach Ed Donatell has been linked with the job for a while and Jeff McLane of the Philadelphia In

Share Tweet

Sure looks like Kelly wants a 3-4 defense

ESPN.com

Jan 28, 2013

The latest name to surface in the Philadelphia Eagles' hunt for a defensive coordinator is that of Cleveland Browns linebackers coach Billy Davis. Tim McManus reported Sunday that Davis' name was one to keep an eye on, and our man Adam Schefter reports …

Share Tweet

Breakfast links: Live from Louisiana

ESPN.com

Jan 28, 2013

NEW ORLEANS -- Greetings, and welcome to Super Bowl week, which is a bit of an eat-your-heart out affair for NFC East fans this year. The New York Giants beat the San Francisco 49ers, and the Washington Redskins and Philadelphia Eagles beat the Baltimor…

Share Tweet

Super Bowl has a number of Philly links

THERE ARE numerous connections to the Philadelphia area between the two Super Bowl teams. Baltimore's owner was born here, and its quarterback grew up in South Jersey. San Francisco's kicker is the Eagles all-time leading scorer and its defensive coordi…

Share Tweet

DRIBBLE. DRIBBLE. Bump. Turn. Swish. Jrue Holiday protested. "That's a foul, 'Blue.' You chicken-winged me," said Holiday. Aaron McKie snickered, retrieved the ball from under the rim, walked back to the top of the key and resumed the game of …

Share Tweet

Andrew Bynum closing in on debut with 76ers

The world is a better place after a win, and the 76ers practice court was definitely a happier place Sunday morning as the team high-fived and chest-bumped through a spirited scrimmage at the end of a brief session.

Share Tweet

Grizzlies Claw Past 76ers, 103-100

Jan 28

Grizzlies come back to top 76ers.